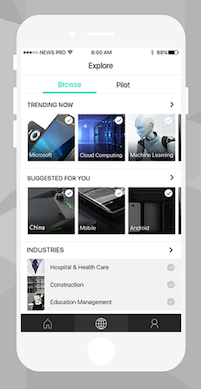 10 Cool Microsoft Garage Projects You Didn't Know About
(Click image for larger view and slideshow.)
In a major reversal, former Microsoft CEO Steve Ballmer, who in 2001 called Linux a "cancer" that attaches itself to the intellectual property of everything it touches, has commended his former company's latest move toward open source.
Earlier this week, when Microsoft announced its SQL Server will run on Linux, Ballmer sent an email to Microsoft's CEO Satya Nadella saying he "loved" the announcement, according to a Reuters report.
Speaking at a dinner Wednesday hosted by Fortune, Ballmer told the attendees that his earlier stance on Linux was right for the time but that now the Linux threat was "in the rearview mirror," according to Reuters.
The former CEO further noted that Microsoft's earlier hard-line stance to keep Linux away helped it reap far more revenue than it would have, had it embraced the open source community at the time.
However, during Ballmer's tenure as CEO from 2000 to 2013, tech stocks went on a multiyear drop and Microsoft shares lost more than 40% of their value, Reuters noted. Also, shares have risen more than 50% since Nadella took over in February 2014, the news service said.
Times are different now than they were 15 years ago when Ballmer made his Linux cancer statement. The Redmond giant has seen its share of Windows servers losing ground to Linux servers, so it is no longer a case of defending its top position but now rather one of looking to become stronger by aligning with competitors.
[Read RHEL on Azure: What Took So Long?]
In sizing up the change in Microsoft's attitude toward Linux since Nadella came aboard and Ballmer left, Gartner analyst Al Gillen told InformationWeek in a previous interview that the SQL Server Linux arrangement would not have likely happened if Ballmer was still onboard.
"This would not have been possible with Steve Ballmer five years ago," Gillen said, adding that he still doubts it would have been possible with Ballmer today. Gillen believes Ballmer would have stuck to a mentality of keeping Microsoft's server products in a Windows-only mode indefinitely, like keeping the "crown jewels all in a single box."
A possible reason for Ballmer's soften stance: yoga. Reuters reports that since leaving Microsoft, he has taken up yoga as a hobby and spends time meditating.
"You get a lot of time to work out, meditate, take it easy," he told Reuters. "It's a wonderful thing to do."