Microsoft Earnings: 3 Things To Watch
Wall Street has given Microsoft CEO Satya Nadella two thumbs up, so far. But with Windows growth uncertain and Microsoft's cloud businesses still in infancy, Nadella will face questions.
For Microsoft CEO Satya Nadella and Wall Street, the honeymoon shows no sign of stopping, even as the company begins implementing layoffs that rank among the largest in the tech industry's history. Nadella's predecessor, Steve Ballmer, never won favor with investors, but since Nadella took over in February, Microsoft's stock price has soared more than 20%, reaching its highest mark in a decade. What's more, as of Tuesday morning, the company's shares were up 6.5% this month alone, suggesting not only that shareholders approve of Nadella's restructuring, but also that the new CEO could have staying power on Wall Street.
But Nadella will still face questions on Tuesday when Microsoft reports earnings for its Q4, which ended June 30. Windows, Microsoft's traditional cash cow, isn't driving growth like it used to, after all; even though the OS runs on more than 90% of PCs, Windows controls only 14% of the larger device market, which also includes smartphones and tablets.
What other challenges must Nadella address as he faces investors? Here are three things we'll be watching as Microsoft closes its fiscal 2014.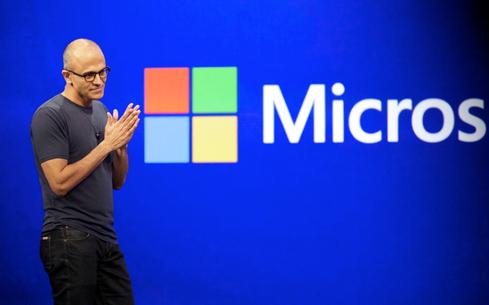 1. Will Satya Nadella's "modernized engineering" drive results?
Over two-thirds of Microsoft's roughly 18,000 layoffs involve its Nokia acquisition. Those cuts were somewhat expected, given that Microsoft needed to not only trim Nokia's operations to fit within the Windows ecosystem, but also eliminate positional overlap. But that still leaves around 5,500 other layoffs -- a sum that alone would almost have qualified as Microsoft's biggest-ever job reduction. Among the non-Nokia eliminated roles, the most intriguing are arguably the relatively modest number within the Operating Systems group.
Nadella says he wants to "modernize" Windows engineering, and the first step appears to be downsizing not only the company's stable of dedicated testers, but also its reliance on contract employees. Before becoming CEO, Nadella drove similar initiatives within Microsoft's Bing and Cloud & Enterprise teams. Now, he argues the new structure will increase accountability, break down silos, and help Microsoft move as responsively as the startups to which it has increasingly lost both consumer and developer mindshare. Still, the change represents a major cultural shift for Microsoft engineers, as well the inevitable growing pains that come with it.
[Say goodbye to the old days. Microsoft Shows Tech 'Monopolies' Don't Last.]
Due to the layoffs, Microsoft expects to absorb $1.1 billion to $1.6 billion in charges over the next year, at least half of it related to severance and benefit costs, and the rest tied to asset-related charges. The company has not said, however, how much money it plans to save thanks to the reductions. As Nadella implements a new management model into one of Microsoft's key teams, many observers will be eager this week to see what kind of guidance the company issues.
2. Will Microsoft's cloud revenue grow fast enough to offset flat-lining Windows growth?
Microsoft will almost certainly announce strong growth from its cloud businesses, which already generate billions of dollars and have enjoyed double and even triple-digit percentage growth over recent quarters. Earlier this month, company execs said more than 57% of Fortune 500 companies
use Microsoft Azure, which stores more than 30 trillion objects, supports more than 300,000 active websites, processes more than 3 million requests per second, and, via Azure Active Directory, handles 13 billion weekly authentication requests for more than 300 million users. Office 365 Home Premium subscriptions totaled more than 4.4 million as of last spring. With Microsoft pushing a cross-platform strategy and aggressively bundling OneDrive storage with 365 packages, continued growth is likely.
Nevertheless, Microsoft's cloud businesses might not be growing fast enough to offset flagging Windows momentum. Windows revenue is likely to be decent this quarter, given that the PC market has modestly ticked up after several quarters of decline. But much of the recent demand stemmed from Windows XP's retirement, making it unclear how much long-term growth Microsoft can mine from the PCs and laptops -- the only computing devices on which Windows remains the standard. Nadella has made clear that Microsoft's future as a "platforms and productivity" company relies on personalized, machine learning-driven experiences that translate via the cloud across devices, and help users manage both their professional and personal lives. But before the cloud can become Microsoft's future, it needs even more users.
The company is already iterating at a rapid pace with products such as Office 365, and has promised to bring new enhancements to its cloud-based Enterprise Mobility Suite and Dynamics CRM Online. Its hybrid approach, meanwhile, helps businesses transition to the cloud at their own pace. But some longtime Microsoft customers aren't persuaded that they should give up their familiar, and secure, on-premises environments -- a concern Microsoft's recent service outages surely did little to quell.
3. Has Microsoft found the right Windows licensing and device strategies?
Nadella has taken pains to distance himself from Ballmer's "devices and services" mantra, and now that he's initiated layoffs, it's clear first-party devices play a smaller role in Nadella's game plan than they did in his predecessor's. Even so, Nadella made clear that the company still intends to produce hardware. In some cases, such as the Surface line, the devices will be meant to inspire Microsoft's partners and showcase its cloud-based services. In other cases, such as integrating what's left of Nokia, Microsoft has heavier lifting to do, as it must grow Windows' modest mobile user base while simultaneously keeping hardware partners motivated. Xbox, meanwhile, has been slimmed down from an entertainment platform that included original content, to a product more narrowly aimed at gamers.
As mentioned, Microsoft still maintains a stranglehold over the traditional PC market. But even if it maintains its share, laptops and desktops offer limited upside compared to smartphones, tablets, wearables, and the larger Internet of Things ecosystem. Moreover, with Chromebooks becoming more popular, Microsoft will have to sacrifice margins to preserve its chunk of even the PC pie -- a fact COO Kevin Turner recently broached while hyping sub-$200 Windows laptops that will soon hit the market.
Turner also said 81% of CIOs plan to deploy Windows tablets this year, which gives Microsoft some hope as it attempts to better its 14% share of the overall computing market. Will Microsoft attract the user base it needs to keep Windows vital to both businesses and consumers? Or will it be forced, as it was with Office for iPad, to develop for more popular competing platforms before taking care of its own OSes? And even if Microsoft attracts users, will it funnel enough of them to its cloud services to compensate for diminishing device and Windows margins?
Here's a step-by-step plan to mesh IT goals with business and customer objectives and, critically, measure your initiatives to ensure that the business is successful. Get the How To Tie Tech Innovation To Business Strategy report today (registration required).
Michael Endler joined InformationWeek as an associate editor in 2012. He previously worked in talent representation in the entertainment industry, as a freelance copywriter and photojournalist, and as a teacher. Michael earned a BA in English from Stanford University in 2005 ... View Full Bio
We welcome your comments on this topic on our social media channels, or
[contact us directly]
with questions about the site.