Microsoft's Nadella: More Than Talk
Microsoft CEO Satya Nadella proves he can be a man of action with the biggest layoff in company history and other concrete steps to reshape Microsoft. Now what?
They say talk is cheap, but that's not necessarily true if you're Microsoft CEO Satya Nadella. Microsoft stock is up more than 20% since he took over in February and has reached heights never attained under predecessor Steve Ballmer. Microsoft released lots of products during that period, but if you look at what people were really responding to -- at the things for which Nadella was responsible -- it was Nadella's language.
Now it's more than talk. With the announcement of 18,000 layoffs, Nadella has shifted into action. He's no longer reshaping, tweaking, and re-contextualizing what Steve Ballmer left behind, or making the sorts of moves that can remain invisible to outside observers. He's now begun remaking Microsoft according to his vision, and in so doing he's moved to a new stage of leadership, one where actions will increasingly speak louder than words.
It's a big step up from his early days as CEO. Nadella's been justly praised, but it's hard to know how much different Microsoft's product line would look if Ballmer were still in charge. On his way out, the former CEO reportedly gave the go-ahead on Office for iPad, for example, and one assumes Microsoft would have continued to beef up Azure under Ballmer, just as it has under Nadella. That's not to say Nadella hasn't exerted his authority. He reportedly axed the Surface Mini at the eleventh hour, and a lot of the cloud momentum Nadella's currently hyping stems from work he oversaw in earlier roles.
[Does Satya Nadella have Microsoft back on track? Read Microsoft Faces 4 Big Challenges.]
Still, almost everything Microsoft released during Nadella's early reign was already well into development under Ballmer. Nadella didn't bring new products; he brought new packaging for those products, new strategic sensibilities, and a new business vocabulary. His poetic delivery and hipster attire contrast sharply with Ballmer's salesmanship and bombast, a PR victory all by itself.
But by early July, Nadella's rhetoric had begun to grow repetitive. He'd been recycling key talking points to developers, partners, and other key constituencies as he wound his way through Microsoft conferences and events. A recent press tour engendered a lot of goodwill. But as his description of a cloud-driven world full of personalized digital experiences grew more familiar, the topics he wasn'taddressing became more obvious.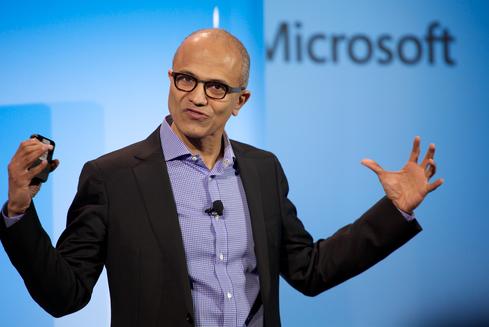 Before the layoffs, Nadella appeared almost pre-emptive in his references to first-party smartphones and tablets, for example. They were normally limited to enthusiastic platitudes about the Pro 3, or vague intentions to integrate Nokia and build the Windows Phone market, with help from partners. He seemed to bring up devices, not only to assure audiences that Microsoft hadn't forgotten about its challenges, but also to stop the conversation before it started.
Layoffs seemed inevitable; Microsoft was already undergoing a restructuring effort when Ballmer stepped down, and in absorbing Nokia's device business Microsoft took in some skills overlap that had to be consolidated. But it did not seem inevitable that Nadella would enact the largest job reduction in company history. Even not counting the Nokia layoffs, 5,500 other job cuts -- which included changes to the Windows team and its testing process -- constitute Microsoft's second-biggest layoff ever. It's not clear if these efforts to make
Microsoft lean and focused will infuse it with a startup's soul, as Nadella intends. But after talking about creating a "challenger mindset" at Microsoft, Nadella is now actively trying, at a very large scale, to make that happen.
On the enterprise and infrastructure sides, Microsoft clearly is performing well. Not everyone is persuaded by Nadella's cloud vision, but by focusing on hybrid products that bridge its on-premises server business with Azure, Microsoft is balancing its massive customer base and its future goals.
In these areas, Nadella's pet phrases make the most sense. His references to "ambient intelligence" and "ubiquitous sensing" tap clearly into the Internet of Things and its legion of environment-sensing, big-data-feeding connected devices -- the kinds of things for which Microsoft currently is preparing its cloud and data products. Likewise, his other talking points -- "productivity and platforms" and "mobile-first, cloud-first" products -- align to Microsoft's base catalogue much more easily than Ballmer's "devices and services" plot did. It makes sense for Microsoft to deliver services through the cloud, and to harness both Office's ubiquity and Microsoft's role as a major server player as foundations for delivery. It did not make sense to add a wholly unproven product category -- devices -- as a would-be strategic cornerstone.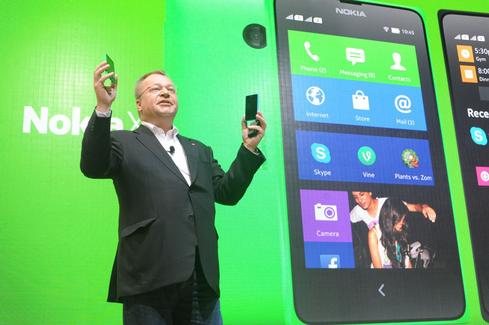 But things are murkier on the operating system and device side. Nadella is committed to putting Microsoft products on all platforms, iOS and Android included. He also remains committed to Windows, and to first-party devices such as the Surface Pro -- though he bent over backward reassuring investors last week that Microsoft isn't "in hardware for hardware's sake."
That's a lot to balance, especially for a company that's playing from far behind in mobile, and losing some of its consumer share in traditional PCs. Nadella's repeatedly described his intentions for a faster, less-bureaucratic, and more-collaborative management style -- and he'll need it. Microsoft might manage to juggle it all, but it's hard to not see the potential for strategic contradictions to arise.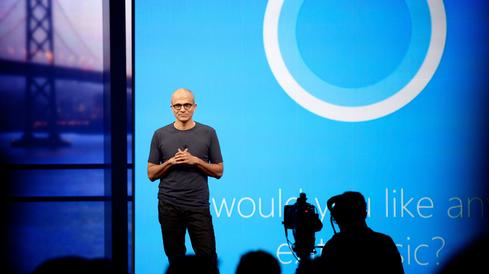 Nadella has begun to describe the actions he'll take to integrate what's left of Nokia's device business, and to make Windows a viable mobile platform. Some of his intentions are still vague, such as what specific benefits we'll see from the converged core that will soon power all versions of the OS, mobile and desktop alike. Will it just offer convenience to makers of simple apps, or will it transform the way we use and think of Windows across devices?
Nadella's declaration that devices will serve to "light up" Microsoft's digital experiences is appealing. It focuses on differentiating Microsoft's strengths, rather than keeping up with whatever Apple is up to. But if Nadella is going to offer first-rate Microsoft services on iOS and Android, what more can a Windows device add to "light up" the experience?
Microsoft has lightly fleshed out the idea. Even if Cortana becomes a cross-platform product, it will likely remain most closely tied to Windows Phone hardware, giving the digital assistant the ability to do more with contextual information, for instance. Nadella has also cited the Surface Pro 3's superlative digital inking experience as an example. Neither of these is necessarily a game changer but they prove a point: Even if Microsoft makes the best possible product it can for iOS or Android, devices that run those OSs are still limited in certain ways, which gives Microsoft room to explore new avenues.
Still, Nadella has a long way to go. On the enterprise side, Microsoft enjoys momentum today -- but Nadella has hinged tomorrow on ideas such as Delve, an Office 365 app that uses machine learning to discover what, how, and with whom you work, and to deliver information it thinks you'll need. It's tantalizing to think of a product that knows what you want before you do, but the concept is unproven and will test Nadella's promises that Microsoft will excel at data management and privacy. Nadella's device and Windows plans, meanwhile, are only just gaining focus, and will put pressure on the company's 2015 slate. That's when we should get our first full look at the company's post-Nokia device efforts and the next version of Windows.
IBM, Microsoft, Oracle, and SAP are fighting to become your in-memory technology provider. Do you really need the speed? Get the digital In-Memory Databases issue of InformationWeek today.
Michael Endler joined InformationWeek as an associate editor in 2012. He previously worked in talent representation in the entertainment industry, as a freelance copywriter and photojournalist, and as a teacher. Michael earned a BA in English from Stanford University in 2005 ... View Full Bio
We welcome your comments on this topic on our social media channels, or
[contact us directly]
with questions about the site.