Nadella's Big Moment: 5 Things To Watch
Microsoft CEO Satya Nadella will face stratospheric expectations Thursday when he makes his first public appearance since succeeding Steve Ballmer. Here's what we want to know.
On Thursday, Microsoft CEO Satya Nadella will make his first public appearance since succeeding Steve Ballmer in early February. Microsoft has confirmed only that Nadella will address the intersection of cloud and mobility, but several reports claim the new Microsoft leader will make his mark by introducing a product on which his predecessor often appeared to waver: a version of Microsoft Office for iPads.
Given that such a product is both a multibillion-dollar revenue opportunity and a potential death blow to Microsoft's Surface line, Nadella will face enormous expectations when he takes the stage. But that would have been true even if commentators weren't predicting a major product announcement.
[Is Office 365 Personal right for you? Read Office 365 Personal: 5 Questions Answered.]
Nadella was selected after a six-month search during which numerous candidates were briefly reported as front-runners. If the drawn-out process demonstrated anything, it was that whoever got the job would face impossible scrutiny. Tech visionary, charismatic leader, shrewd businessman, public-friendly brand champion -- to meet expectations, the new boss would need to possess a variety of rare traits, any one of which might be enough for the CEO of a less complicated enterprise.
Nadella is well respected and boasts a history of impressive technical accomplishments as a Microsoft exec. He is one of the principle architects behind Microsoft Azure, which has become the most important pillar in the company's long-term plans. But will it be enough to appease the critics Microsoft accrued during the Ballmer era, or to unify the company as it executes its "One Microsoft" reorg?
Nadella will have several chances to impress, first at Thursday's press conference, and then next week at Build, the company's conference for developers. Here are five things to watch as Nadella becomes the public face of Microsoft.
1. What will Nadella do that Ballmer wouldn't?
Ballmer's failure to release Office for iPads has been a long-running point of controversy, so if Nadella debuts the product he already will have distanced himself from earlier leadership. But let's get real -- it's not as if Office for iPad was cooked up in the six weeks since Nadella took over the top job. In fact, Ballmer had already confirmed, albeit in broad terms, that the product was coming. Most of the product's development occurred on his watch. Nadella will get credit for finally making the move, but the product isn't necessarily a declaration of bold new leadership.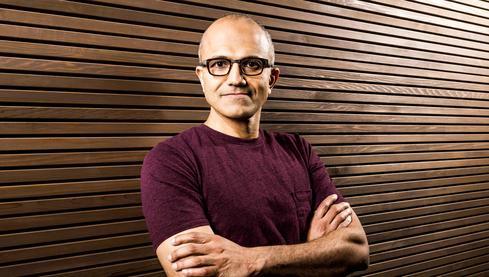 Office for iPads speaks to major questions Microsoft faces, notably the dissolving bond between the Windows operating system and the most essential software and services. As CEO, Ballmer often seemed determined to protect Windows while also advancing concepts such as Azure and Office 365. But as the ongoing struggles of Windows tablets demonstrate, this balancing act is harder than it sounds.
Azure might become for the cloud era what Windows was for the desktop PC era. Windows isn't going to vanish overnight, or even over a decade, but it won't be as sacrosanct as it once was. Given Nadella's background and expertise, he could be better-equipped than Ballmer to navigate this tricky path. He'll get his chance at Build, when the company is not only expected to reveal a Windows 8.1 update, but will also face growing tension over Windows XP's April 8 end-of-service deadline.
2. Will Nadella unite Microsoft?
As the new CEO, Nadella inherits, not only Windows, Azure, Office, and other valuable Microsoft properties, but also a company in the midst of a top-to-bottom reorg. He has excelled at leading engineers but now will be responsible for streamlining one of the largest and most complicated technology companies in the world. Microsoft insiders Tony Bates, the executive VP of business development, and Tami Reller, executive VP of marketing, both recently left the company, indicating that Nadella's core team is shaping up. Still, Microsoft's challenges involve, not only technology, but also company culture and branding. It will take more than flashy product announcements to bring all the pieces together.
3. How will Nadella pursue devices and consumers?
Of all the strategies Nadella describes, those that involve devices and consumers are sure to receive disproportionate attention. Many Microsoft
analysts and customers have argued that the company must stop making devices, and instead focus on lucrative enterprise products. The Surface line's notoriously poor debut only fueled this fire.
Since Nadella became CEO, Microsoft execs have continued to stress the importance of consumerization. Employees become regular people outside the office, they've argued, and don't want to use completely different tools in each role. This is true enough. But should Microsoft deal with BYOD by releasing its most popular software to competing platforms, as an Office for iPad release would imply? Should it, as a recent ZDNet report claims, provide better management tools for mixed-OS offices? Should it keep building Xboxes and Surface tablets?
It's possible, and perhaps even likely, that Nadella would answer all of these questions in the affirmative. But at some point, the strategies start to conflict. Office for iPads poses an obvious threat to Surface sales, for example. How Nadella apportions resources and emphasizes products will be central to his success.
4. What about developers?
Ballmer can be rightly defended as a passionate salesman and an unabashed Microsoft cheerleader, but few people consider him a tech luminary on the order of Bill Gates or Steve Jobs. Nadella isn't quite that revered yet, but compared to Ballmer, he commands substantial respect from technical audiences.
Microsoft has struggled with such audiences in recent years, as developers have dedicated more attention to iOS and Android than to Windows platforms. Nadella has cannily helped Microsoft to endure this challenge by positioning Azure as an open cloud platform. In Microsoft's ideal world, the strategy could allow Azure to monetize the success of competing platforms, allowing it to become the architecture of choice for the new computing landscape. But Microsoft needs developers writing for its own properties, too -- and Nadella could help.
Windows 8.1's Modern UI and Windows Phone both need attention from developers, and Microsoft is trying to turn properties such as Bing and Office into development platforms as well. Nadella's success will be judged partly by the degree to which he can inspire the technical community. One rumored strategy that has garnered support in recent weeks: Microsoft could purchase Xamarin, a popular cross-platform mobile development framework.
5. Can Nadella satisfy Wall Street?
Many investors were critical of Ballmer's leadership, especially as it became clear he'd misjudged the mobile revolution. Since Ballmer announced his retirement plans last year, the company's stock price has trended up. Following recent reports that Nadella will announce Office for iPads, the company's stock shot above $40, reaching heights not seen since the dotcom boom.
But stockholders are notoriously fickle. Apple's stock often builds in the days leading to a product announcement, only to fall immediately thereafter. The same could happen to Microsoft Thursday, especially if the company fails to announce an iPad product, or if the product is revealed but falls short of expectations.
Activist investors are another concern. ValueAct, a hedge fund with a large stake in Microsoft, recently succeeded in placing its president, Mason Morift, on the Microsoft board. Microsoft has publicly downplayed rumors of tension, but ValueAct reportedly opposes the device strategies Ballmer pursued. If true, Microsoft's evolving board could affect how Nadella leads.
InformationWeek Conference is an exclusive two-day event taking place at Interop where you will join fellow technology leaders and CIOs for a packed schedule with learning, information sharing, professional networking, and celebration. Come learn from each other and honor the nation's leading digital businesses at our InformationWeek Elite 100 Awards Ceremony and Gala. You can find out more information and register here. In Las Vegas, March 31 to April 1, 2014.
Michael Endler joined InformationWeek as an associate editor in 2012. He previously worked in talent representation in the entertainment industry, as a freelance copywriter and photojournalist, and as a teacher. Michael earned a BA in English from Stanford University in 2005 ... View Full Bio
We welcome your comments on this topic on our social media channels, or
[contact us directly]
with questions about the site.