Oracle ID Graph Helps Marketers Target Customers Anywhere
Oracle adapts BlueKai ID technology so Oracle Marketing Cloud users can reach customers in mobile, social, and advertising interactions.
The world is going digital, but "knowing" people in a digital context is tricky at best. Oracle on Wednesday announced ID Graph as a new feature of the Oracle Marketing Cloud that will enable brand owners to reconcile people's identities across channels.
Introduced along with new features for retargeting abandoned shopping carts and integrating cloud apps, Oracle ID Graph is based on technology from Oracle's BlueKai acquisition.
"This is an industry problem whereby individuals interact with brands in different ways and on different devices, but they might look like different depending on whether they're on their desktop, on a mobile device, or connecting through a social network," said Steve Krause, group vice president of product management, Oracle Marketing Cloud, in a phone interview with InformationWeek.
[ Want more on Oracle cloud offerings? Read Oracle Lets Customers Shift Money To Cloud Apps. ]
BlueKai specializes in reconciling identifiers for digital advertisers with its Audience Data Marketplace, which connects third-party data with marketer data. Available immediately as a built-in feature or Oracle Marketing Cloud, Oracle ID Graph takes BlueKai's mission beyond advertising to connect network identifiers (like Facebook and Twitter handles) and device-centric identifiers (across desktops, tablets, and mobile devices) to make sense of what Krause calls the "glorious incoherence" of digital identities.
"This is advertising technology and marketing technology coming together through user-ID management, so products like [Oracle Marketing cloud] Cross-Channel Marketing can benefit," Krause said.
Oracle rivals also address identity. Salesforce, for example, offers Data.com as a way to enrich and extend business-to-business contact information, verifying and filling in missing email addresses, phone numbers, and social handles, for example.
Oracle ID Graph is distinguished in that it resolves machine-based user identifiers, such as those encountered on desktops, tablets, and mobile devices -- like cookies, Apple device identifiers, and Google Android device identifiers -- so marketers can message to those devices directly.
"There's a plethora of identifiers that matter and they're not all going to nicely come together, so we're offering a translation layer," Krause said.
If customers have opted in for email, for instance, but you want to reach those people with advertisements on Facebook, Oracle ID Graph lets you interface with Facebook using a hashed form of email addresses to deliver ads to that network. Online ad networks, by contrast, might require another way to resolve identities other than hashed email addresses.
"There isn't one single way to reach someone wherever they are, but Oracle ID Graph works under the hood to resolve how you can reach people across multiple channels and devices," Krause said.
Such a translation layer sounds like privacy challenge, but Krause says BlueKai has built-in privacy protections that partition personally identifiable information, such as names and email addresses, that might have been obtained with an opt-in to email offers.
"ID Graph anonymizes and hashes information so it can't be reverse engineered to reveal someone's identity," he explained. "You can find people anonymously [in new channel], but the systems that execute those campaigns never get personally identifiable information. The system just sees an identifier, and if it shows up, it shows them X ad or content."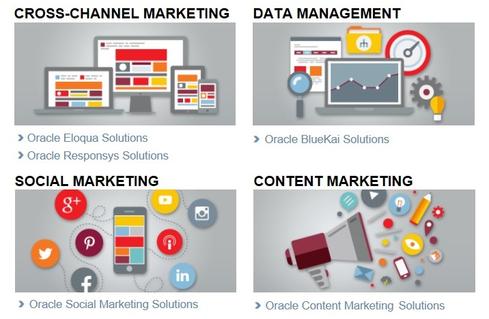 In other Oracle Marketing Cloud announcements on Wednesday, a new Rapid Retargeter feature is being introduced to quickly reconnect with known customers (a.k.a. registered users) who have abandoned shopping carts. Where many incumbent approaches to abandonment might take hours or days, Rapid Retargeter takes action within minutes or seconds, according to Oracle, and it's not just limited to email or display ad follow ups. If a shopper used a mobile device or a mobile app, you could use push messaging to send a follow-up appeal or promotion to try to convert the sale.
Oracle also announced an App Cloud Connect Framework that the vendor says will make it easier for Oracle customers to work with partner apps (like predictive lead-scoring app Mintigo) and competitor cloud apps (such as Salesforce and Adobe Analytics). And in other integration news, Oracle announced an integration between Oracle business-to-consumer Cross-Channel Marketing (formerly Responsys) and Oracle Commerce (formerly ATG), which is used to run retailer e-commerce websites.
Finally, Oracle Web Center Sites (formerly FatWire) content management system has been integrated with Oracle business-to-business Cross-Channel Marketing (formerly Eloqua). This tie enables B2B marketers to pull content out of Web Center Sites for reuse in marketing campaigns.
The Rapid Retargeter, App Cloud Connect Framework, and Cross-Channel Marketing integrations will be available imminently, according to Krause, though he declined to pin down specific dates.
Attend Interop Las Vegas, the leading independent technology conference and expo series designed to inspire, inform, and connect the world's IT community. In 2015, look for all new programs, networking opportunities, and classes that will help you set your organization's IT action plan. It happens April 27 to May 1. Register with Discount Code MPOIWK for $200 off Total Access & Conference Passes.
Doug Henschen is Executive Editor of InformationWeek, where he covers the intersection of enterprise applications with information management, business intelligence, big data and analytics. He previously served as editor in chief of Intelligent Enterprise, editor in chief of ... View Full Bio
We welcome your comments on this topic on our social media channels, or
[contact us directly]
with questions about the site.