Project Tay Turns Racist, Office Updates For March: Microsoft Roundup
Microsoft updated PowerPoint Designer, announced Office 365 updates, pushed for encrypted email, and silenced AI Project Tay after some Internet troll interference.
The past week was relatively quiet in Redmond. Microsoft is gearing up for a busy week at its sold-out Build 2016 conference, which will run March 30-April 1 at San Francisco's Moscone Center.
Microsoft has banded together with fellow tech companies, including Google, LinkedIn, and Yahoo, to propose new strategy for making email more secure. The news of their security push arrived as the FBI tried to crack an iPhone used by a shooter in the San Bernardino attacks.
A group of software engineers representing the companies has approached the Internet Engineering Task Force with a proposal describing SMTP Strict Transport Security (SMTP STS), a means of securing email communication. The protocol would secure email if approved, but it's unclear how long the approval process will take.
[Google aims to beat Microsoft, AWS in the cloud.]
In other collaborative news, Microsoft and HP are partnering to invest in container management. The two tech giants announced this week they're contributing towards a $73.5 million investment in Mesosphere, which has a Data Center Operating System with container scheduling, tracking capabilities, and orchestration.
The investment reflects a growing concern shared by Microsoft and HP, both of which have enterprise customers using containers to package and move micro-services: As thousands of containers begin entering data centers, customers will need strong container management. That capability has the potential to evolve at Mesosphere.
Microsoft ran into some issues this week with a new AI chatbot named Tay, which it launched as part of an experiment in conversational understanding. The idea was that Tay, created to appeal to the 18 to 24 age bracket, would learn from users' input and social profiles.

Learn to integrate the cloud into legacy systems and new initiatives. Attend the Cloud Connect Track at Interop Las Vegas, May 2-6. Register now!
Unfortunately, less than a day after Tay arrived online, she absorbed anti-Semitic and anti-feminist ideas -- and then began sharing them. Some users joined forces to abuse the technology and have the chatbot respond inappropriately. Microsoft quickly pulled Tay from the Internet.
On the Office front, Microsoft announced a slew of new features it released on Office 365 in March. These included new languages in Office for Mac and Skype Translator, a tool for transferring Evernote notes to OneNote, and improvements to PowerPoint Designer.
OneNote users can now use the app to search on handwritten notes and whiteboards contained within images captured via Office Lens, OneNote Clipper, [email protected], and Livescribe. Microsoft promises it will soon enable handwriting recognition for images added to OneNote from any device, not only Office Lens.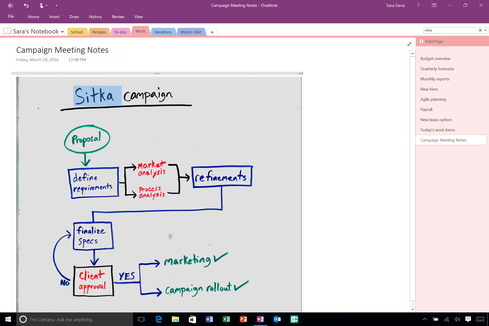 The PowerPoint Designer, a design assistant first launched in November 2015, has been updated to include layout suggestions for multiple images. It also extrapolates the most relevant colors from images and applies them to the overall theme. It also uses facial recognition for intelligent cropping.
Office 2016 for Mac now supports Arabic, Hebrew, and right-to-left language support in Word, PowerPoint, Excel, and OneNote. Outlook support will be coming within the month. Skype Translator also supports Arabic, bringing the service to a total of eight spoken languages.
Starting in April, the new Cloud Connector edition of Skype for Business Server will be generally available. This will allow customers to use Office 365 Cloud PBX with their preferred carrier service.
Microsoft is also building a Skype app for its Universal Windows Platform on Windows 10, the company announced this week. Windows Insiders can expect to see a test version arrive "in the coming weeks."

Kelly Sheridan is the Staff Editor at Dark Reading, where she focuses on cybersecurity news and analysis. She is a business technology journalist who previously reported for InformationWeek, where she covered Microsoft, and Insurance & Technology, where she covered financial ... View Full Bio
We welcome your comments on this topic on our social media channels, or
[contact us directly]
with questions about the site.