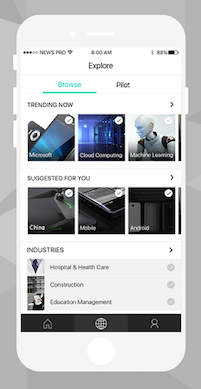 10 Cool Microsoft Garage Projects You Didn't Know About
(Click image for larger view and slideshow.)
Microsoft unveiled Monday an artificial intelligence platform called AIX that relies on its popular Minecraft game.
The Redmond giant is the latest tech titan to use a game to further development of AI, joining IBM's Watson and Google's DeepMind AlphaGo.
But in this particular case, Microsoft plans to open its platform to researchers and AI enthusiasts with an aim to move closer to having AI achieve the coveted "general intelligence" capabilities.
General intelligence is on par with the way a baby learns by taking in their environment via sight, sound, smell, touch, discomfort, pleasure, and other information to make decisions effortlessly. But AI researchers to date have only been able to take small slices of that total awareness to build tools that do just one thing, such as recognize words, but have not been able to combine all the slices in a way that humans do without effort, said Katja Hofmann, a researcher at Microsoft's Cambridge, UK, lab who helped develop the AIX platform with her colleagues, in a blog post.
That's partly due to the lack in understanding how people combine those senses, said Hofmann adding, "We don't understand ourselves well enough."
Enter Minecraft, which Microsoft acquired through its $2.5 billion purchase of Swedish game developer Mojang in 2014. Minecraft allows users to build their worlds however they wish. Because it affords users endless possibilities in the way they create their worlds, from scouring for treasures to erecting a building alone or with teammates, Hofmann said it made sense to use the open world of Minecraft when creating the AIX platform.
Hofmann and her team are trying to train an AI agent, similar to one used in Minecraft, to climb to the highest point in the virtual world without knowing how to do it or what needs to be accomplished.
"We're trying to program it to learn, as opposed to programming it to accomplish specific tasks," Fernando Diaz, senior researcher in Microsoft's New York research lab, said in the blog post.
Brian Blau, a research director for Gartner, agrees that games have a benefit for AI researchers.
"Games are a natural platform for test-bedding AI technology. They are rich and diverse simulations of worlds, which could be similar to what we humans experience, or not. That openness makes game worlds and virtual reality worlds well suited for AI, as they can deliver a clear visual picture and one that can be experienced personally," Blau told InformationWeek.
[Read Microsoft Open Sources Deep Learning, AI Toolkit On GitHub.]
He also pointed out that Microsoft is using Minecraft as a showcase for many of its new technologies, the other one being augmented reality goggles HoloLens.
Additionally, Blau noted, "Using AI has been a cornerstone of non-player game character animation and behavior technology for many years, but it's not at the same level of sophistication as what today's (DNN/AI/GPU-powered) learning systems can achieve."
AIX has been used by Microsoft's researchers for their own projects. To date, a small group of academic researchers have been able to test it via a private beta. But this summer the Redmond giant will make AIX available under an open-source license.
The platform uses a mod for the Java version and code that the AI agents need to sense and act in the Minecraft environment. Researchers and AI enthusiasts will be able to run these two components on Windows, Mac OS, or Linux. They can also select the programming language of their choice.