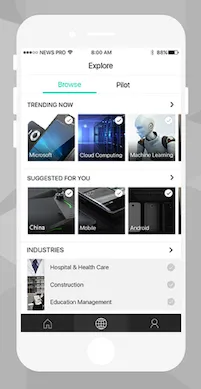 10 Cool Microsoft Garage Projects You Didn't Know About
(Click image for larger view and slideshow.)
Microsoft stunned the tech industry Monday when it announced plans to port its SQL Server software onto Linux, a move that points to further signs that the Redmond giant's old stance of a Windows-only shop is quickly fading in favor of sharpening a competitive edge and grabbing more marketshare.
Microsoft plans to allow its SQL Server, a relational database management system, not only to sit on top of a Windows server, but also give users the option of having it port over to a server that runs on a competing Linux operating system.
For Microsoft, this move aims to give it a competitive edge against its database rivals like Oracle and IBM's DB2, and to boost the market for its SQL Server by a large margin, according to Al Gillen, IDC group vice president of enterprise infrastructure.
"This move makes total sense for Microsoft," Gillen said in an interview with InformationWeek. The pragmatic decision is expected to extend the opportunities for SQL Server, while having little to no negative effect on SQL Server on Windows.
For Microsoft, it faced a situation where 39.5% of all new x86 servers that were coming into the market between the fourth quarter of 2014 and the third quarter of 2015 were sold with Linux operating systems, according to IDC. Of this group, a third of these Linux servers played a database-like role. Microsoft now has the potential to capture some of that business by allowing SQL Server to work with Linux servers, where before it could get none of that business.
Microsoft said it plans to make its SQL Server core relational database capabilities available to Linux in the mid-2017 period. Although it didn't state the exact schedule for distributing its code releases, IDC speculated that Ubuntu's popular developer platform will likely be the recipient of the early code releases.
The research firm also noted that mainstream commercial distributors like Red Hat Enterprise Linux and SUSE Linux Enterprise Server will likely be supported before the formal product release in mid-2017.
"We believe our customers will welcome this news and are happy to see Microsoft further increasing its investment in Linux," Paul Cormier, Red Hat's president of products and technologies, said in a statement.
For Microsoft, the SQL Server to Linux move is just the start of what Gillen expects will be more Windows server extensions to move to Linux. "I can see the people in Microsoft's SharePoint saying that if SQL can expand into Linux, then maybe they should too," Gillen said.
[Read RHEL on Azure: What Took So Long?]
While any movement into Linux could help expand the market for those Microsoft products, the main goal of this strategy is to serve as an on-ramp to bring these folks onto Microsoft's Azure cloud. Azure has the capability to work with both Linux and Windows servers, so having a SQL Server stack that can sit on top of either one may make it more attractive to customers shopping for cloud services.
Microsoft's CEO Satya Nadella has targeted "mobile first, cloud first" as his rallying cry for the company. As a result, Gillen attributes the SQL Server portability to Linux as due to Nadella taking the helm of Microsoft two years ago.
"This would not have been possible with [former Microsoft CEO] Steve Ballmer five years ago," Gillen said. He noted that Windows was not losing ground to Linux at such a sharp clip as it is today. But even as it was gaining ground five years ago, Gillen said he still doubts Ballmer would have considered having SQL work with Linux.
He characterized Microsoft's Linux announcement as both "stunning" and a clear sign of how the new Microsoft under Nadella is looking at opportunities for today and tomorrow.
In the past, the old Microsoft would have "defended Windows to the death, and part of that defense included keeping the crown jewels all in a single box," Gillen said. As a result, Microsoft's server products would have remained Windows-only indefinitely.