Microsoft 'Project Spartan': Hands-On Demo
Microsoft's Project Spartan, the browser designed to replace Internet Explorer, is available for testing on Windows 10.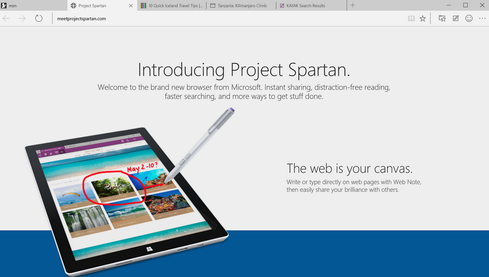 Microsoft released Windows 10 Build 10049 late on March 30. This iteration has only gone out to the "fast" ring of Windows Insiders, people who opt to receive updates as soon as they're available and before any bugs have been addressed.
Build 10049 is the first to contain an early version of Project Spartan, the browser that will eventually replace Internet Explorer for the majority of users when Windows 10 rolls out to the masses this summer.
Although Windows 10 will continue to feature Internet Explorer for business users who rely on the browser, Project Spartan will become the primary source for Internet access. Spartan will feature Microsoft's new Edge rendering engine over IE, an indicator that this is the browser of the future.
[Microsoft's Surface 3 Promises Windows 10, Kills Windows RT]
Users have been promised a number of upgrades when Spartan launches in full, including speedy and lightweight browsing, an improved reading mode, and the ability to comment and draw on Web pages. Cortana will also make an appearance to help users who have questions or want more information while browsing.
Microsoft is still working on a name, but Spartan is an appropriate nickname for a browser that lacks many bells and whistles in its early stages. Despite its minimalist design, it's pretty functional, with fast loading and responsiveness to swipes and scrolls. I also found that it handled plenty of browser tabs without slowing down.
Click through to see how Project Spartan is shaping up so far.
Kelly Sheridan is the Staff Editor at Dark Reading, where she focuses on cybersecurity news and analysis. She is a business technology journalist who previously reported for InformationWeek, where she covered Microsoft, and Insurance & Technology, where she covered financial ... View Full Bio
We welcome your comments on this topic on our social media channels, or
[contact us directly]
with questions about the site.