Microsoft Windows 8.1 Update Surfaces
Microsoft inadvertently leaked its Windows 8.1 update for a few hours Thursday. When it arrives in April, can the update overcome doubts about the future of Windows?
Will Microsoft have any surprises left for Build?
The company is expected to use the conference, which begins April 2 in San Francisco, to launch Windows 8.1 and Windows Phone updates. But Microsoft inadvertently made the former available for several hours Thursday, and details about the latter continue to leak online. Meanwhile, a new report from the research firm Forrester emphasizes the stakes Microsoft faces with the updates, arguing the company must "go big" in 2014 or risk losing its world-beating influence.
Windows 8.1 Update 1, as it is known online, is intended to make the touch-oriented OS more palatable to mouse-and-keyboard users. Additions include new right-click options on the tiled Start Screen, the ability to access Modern apps from the taskbar, and the inclusion of minimize and maximize buttons within those apps.
Microsoft reportedly released Update 1 to manufacturers earlier this week, after which it was supposed to roll out to select internal groups for further testing. But for a period Thursday, anyone willing to modify their computer's registry could gain access to the illicit bits. Microsoft has since removed the Update 1 files, but many have successfully installed the update, according to accounts posted online. Some reported that Update 1 failed to boot, however, and others reported bugs once the updated OS was up and running.
[For more on what you can expect in Windows 8.1 Update, see Windows 8.1 Update: 10 Key Changes.]
New details have also emerged about Microsoft's evolving Windows strategy -- specifically, the purpose of "Windows 8.1 with Bing," a new SKU whose existence was recently revealed by Russian blogger ZWor, a notorious source of pre-release Windows information. Purported documentation related to the SKU has since surfaced online. It claims Windows 8.1 with Bing offers OEMs a cheaper license option but requires that Bing be set as the OS's default search engine. Users, however, can still choose any search engine.
Recent rumors claim Microsoft has heavily slashed Windows OEM license costs in order to stimulate production of sub-$250 devices. Well-connected Windows expert Paul Thurrott said Thursday that Windows 8.1 with Bing is the program references in those rumors. Other reports had claimed Windows 8.1 with Bing might be a free option targeted at Windows 7 users.
Whatever the case, by limiting OEMs to Bing, Microsoft ostensibly hopes to drive more users into its online offerings. As the most popular apps and services become decoupled from the OS and move into the cloud, Microsoft arguably needs to compensate for falling consumer Windows revenue by boosting adoption of Skype, OneDrive, Office 365, and other products.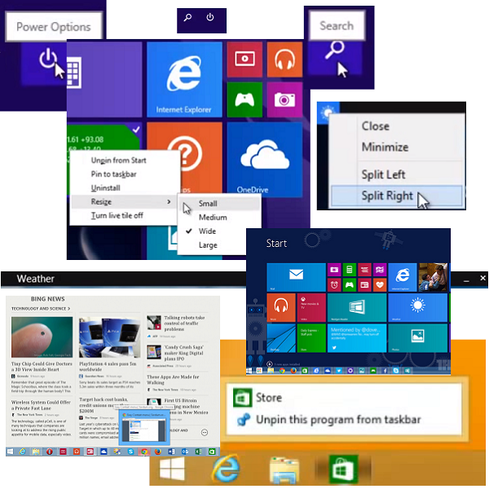 Windows Phone 8.1 has also been the subject of leaks, including a recent video that allegedly shows Cortana, Microsoft's rumored answer to Apple's Siri and Google's Google Now. The digital assistant is expected to provide personalized information gleaned from the user's Microsoft account, which potentially ties Cortana's success to the success of initiatives like Windows 8.1 with Bing. Derived from a leaked SDK, the latest Windows Phone 8.1 chatter states the OS's Action Center will allow up to 20 notifications per app, and that something called Windows Phone 8.5 might already be in the works.
Whether or not Microsoft has anything new to show at Build, it will face pressure to impress. The company's enterprise portfolio is strong but consumer prospects are shakier. Microsoft's mobile presence is still weak, and it might be running out of time to correct matters, given that both the tablet and smartphone markets are rapidly maturing. Microsoft has enviable assets in cloud-based services and the Xbox, but it arguably trails competitors in other next-gen platforms, such as wearable technology, smart cars, and other Internet of Things-themed applications.
Analysts have argued for the last year that Microsoft's overall influence could be vulnerable if its consumer efforts don't pick up. In "The Clash Of The Digital Platforms," a study published Friday, Forrester analyst James McQuivey said Google is arguably the best-positioned platform player, and that "Apple can take its brand and its cash anywhere it wants." He described Microsoft less bullishly: "Microsoft has to go big in 2014 or risk falling off the list."
Engage with Oracle president Mark Hurd, NFL CIO Michelle McKenna-Doyle, General Motors CIO Randy Mott, Box founder Aaron Levie, UPMC CIO Dan Drawbaugh, GE Power CIO Jim Fowler, and other leaders of the Digital Business movement at the InformationWeek Conference and Elite 100 Awards Ceremony, to be held in conjunction with Interop in Las Vegas, March 31 to April 1, 2014. See the full agenda here.
Michael Endler joined InformationWeek as an associate editor in 2012. He previously worked in talent representation in the entertainment industry, as a freelance copywriter and photojournalist, and as a teacher. Michael earned a BA in English from Stanford University in 2005 ... View Full Bio
We welcome your comments on this topic on our social media channels, or
[contact us directly]
with questions about the site.