Windows Threshold Coming Soon: 9 Predictions
Microsoft will likely announce a preview of Windows Threshold on September 30. Here's what to expect.
Microsoft on Monday sent media invitations for a Sept. 30 event in San Francisco. The invitation reveals only that the company will share "what's next for Windows and the enterprise." Microsoft observers widely assume the company will announce a preview of the next version of the OS, codenamed Threshold.
Previous reports claimed Microsoft was targeting late September or early October for a preview launch. Terry Myerson and Joe Belfiore (Microsoft's OS Group head and corporate VP, respectively) will lead the Sept. 30 presentation, which strongly indicates Threshold is on tap.
Windows 8 left a bad taste for many PC users, millions of whom have stuck with Windows 7, and even Windows XP. Windows 8 also hasn't helped Microsoft challenge Apple in the tablet market. But it's often said that Microsoft only gets its OSes right with every other release -- such as when it followed up highly criticized Windows Vista with highly adopted Windows 7. Will the company bounce back with Windows Threshold? Here are nine things to expect.
1. Microsoft will bring back the Start menu, and Live Tiles will be optional.
Microsoft confirmed in April that a new Start menu is coming to its desktop UI. Reps have been tight-lipped since. Videos and screenshots from an allegedly leaked Threshold build recently surfaced and revealed more details. The new Start menu is expected to be highly customizable; users will be able to configure it as a slightly slimmed-down version of the one from Windows 7, or with a second column of user-selected Live Tiles. If desktop users don't want to see tiles or use Modern apps, they won't have to.
[What does Microsoft's Mojang acquisition mean? See Microsoft's Minecraft Buy: 6 Interesting Facts.]
2. Modern apps will run in floating windows on the desktop.
Microsoft confirmed this feature in April as well. In Windows 8 and 8.1, Modern apps launch only into full-screen mode, but in Threshold, the apps will run more like legacy software; they'll not only launch into resizable windows that float on the desktop, but also include more mouse-friendly controls. Modern apps are likely to work differently on tablets, however (see item 4 in this list).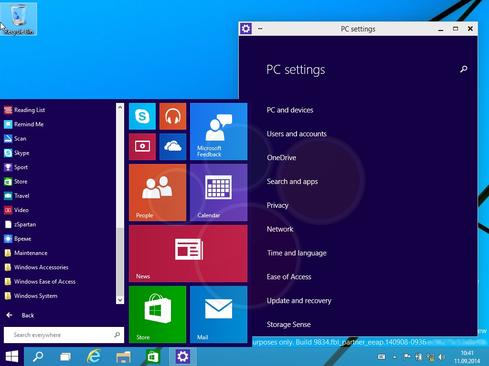 3. Threshold will bring some of Windows Phone's best features to the desktop.
Based on the aforementioned leaks as well as recent reports, Threshold will include several features from Windows Phone, including the Notification Center and WiFi Sense, the latter of which automates signing into frequently visited public WiFi networks. Most intriguingly, Microsoft might extend Cortana, Windows Phone's competitor to Apple's Siri, to Windows desktops and tablets. It's not clear whether the feature will be active in the upcoming preview.
That Microsoft's mobile and desktop services will further intertwine isn't surprising; Microsoft CEO Satya Nadella has been foreshadowing this sort of move for months. He's frequently said Windows services should move with users across devices. The company is trying to popularize this idea with not only cloud-based services, such as OneDrive, but also its Universal Apps, which let developers write apps that will run on all Windows devices, including
the Xbox. Most explicitly, Nadella said in July that Microsoft will unify its platforms "into a single, converged [OS] for screens of all sizes."
4. Threshold will run differently on different devices.
As Nadella's July quote might indicate, many commentators expect Microsoft to stop differentiating among different Windows variants once Threshold hits; that is, rather than having multiple OSes for multiple device types, Microsoft will have one version of Windows that detects what kind of device it's running on and automatically loads the appropriate UI. For PC users, Threshold will default to a "traditional" experience designed around mouse-and-keyboard use -- but with optional features for Live Tiles and touch. Tablets and phones, on the other hand, will load a next-gen version of Windows 8's tiled Start screen. Hybrid devices such as the Surface Pro 3 will act somewhat as they do today, giving users the option to switch between UIs.
5. Threshold is also expected to include Internet Explorer 12 and virtual desktops.
Internet Explorer 12 (IE 12) is expected to debut as part of Threshold, though the next-gen browser doesn't appear to be present in the recently leaked build. Not much is known about the next version of IE, though some reports claim it will include both a visual makeover and better support for extensions.
6. The Threshold desktop won't include Charms.
The Charms menu was among Windows 8's most-criticized elements. Because it was invisible until swiped or moused into view, many users felt the menu hid essential functions, such as printing or sharing content within a Modern app. With Threshold, Microsoft will reportedly remove Charms from the desktop. It's not clear if Charms will remain in Threshold's tablet and smartphone UI. It's also not clear if Charms will be present in the upcoming preview; the Charms removal will require some functionality to be integrated into Modern apps themselves, but because most app makers haven't had time to update their offerings, the preview might include Charms for continuity.
7. This month's Threshold preview might be one of many.
September's event is expected to focus on Threshold's desktop UI and enterprise customers; it is not expected to address changes Threshold will bring to smartphones and tablets. Microsoft will reportedly release a second, consumer-oriented preview in early 2015 that will focus on ARM tablets and smartphones. Microsoft will also allegedly launch a preview of the Threshold version of Windows Server, possibly as soon as this month.
8. Threshold could evolve significantly between the preview and its final release.
Microsoft is expected to release the final version of Threshold in spring 2015, but the OS could still change significantly before that happens. According to reports that were subsequently corroborated by the leaked videos, the preview will include a Live Tile that lets users easily submit preview feedback to Microsoft. Different users could be given different versions of the preview depending on the feedback they provide, presumably so Microsoft can tune its new OS to user preference as much as possible.
9. Windows Threshold might not be called Windows 9.
There are two schools of thought regarding whether Threshold will hit the market as Windows 9, or as just Windows. The former assumes Microsoft should use Windows 9 in order to distance its next OS from Windows 8's poor reputation. The latter stems from Microsoft's recent declaration that it will deliver Windows features via monthly updates rather than through the large feature packs it has historically released every few years. There's evidence to support both lines of speculation. A reference to Windows 9 popped up in a social media post from an official Microsoft account, for example; Microsoft declined to comment on the post, which was quickly deleted. Then again, the leaked build contains many references to "Windows" but none to "Windows 9." For the last year, Microsoft's advertising has also emphasized "the new Windows" rather than "Windows 8.1."
Do you need a deeper leadership bench? Send your most promising leaders to our InformationWeek Leadership Summit, Sept. 30 in New York City, for a day of peer learning and strategic speakers.
Michael Endler joined InformationWeek as an associate editor in 2012. He previously worked in talent representation in the entertainment industry, as a freelance copywriter and photojournalist, and as a teacher. Michael earned a BA in English from Stanford University in 2005 ... View Full Bio
We welcome your comments on this topic on our social media channels, or
[contact us directly]
with questions about the site.