Windows vs. Mac: Desktop Battle Lines Drawn
Reports and executives' hints frame potential Mac vs. PC debates of the future.
PC and tablet users might have gained insight last week into Apple's and Microsoft's future strategies from clues in remarks from top Apple executives and screenshots picturing an update allegedly coming to Windows 8.1.
The hints mainly revolve around features and user interface aesthetics, but their most interesting implications involve the companies' philosophical outlooks on computing -- namely, whether a PC and a tablet can or should exist in the same package.
Microsoft marched aggressively into the convergence camp with Windows 8 to mostly disastrous effect. The company has since found a smoother desktop-mobile blend in Windows 8.1, but the OS has still made only modest gains. Recent reports indicate future Windows updates will maintain the OS's current foundation while making more concessions to desktop users, many of whom find the current version too touch-centric.
[Good news for Win XP fans: See Microsoft Delays Windows XP Antivirus Doomsday.]
Apple, which last week celebrated the 30th anniversary of its Mac computer line, has kept its laptops defiantly devoid of touchscreens, but rumors have long indicated that some iOS/OS X hybrid device might be in the works. Patents show Apple has at least considered the concept, but top execs strongly suggested last week that customers shouldn't expect a hybrid iDevice anytime soon.
"You don't want to say the Mac became less good at being a Mac because someone tried to turn it into iOS," said Apple senior VP Craig Federighi, who oversees both Apple's mobile and desktop OSes, in an interview with Macworld, published Thursday. "At the same time, you don't want to feel like iOS was designed by [one] company and Mac was designed by [a different] company."
Federighi also dismissed touchscreens on PCs, stating they don't provide a good experience. Apple senior VP Phil Schiller said in the same interview that it's less important for tablet and PC interfaces to converge than for experiences to move seamlessly across devices.
How does this compare to what's cooking at Microsoft? Officially, the company isn't saying much, except that its enterprise business is soaring, and that its Surface products have been upgraded from massively unprofitable to somewhat unprofitable.
But unofficial reports from usually reliable sources suggest Microsoft will retreat somewhat, but not completely, from its original vision of convergence.
Previous reports from sources including ZDNet, The Verge, and Windows expert Paul Thurrott indicate Microsoft is readying at least one update, possibly two, for Windows 8.1. A major update codenamed Threshold, but which might be called Windows 9 for marketing purposes, is expected to follow in spring 2015. It will allegedly integrate several features aimed at mouse-and-keyboard users, including a Start menu like the one in Windows 7 and the ability to run windowed Modern apps from the desktop.
Threshold will also reportedly coincide with the release of new Windows versions: a Modern UI-focused one for phones and tablets; one for 2-in-1s and traditional PCs that will retain the Modern UI but focus more on desktop features; and a separate enterprise version.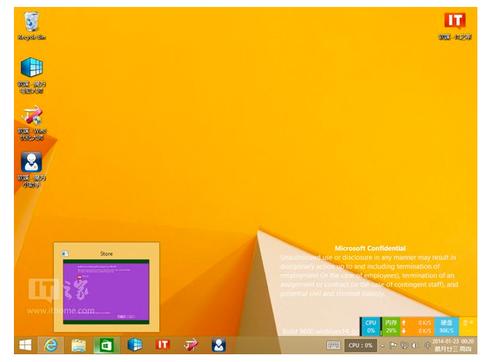 Threshold suggests Microsoft's perspective now aligns with Apple's in certain respects. Windows 8's original Frankenstein approach didn't work. It was far too dramatic a departure, with gaps between the UIs that were bridged too inelegantly, if at all. It appears Microsoft is now retreating to something more centrist.
The company's not changing course altogether, nor is it embracing Apple's professed hardline distinctions. But Microsoft seems to have realized that even if a Windows tablet can run desktop apps, it can't replace an actual Windows laptop.
The most recent Windows rumors reinforce this idea. Alleged screenshots of the aforementioned Windows 8.1 update appeared online this week, first from Russian blogger, and noted leaker of Microsoft product news, WZor. Additional screenshots popped up on Win8China.com.
The images indicate the update, called Update 1 in various online reports, will enable users to pin Modern apps to the taskbar and see a thumbnail view of pinned apps.
It's not clear if Windows Store apps launched from the desktop will spring into full-screen Modern view or if they'll be available as windowed apps on the desktop, per the Threshold rumor. No Start menu appears in any of the images.
Paul Thurrott said Jan. 21, in ostensible affirmation of the screenshots, that his sources claim Update 1 will make the Modern UI easier to use on PCs. He said Modern apps viewed from the desktop will include a "close box," like the one in legacy applications, that can be clicked to completely close the app.
ZDNet's Mary Jo Foley subsequently reported that Update 1's target release date is March 11, just weeks ahead of Microsoft's BUILD conference in San Francisco. Foley's sources indicated Update 1, previously rumored to include code to further unify Windows platforms, would reduce Windows 8.1's memory and disk-space requirements. She said this would enable the OS to run on cheaper and smaller tablets.
WZor was back Friday with more screenshots, these depicting mouse-friendly functions on the touch-oriented Live Tile Start screen. Currently, to modify a Tile a user must usually select the Tile and then navigate to controls at the bottom of the screen. Based on the new images, an updated Windows 8.1 could allow mouse-oriented users to skip this step: Instead of activating a Live Tile and moving the mouse to the bottom of the screen, a user could right-click the Tile to immediately access controls. The screenshots also show new Power and Search controls in the top-right of the screen.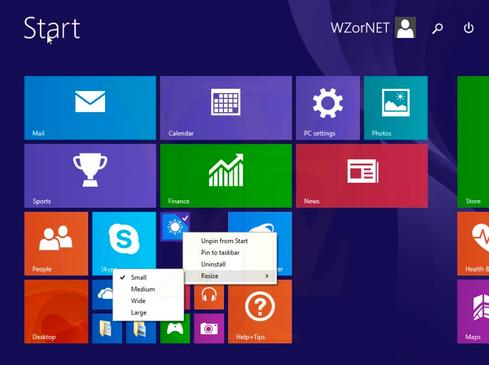 What does this mean for users?
As Schiller opined, users want to translate data and services across devices -- and both Microsoft and Apple seem to understand this. Apple syncs iTunes and iCloud accounts throughout its device ecosystem and is now expanding iLife through the cloud. Microsoft offers a range of device-spanning services such as SkyDrive and Office 365.
Assuming Microsoft's next CEO doesn't shift course, rumors indicate the company still believes in convergence, even on desktops, but to a much less authoritarian extent. The company knows not only that users want to use the same services on both their PCs and tablets, but also that many users want to interact with their computers one way, and their tablets another.
That said, Microsoft hasn't given up on convergence -- and perhaps it shouldn't, as it's clearly a demonstrated -- if niche -- market. Hybrid devices can be useful in certain scenarios -- but they're not ready to be the cornerstone of an OS strategy.
Apple, meanwhile, has a history of releasing products that defy its leaders' statements. Steve Jobs famously blasted small tablets, but the iPad Mini has since become one the Apple's most important products. It won't be surprising if, as supply chain rumors continually claim, Apple eventually releases a larger iPad Pro to complement the recently rebranded iPad Air. If Samsung's 12.2-inch models, announced this month at CES, gain any traction, Apple might even be forced to do so.
If such a device were to appear, rest assured: A lot of people would want to use it with keyboards at least some of the time. So while I believe Apple is more ardent than Microsoft about PC-tablet separation, I won't be surprised if Apple releases a productivity-oriented iPad. Tablets and computers still demand different interaction models, but convergence has benefits. Some measure of hybridity will make sense for Apple, just as it will for Microsoft. The hazier questions are how much and how soon.
While Apple is only dropping hints about future products and Microsoft is staying completely mum, Microsoft recently released a series of guides for Windows 8.1 business users. Those tips can help people waiting for Windows 9's alleged updates get the most out of Windows now.
Michael Endler joined InformationWeek as an associate editor in 2012. He graduated from Stanford in 2005 and previously worked in talent representation, as a freelance copywriter and photojournalist, and as a teacher.
Incidents of mobile malware are way up, researchers say, and 78% of respondents worry about lost or stolen devices. But though many teams are taking mobile security more seriously, 42% still skip scanning completely, and just 39% have MDM systems in place. Find out more in the State Of Mobile Security report (free registration required).
We welcome your comments on this topic on our social media channels, or
[contact us directly]
with questions about the site.