If the words "Raspberry Pi" make you think of dessert more than creative hacking, then it's time for you to renew your geek credentials. The newest version of the "RasPi," the Raspberry Pi 2, provides the perfect excuse to do just that.
The original Raspberry Pi changed the way many engineers and developers thought about the possibilities of an embedded system. A $35 Linux server in a 3" x 5" package, the RasPi allowed developers to write complex control systems using the same languages and operating system functions that they might have used in the business support world.
[ What other options exist for programming the Raspberry Pi 2? Read Google Launches Coder For Raspberry Pi. ]
The newest version has the same I/O capabilities coupled with much more RAM (1 gigabyte versus 256 megabytes in the original) and a dramatically faster CPU (a quad core 900 MHz ARMv7 versus the original 700 MHz ARMv6k). The new speed and power have changed what is possible with the Raspberry Pi, but there are still some limitations that must be kept in mind.
One of the most intriguing sets of possibilities came from Microsoft's announcement that Windows 10 Embedded will be available on the Raspberry Pi 2. The announcement has led to some hyperbole about cheap workstations and budget corporate assets. There's no question that individuals and organizations are doing amazing things with these little systems, but now seems a good time to look at what you can -- and can't -- do with a Raspberry Pi 2.
You Can Run Windows 10 Embedded -- Windows 10 Embedded, like the embedded versions of earlier Windows operating systems, is a command-line version of the OS core designed to power control systems, kiosks, appliances, and other devices for which the Windows user interface isn't required. It allows a developer to use the Microsoft developer tools and attach the embedded devices to a network under Microsoft Active Directory control and management.
You Can't Run Microsoft Office -- Office won't run on Windows 10 Embedded because the products need all of those fancy user interface pieces that the Embedded product doesn't have. There are additional reasons, but the takeaway is that you can't replace your Windows desktop with a $35 computer in an Altoids box. Sorry.
You Can Build a Better Supercomputer -- People started building Raspberry Pi supercomputers with the Model A. For a researcher with a small budget (or just a very curious hobbyist) the possibilities inherent in a bunch of cheap Linux computers and a pile of Legos are almost unlimited (and absolutely irresistible). With more memory and four times as many compute cores on each device, it should be possible to build much more capable supercomputers at minimal expense.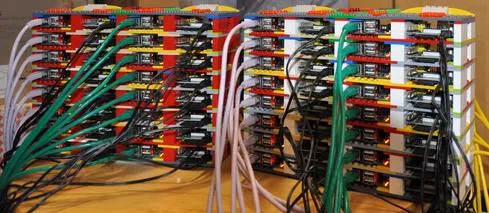 You Can Teach People to Code -- Computer programming has become one of the "must-have" skills for the modern technical employee. Learning the programming essentials in a desktop environment can be difficult, because of all the user interface components that have to be considered. The Raspberry Pi 2 gets around all of those and adds the possibility of blinky lights to show whether the program is doing the right thing. And let's be honest: Everything is better and easier with blinky lights.
You Can't Take Its Photograph -- OK, to be more specific you don't want to take a photograph of the Raspberry Pi 2 if you're lighting it with a flash. The sudden, intense light of a flash at close range causes the computer to turn off. Why? It turns out that a key component is photo-sensitive -- something that's not at all an issue if you've got the board in a nice, dark, project box. If you want to take a photo of your RasPi 2, though, just put it on a table near a window and use natural light.
You Can Build a Cloud -- Unlike many other single-board embedded computers, the Raspberry Pi 2 has all the components you need to put a project into the cloud. Add a power supply (a 2 amp micro-USB supply is plenty), connect it to the rest of your project, write the code to be delivered to the outside world via the included Web server, and you're in the cloud.
The Raspberry Pi 2 is brand new. At this point, no one knows precisely what businesses and individuals will do with the new power and capabilities. I've already got my eye on several projects: What would you like to do with all that speed? Tell us about it in the comments section below.
Attend Interop Las Vegas, the leading independent technology conference and expo series designed to inspire, inform, and connect the world's IT community. In 2015, look for all new programs, networking opportunities, and classes that will help you set your organization's IT action plan. It happens April 27 to May 1. Register with Discount Code MPOIWK for $200 off Total Access & Conference Passes.