Facebook Rooms: 5 Privacy Facts
Facebook's new Rooms app lets you post pictures, videos, and messages anonymously. Here's a look at the data it collects, the privacy of your posts, and more.
Facebook on Thursday launched a new app called Rooms, a space inspired by throwback Web communities, where users can post photos, videos, and messages -- all under the guise of a pseudonym.
"Forums, message boards, and chatrooms were meeting places for people who didn't necessarily share geographies or social connections, but had something in common," said Facebook product manager Josh Miller in the announcement. "Places where what you said mattered more than who you were and whom you knew."
The app, which is available now for iOS only, lets users create, manage, and join communities, which are based on interests such as cooking, photography, and music. Rooms lets users upload photos and videos, and post messages without using their real name.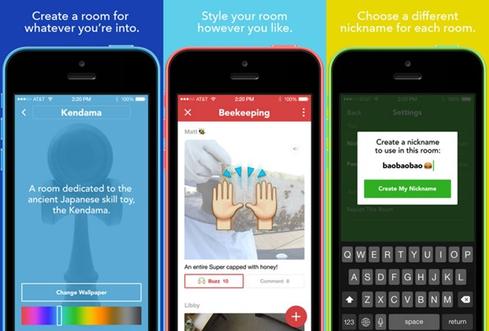 [Catch up on the latest Facebook changes. Read Facebook: 10 New Changes That Matter.]
Rumors swirled earlier this month that Facebook had an anonymous app in the works -- a departure for the social network given its staunch policy on using authentic names. Facebook's Miller said that Rooms' open policy on usernames gives people more freedom to be who they are.
"It doesn't matter where you live, what you look like, or how old you are -- all of us are the same size and shape online," he said. "This can be liberating, but only if we have places that let us break away from the constraints of our everyday lives. We want the rooms you create to be freeing in this way."
Rooms, however, is a Facebook product -- the latest out of Facebook Creative Labs -- and as such, adheres to the social network's Data Use and Cookies policies, as well as its Statement of Rights and Responsibilities. Before you get started with Rooms, here's what you need to know about the data it may collect, the privacy of your posts, and the control you have over your account.
1. Your account is tied to your email address
To log into Rooms, you must provide the app with your email address, which serves as your ticket back into the app if you log out or switch devices. The app doesn't automatically recognize you as a Facebook user --in fact, you can't log into Rooms using your Facebook credentials at all -- so it's not necessary to provide the same email address that you use to log into the social network.
This differs from anonymous applications such as Whisper, which doesn't require an email address to get started. Otherwise, it's nothing out of the ordinary: Twitter, YouTube, and other websites that support pseudonyms require email addresses to sign in.
2. Everything you post is public
Room creators can customize a group with a certain level of privacy, including whether or not the room's posts can be discovered in search. Aside from that, however, the app warns
that that all your interactions -- including photos, videos, and comments -- are visible to everyone.
"Anyone online or offline, including people off of Rooms, may be able to see this information. When you join a room, your status as a member of the room may also be visible to other Rooms users, such as the moderator of the Room," the app says.
3. You can delete your content and account... sort of
If you confirmed your Rooms account, which entails entering a six-digit code, you can delete any content you posted in the past. To remove individual posts, visit the room, then tap the image, video, or note that you want to delete. Tap the icon with three dots at the top, then select Delete.
If you haven't confirmed your account, you can remove content you have shared in a Room only if you are logged in.
To delete your Rooms account, visit your Settings page and tap Delete Account. As with many mobile apps, however, your data might not actually disappear: The app says that while this action will remove all content you have shared on Rooms, it may save backup copies and logs "for a period of time" -- though did not disclose how long.
4. Rooms may share your data with other Facebook apps
Even though Facebook developed the Rooms app, it doesn't allow you to connect the two accounts. That doesn't mean, however, that your data stays only with the Rooms team.
"We may share information about you within the company and services operated by Facebook to understand and improve our services, but the information you share on Rooms will never be posted to your Facebook account, and the information you share on Facebook will never be posted to your Rooms account," the company said.
5. Rooms adheres to Facebook's policies
Rooms abides by the same Data Use Policy and Cookies Policy as Facebook, which means the app may track and store information about you in the same way that Facebook does.
Rooms hasn't disclosed exactly what information it collects or how it may use it, though it could include using your data to target advertising, for example, or your IP address and location information to suggest localized groups to join.
Considering how prevalent third-party attacks are, we need to ask hard questions about how partners and suppliers are safeguarding systems and data. In the Partners' Role In Perimeter Security report, we'll discuss concrete strategies such as setting standards that third-party providers must meet to keep your business, conducting in-depth risk assessments -- and ensuring that your network has controls in place to protect data in case these defenses fail (free registration required).
Kristin Burnham currently serves as InformationWeek.com's Senior Editor, covering social media, social business, IT leadership and IT careers. Prior to joining InformationWeek in July 2013, she served in a number of roles at CIO magazine and CIO.com, most recently as senior ... View Full Bio
We welcome your comments on this topic on our social media channels, or
[contact us directly]
with questions about the site.