Google+ Email Changes: How To Opt Out
Google+ users can now send you messages without knowing your email address. Here's how to opt out.
If you're a Gmail and Google+ user, a new change means you may be in for a surge of unwanted emails.
Google announced that it will allow users who have Gmail and Google+ accounts to email anyone who also has both accounts, even if the user doesn't know the person's email address.
Google says that this change will be useful for people who know each other but haven't yet exchanged email addresses.
"Have you ever started typing an email to someone only to realize halfway through the draft that you haven't actually exchanged email addresses?" wrote David Nachum, project manager at Google. "As an extension of some earlier improvements that keep Gmail contacts automatically up to date using Google+, Gmail will suggest your Google+ connections as recipients when you are composing a new email."
According to Google, anyone can send you email as long as the person follows you on Google+, which he or she can do without permission. Your email address won't be visible to the user unless you respond to the person's message.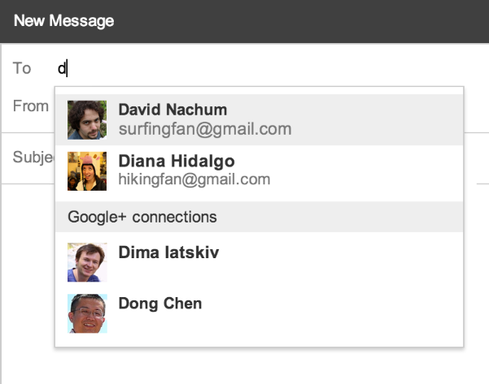 These messages will land in one of two separate tabs within your inbox. If someone in your Google+ circles emails you, the email will appear in your Primary tab. If a user you don't follow on Google+ emails you, that individual's email will be filtered into the Social tab, and he or she will be able to start another conversation with you only if you respond or add that person to your circles, Google said.
While this feature is automatically enabled for all users, you can opt out. Visit your Gmail settings and click the General tab.

Find the setting Email via Google+ and click the drop-down menu. You can choose to receive email from anyone on Google+ -- which is the automatic setting -- extended circles, circles, or no one. Select your preference and click Save Changes at the bottom of the page.
This update is Google's latest push to integrate Google+ further with its suite of products. Most recently, Google required users to join Google+ in order to comment on YouTube videos, a move that rankled many users of the video site.
Gmail and Google+ users took to Twitter this morning to voice their disapproval of this new feature. Many called out Google for automatically opting in all users.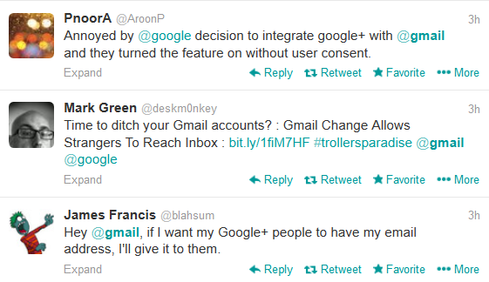 Graham Cluley, an independent security expert and former consultant at security firm Sophos, said in a post that while Google does let you opt out, the new feature could be a nuisance for users -- and even potentially dangerous.
"It's easy to imagine, for instance, how it could be used by people who were violent to send upsetting messages to a former spouse or domestic partner who has tried to create a new life away from physical abuse," he said. "It's also easy to picture public figures receiving a torrent of unwelcome messages in their inbox from fans or obsessive individuals."
This feature is rolling out over the next few days to everyone who uses Gmail and Google+, the company said. All users will receive an email detailing the changes.
Senior editor Kristin Burnham covers social media, social business, and IT leadership and careers for InformationWeek.com. Contact her at [email protected] or follow her on Twitter: @kmburnham.
Can the trendy tech strategy of DevOps really bring peace between developers and IT operations -- and deliver faster, more reliable app creation and delivery? Also in the DevOps Challenge issue of InformationWeek: Execs charting digital business strategies can't afford to take Internet connectivity for granted.
We welcome your comments on this topic on our social media channels, or
[contact us directly]
with questions about the site.