Interop ITX -- an independent IT conference and expo held annually in Las Vegas and InformationWeek's affiliated event -- takes place in less than two months. The five-day event offers IT professionals the opportunity to grow their knowledge around those IT topics that matter most to them.
Attendees hear presentations from IT thought leaders and innovative IT executives from successful enterprises; see demonstrations from companies of all sizes, from startups to Silicon Valley giants; network with peers; and build leadership skills. But if you're a CIO sending your team to Interop ITX, you already know this. Here's why, you should join your colleagues at Interop ITX, instead of staying back at the office this year.
1. Keynotes that address the IT issues that matter to you
There are numerous practices and technologies CIOs are trying to implement or just wrap their heads around in 2017, but if you're focused on what's next in data, the state of security, navigating talent and culture, or how companies must constantly evolve to meet the technology needs of their customers and keep pace with innovation, then join your team at the Interop ITX keynotes.
In the Future of Data Lightning Talks + Panel Discussion data experts will share how they're seeing data and analytics used in their industries and organizations. They'll also discuss analytical techniques that have brought both a rush of excitement and fear to the IT community: machine learning and artificial intelligence. The panel will be moderated by Sam Charrington, founder and principal analyst for CloudPulse Strategies.
Other keynote presenters include Kevin Mandia, president of FireEye, who will discuss the state of security today, and Raghu Raghuram, chief operating officer of products and cloud services for VMware, who will share how VMware has worked to stay relevant in the ever-shifting IT landscape.
Meghan Reilly, Interop ITX general manager, says she's looking forward to hearing Raghu Raghuram speak and thinks CIOs and CTOs will get a lot from his presentation. "VMware is taking an interesting approach where they have two [executives] leading a particular unit…and that's one of the things we'll be exploring with him. I think others could learn from, so I'm really excited about that [talk]."
If you're struggling with or want to learn more about recruitment, talent management, and culture, you won't want to miss day two of the Interop ITX keynotes. The Talent & Culture: Lightning Talks + Panel Discussion features an incredible line-up including Janine Gianfredi, former chief marketing officer for the U.S. Digital Service at the White House and Ed McLaughlin, chief information officer for Mastercard and moderator Ester Frey, senior manager of talent acquisition for Amazon.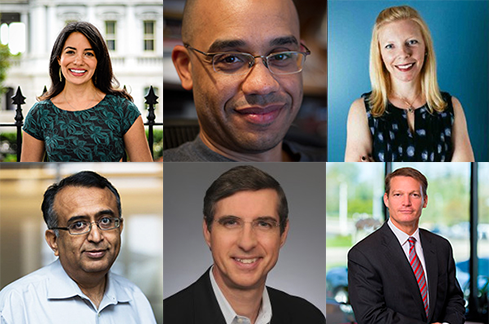 2. A conference agenda with a journey customized for CIOs
It can be hard to pick and choose what to attend at a big conference like Interop ITX and walk away feeling you've received comprehensive education. Interop ITX gets that, and has remedied the issue this year by offering "conference journeys." One is specifically designed with the CIO and CTO in mind.
"We really looked at key titles of people that are attending these sessions, as well as themes that are presented across the conference in many tracks," says Reilly.
The CIO journey at Interop ITX includes workshops, summits, and breakout sessions. A few standout sessions are: Relevancy in a Rapidly Changing World with Yvonne Wassenaar, CIO of New Relic; Cultivating the Inclusive Workplace with Coco Brown, CEO and founder of The Athena Alliance; and Building a Next Generation API-Driven Infrastructure for Scaling Growth with David Giambruno, CIO of Shutterstock.
3. Leadership and talent management training
The conference agenda offers education across six key topics facing the IT industry today, but the Leadership and Professional Development track is designed specifically for IT executives and individuals interested in building their leadership skills.
The track also features a two-day program hosted by InformationWeek, the IT Leadership Summit, which takes place May 15-16 and will focus on education and peer networking for IT executives and their teams (day one, day two).
Reilly says that the Interop ITX team opened up the InformationWeek IT Leadership Summit (formerly the InformationWeek Elite 100 Conference and Awards) to all IT titles to "bring a diversity of experience and understanding" to the program. She adds that it's a great opportunity for managers to learn from CIOs and for CIOs to learn from their direct reports.
4. Explore leading edge technologies
The Interop ITX business hall is filled with vendors of all sizes and across key technology areas who can discuss with you how their new technologies will (or won't) work with your current systems and for your own organization,helping you deliver the most value to your customers and investors.
"The market's saturated with vendor-driven events and those absolutely play a part in the ecosystem, but what I'm really excited about and why I'm happy to be part of this team is that we provide a vendor-neutral space for education and evaluating new technologies, which I think is a vital piece for any leader," said Reilly.
View the current (and growing) exhibitor list, and plan your visit to Interop ITX here.
Follow Interop ITX on Twitter (@Interop) to learn more about the program as even more new speakers join the roster.