For the 28th year in a row, InformationWeek will honor the top innovators in IT with its prestigious Elite 100 2016 list of technology superheroes. If you'd like to be a part of the action, you'll need to submit by Dec. 18.
We believe we're entering a new phase of IT. After years of being burdened with low budgets and suffering through the "do more with less" style of managing and implementing IT, businesses got bogged down in a holding pattern in which this type of approach became the new normal.
However, in 2016 and beyond we see a transformation happening in IT. The successful companies – the best of the best – have learned, despite tight budgets, how to optimize existing technologies while at the same time discovering new, affordable technology options. In the process, these industry leaders are moving from the tired and obstructive era of "doing more with less" into an inspiring and innovative phase. You might call this new phase "doing more with best." We're talking about the best ideas, the best technologies, and the best people.
[See who made the cut for the InformationWeek Elite 100 2015.]
Standout CIOs in this new era will be called upon to create a world-class enterprise capable of implementing new and existing technologies in the most efficient and effective ways possible. These are the people and organizations we'll be honoring in the InformationWeek Elite 100 2016. If you want your company to be a part of it, you'll need to submit your nomination soon. The deadline for submissions for the Elite 100 2016 is Dec. 18, 2015 (one month earlier than normal).
What can your company look forward to if you qualify for the InformationWeek Elite 100 list? Earning a spot on the Elite 100 can serve as a catalyst for institutionalizing IT innovation. The majority of companies that make our list are repeat participants, and their placement on the list translates into social capital within their organizations, enabling them to build a sustainable culture of IT innovation that lasts for years.
We've heard from multiple past winners who say that as a result of their selection the IT department gained a level of recognition within the rest of their company that they hadn't previously enjoyed. Entire IT teams -- sometimes numbering in the hundreds -- have been treated to parties by their companies to celebrate their placement on the list. We've also been told on the sly by more than a few Elite 100 participants that they now have bonuses based on making our prestigious list.
It's not only the back-patting that makes it worthwhile to be named to our Elite 100. Companies that qualify are able to use Elite 100 rankings to secure more and better business partners, attract the top IT employees, and solidify valuable relationships with IT vendors.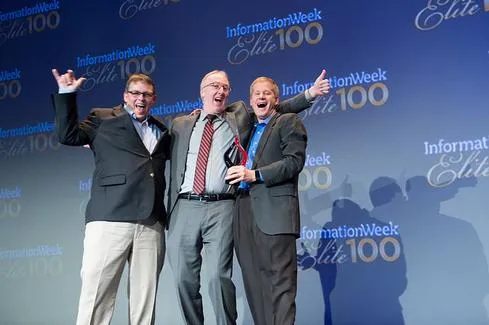 The InformationWeek Elite 100 2016 will be revealed at the InformationWeek Elite 100 Conference, which is being held at The Four Seasons in Las Vegas May 2-3, 2016. The conference theme, "How to Build a World-Class IT Enterprise," will reflect the many stories of our Elite 100 nominees, and those of other practitioners who are influencing changes in IT.
Some of the top companies nominated for the InformationWeek Elite 100 2016 will present case studies of their winning projects during the conference, providing a real-world narrative about how they are "doing more with best." In addition, all Elite 100 winners will be honored with an awards gala to be held at the Four Seasons during the conference.
Don't miss out on this opportunity to share your inspirational stories with other innovators and be a part of the InformationWeek Elite 100 2016. Start by submitting your application for the 2016 Elite 100 list no later than Dec. 18, 2015.