CIO-CMO Relationship: Plagued By Digital Pretenders
Digital strategies that focus only on customer engagement are shallow. But to go deeper, CIOs and CMOs must be partners.
For many companies these days, "digital" is almost exclusively about customer engagement, the domain of the CMO. However, the CIO is crucial in linking business processes and enterprise information to the digital channels that achieve the always-on state that customers and employees demand.
The strength of the CIO-CMO relationship has never been more vital to a company's success, yet the confusion surrounding these roles in the digital enterprise has never been stronger.
Every year PwC conducts a survey to evaluate the "digital IQ" of companies, which measures the extent to which they weave technology into everything they do, from strategy through execution. Our 6th Annual Digital IQ Survey, published in March 2014, of over 1,400 business and technology executives found that the majority (70%) of top performers -- companies in the top quartile for revenue growth, profitability, and innovation -- had strong relationships between the CIO and the CMO.
[Getting directly involved with customer engagement is necessary for your IT career. Read IT Leaders Must Assume New Role: Marketers]
However, we found that nearly half of the businesses in our study (49%) lack that strong CIO-CMO relationship. As part of our investigation, we talked directly to CIOs and CMOs about how they work together. As one retail and consumer products CMO explained it, "Our Digital IQ is low because we're not having regular digital conversations."
Why do CIOs have strong relationships with every other executive in the C-suite except the CMO? We can speculate that budgets, historical interactions, or perceived ineffectiveness of IT are the barriers to CIOs and CMOs working together, but when you boil it down, CIOs and CMOs often don't see eye to eye because they have their backs to each other. CMOs are looking outward toward the customer while most CIOs are looking at internal business operations. It's time they face each other or risk falling flat on the transition to digital.
Why CIOs and CMOs are out of sync
When CIOs and CMOs collaborate it brings both IT and business teams with the right skills and knowledge to the table. Not involving IT leaders from beginning in tech decision-making will cause downstream issues when CMOs try to integrate disparate systems, services, and data sets for analytics; post M&A activity; add new information products and services; and perform other strategic moves.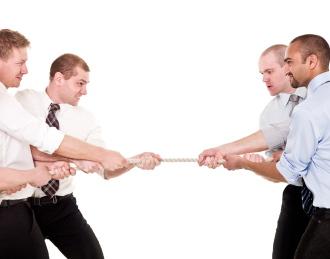 There's a difference between weaving digital into everything you do versus just focusing narrowly on the front office. The trap is that we check the digital box based on market-facing digital investments, and our digital strategies wind up being too shallow to make a meaningful difference in the lives of customers and employees. I call this window-dressing approach to digital as being a "digital pretender."
I know a senior IT leader in a global consumer products company who's responsible for serving the marketing function. He is grappling with how
to balance market-facing innovation and customer engagement with longer-term efficiency. He's been trying to create a collaborative working relationship with the marketing leaders, but they are logjammed.
The marketing department has a technology innovation lead, and many of the leaders have a digital marketing background. I suggested that these individuals they try to build a list of the major things they do that overlap marketing and tech -- market data analytics, vendor selection, app innovation and development, etc. -- and then figure out who should do what and why. I recommended that they consider using an upcoming digital campaign as a test case.
As part of this process, companies should review each of the major planned and ongoing initiatives in both marketing and IT's portfolios to find opportunities to get each other's perspectives. Doing so may also reveal some gaps or overlaps that need to be addressed. CIOs and CMOs need to get explicit agreement on who owns the components of digital strategies, the role each leader will take on, and when and how they're expected to work together.
Defining the roles and responsibilities of marketing and IT is not about either group trying to gain control. It's about involving experts in design, architecture, integration, and information to make the digital products better and more manageable for the short and long term. We need to make sure that the right decision-makers are involved in idea development, designing, planning, estimating, and sourcing.
In our survey we also looked at the skills and knowledge of each group -- IT's understanding of marketing and marketing's understanding of IT. We found that things are fairly balanced. Nearly two thirds of CMOs (63%) say that their IT department has a very good or excellent understanding of marketing. On the flip side, 60% of CIOs rate marketing as having very good or excellent IT skills.
The bottom line is that CIOs and CMOs understand each other's function and forge a partnership that will advance the company's digital agenda. Now they need to sit down and have a meaningful conversation about how they can help each other outshine the real competition: other companies in their industries. When CIOs and CMOs team up, the results can be digital dynamite.
Our InformationWeek Elite 100 issue -- our 26th ranking of technology innovators -- shines a spotlight on businesses that are succeeding because of their digital strategies. We take a close at look at the top five companies in this year's ranking and the eight winners of our Business Innovation awards, and offer 20 great ideas that you can use in your company. We also provide a ranked list of our Elite 100 innovators. Read our InformationWeek Elite 100 issue today.
Chris Curran is a PwC principal and Chief Technologist for the US firm's Advisory practice, where he is responsible for technology strategy and innovation, and the development of thought leadership reflective of PwC's point of view on technology trends and innovations. ... View Full Bio
We welcome your comments on this topic on our social media channels, or
[contact us directly]
with questions about the site.