Secrets To Unified Communications & Collaboration Success
These seven usage profiles will help you trace the communications activities of workers and uncover bottlenecks and inefficiencies.
The days of the one-size-fits-all PBX are gone. The new paradigm is to match communications technologies to the specific workflows and business processes of users, and the secret to success lies in developing usage profiles.
Think mobile sales representatives, collaboration teams, and administrative workers. Note that each group is involved in different processes and has different communications needs, so each group would have a different usage profile.
As you develop each profile, trace the communications activities for those workers in your business processes and workflows and uncover the communications bottlenecks and inefficiencies. Then look to the 7 Ways To Escape Communications Dark Ages to streamline those communications. This is the basis for the usage profiles.
[Looking for some summer reading for the dog days of August? See 9 Books IT Leaders Should Read.]
These profiles let you change the question from "What enterprise communications products should we buy?" to "What do we need?" They help you break up your communication system into manageable pieces. You no longer have to implement one communications "solution" all at once. You can approach communications as a set of solutions that can be implemented in increments. Select the technology set needed for each usage profile, and then roll all of it out in a sequence that captures wave after wave of business improvements and returns on investment. Such an approach lowers risks and produces benefits faster.
While usage profile names differ in every organization, experience shows that seven generic profiles prevail:
1. Mobile field sales and service workers use cell phones with plans that allow unlimited voice calls. They use their phones for contacts, directory, texting, instant messaging, email, calendar, and presence indication. The trend with this profile is to connect calls through a software app on the smartphone, such as Microsoft Lync and IBM Connections, rather than through the PBX. This approach cuts costs while still providing a satisfactory user experience. If the user is called on the corporate telephone number, the call can be routed to the mobile phone by directory-enabled gateways, rather than requiring an expensive PBX extension.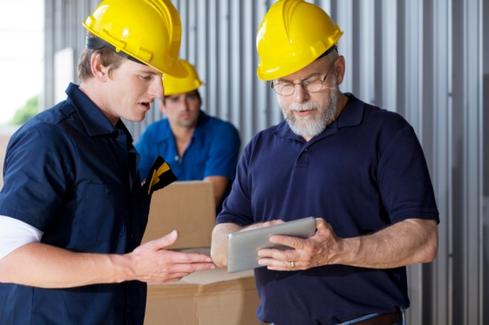 2. Collaboration teams work in R&D, marketing, design, legislation, policy-making, professional services, and similar functions. This usage profile is best served by "collaborative workspaces" in which teams work, share documents, and communicate. Collaborative workspaces include leading content management products and some emerging business social network products. Collaboration teams need to access these workspaces from any location using laptops, tablets, and smartphones with built-in audio and video capabilities.
3. Administration/information processing workers are at the core of workflows for transaction processing, customer account maintenance, and employee services. Typically they do their jobs in one or more primary software applications. By embedding communications functions into those applications, communications can occur directly from the screen, simplifying the workflow and tracking transactions from start to finish. Those communications functions can come via plug-ins from an IP PBX or a unified communications system. Alternatively, vendors such as Salesforce.com and SAP are including communications tools in their platforms.
4. Retail workers include clerks, bank tellers, and food servers. Their communications are usually face-to-face and don't require unified communications and collaboration (UCC) or voice PBX technology. These workers place orders or process transactions via application terminals, which may also support a simple text chat application. A phone may be available on a side desk in case a worker needs to make a voice call. Employee communications such as emails, meeting notices, HR calls, and training are provided by shared technology in a back office or break room area.
5. Production teams work in business processes that source, produce, and deliver goods and services.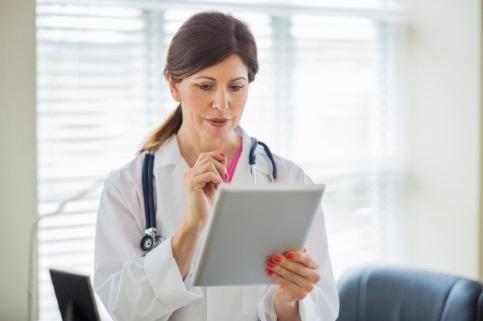 For example, the care team in a clinic or hospital is a production team that follows strict procedures, though they may occasionally collaborate to adjust a treatment plan. Educators and instructors, lawyers and paralegals, and restaurant cooks also fit the production team usage profile. For these workers, communications often are embedded in application software and working tools, such as the electronic health record software in a hospital, the learning management system at a university, and the menu ordering system in a restaurant. Many workers in these roles are mobile within the facility and may use wireless devices for communications.
6. Contact center agents, a well-known usage profile, have automated communications controls embedded into their visual information screens. Typically, their communications technologies have already been optimized. Most contact centers use
nearly all of the seven ways to streamline communications and get savings and improvements. They also use powerful analytics to ensure the lowest labor cost while maximizing other objectives, such as customer satisfaction or up-selling.
7. Corporate staff includes executives, who have similarities to collaboration teams, as well as other roles similar to those described under administration/information processing workers. Corporate staffers can be on-site or mobile, and often need to share information. Some executives require a personalized form of collaboration and negotiation, so this usage profile usually includes high-definition desktop and meeting room video communication.
These seven usage profiles are found across all industries. The table below lists industry sectors in the rows and some value chain activities in the columns. Each cell shows the usage profile that might occur for a specific industry in one element of the value chain. Because usage profiles have different names in different industries, the color of each cell indicates which of the seven generic profiles is represented. Color codes are shown in the legend. A cell with two colors indicates a blend of two profile types.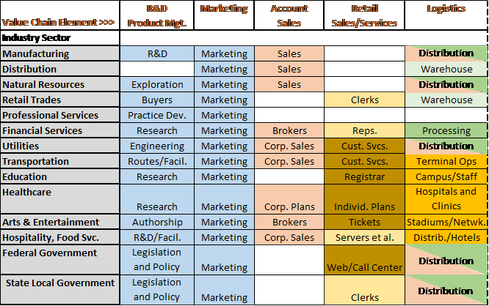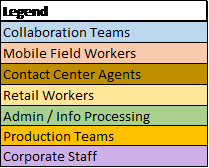 For example, in the R&D/Product Management activity of the value chain for the manufacturing industry, there's a usage profile labeled "R&D." This profile is color-coded blue because it's an instance of Collaboration Teams. Likewise, in Account Sales for manufacturing, there's a usage profile for "Sales," color-coded to the profile type Mobile Field Workers.
This sample table could be extended to include the other value chain activities: operations, support staff, field services, customer services, and enterprise management. Note that some cells are blank because there are usually no usage profiles for that specific value chain activity (column) in the referenced industry (row).
As you discover the opportunities for improving your business using the "7 ways," you can plan and facilitate the delivery of those improvements using specific usage profiles optimized for the improved business processes and workflows associated with each profile. These applications of UCC technologies can then help your company lower costs, move faster, and differentiate itself from the competition.
Next up: Is UCC an application in itself or a set of services to be embedded in applications?
IT must support employees on the go as well as build mobile apps for customers. Both initiatives still have a long way to go. Get the new Frictionless IT: Mobility issue of InformationWeek Tech Digest today (free registration required).
Marty Parker, Principal and co-founder of UniComm Consulting, has more than three decades of experience with computing and communications technologies. He has been a leader in strategic planning and product line management for IBM, AT&T, Lucent, and Avaya. Now, as ... View Full Bio
We welcome your comments on this topic on our social media channels, or
[contact us directly]
with questions about the site.