Steve Jobs: 5 Things We Miss Most
Let's take a moment to remember the work and ideas of the late Steve Jobs, who would have turned 60 today.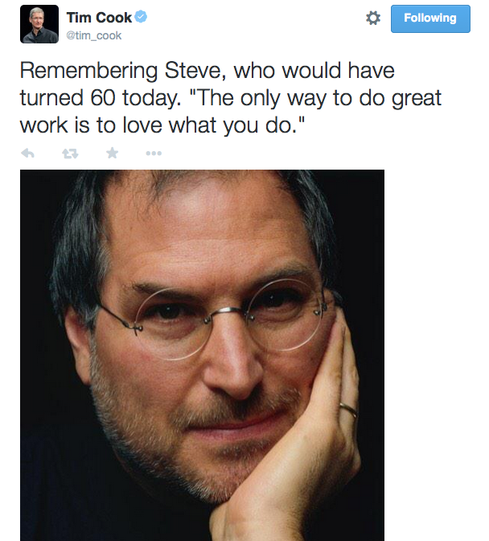 "The only way to do great work is to love what you do."
This quote, taken from Steve Jobs's 2005 commencement address at Stanford University, was chosen by current Apple CEO Tim Cook to remember his friend and mentor on Twitter. Had he lived, Jobs would have turned 60 today.
A few months before he lost his battle to pancreatic cancer in October 2011, the late CEO entrusted Cook, who previously held the position of Apple COO, with control of the company Jobs co-founded in 1976 along with Steve Wozniak and Ronald Wayne.
Years after his passing, Jobs's spirit continues to live on among tech users around the world and especially at Apple's headquarters in Cupertino, Calif., where his office on the fourth floor remains exactly as he left it – right down to his name on the door, as reported by the Daily Mail.
[Apple Watch aims to win the wearables game]
"He stood for innovation, for the simple, not the complex," said Cook in a PBS interview. "All of these things are still deep in our company."
Jobs, born in 1955, would later go on to become the face of digital disruption. From the PC to the iPod, from the iPhone to iPad, Jobs's work embodied a saying of his that's popping up across social media feeds today more often than usual:
"Every once in a while, a revolutionary product comes along that changes everything."
Jobs was fortunate to live out those words many times over the course of his life and career. Under his leadership, Apple churned out products that changed the way we read, write, think, communicate and consume digital media. It continues to do so today. Who knows, the company may eventually change the way we drive.
The Apple of today, which is valued at more than $750 billion, is a far cry from the small company that was sparked with the creation of the Apple I. Today we remember and honor Jobs's entrepreneurial spirit, creativity and passion for his work. Here are a few of the traits we miss the most:
Kelly Sheridan is the Staff Editor at Dark Reading, where she focuses on cybersecurity news and analysis. She is a business technology journalist who previously reported for InformationWeek, where she covered Microsoft, and Insurance & Technology, where she covered financial ... View Full Bio
We welcome your comments on this topic on our social media channels, or
[contact us directly]
with questions about the site.