Last year at HIMSS14, I asked rhetorically whether we would actually focus on how informatics could fix healthcare. Would we finally realize that the whiz-bang features of one electronic health record versus another are less important than whether they can talk to each other, using an API-based approach to data exchange?
This year at HIMSS15, the largest event for healthcare IT, API-based exchange has a name -- FHIR -- and virtually everybody and everything is focused on it as the standards framework.
Not quite everybody, of course. One young entrepreneur who approached me in the aisle didn't yet even have a company, but his business concept was a natural for FHIR. However, he wasn't aware of it. I sent him off to the Interoperability Showcase (to Georgia Tech's I3L and Josh Mandel's SMART on FHIR booths) so he could learn about it and how to use it. Last year, though, I could far too easily find established companies whose teams needed a similar education on FHIR.
The transformation makes it clear, at least to me, that FHIR has moved front and center in the HL7 standards world, a development I both welcome and applaud.
To illustrate FHIR's place, HL7 CEO Dr. Charles Jaffe was a prominent attendee at the HIMSS meeting that brought together many key people from the health IT industry, academic healthcare, government, and the standards world to discuss a number of key interoperability issues, with Argonaut being the primary focus. The increasing importance and significance of FHIR was further illustrated by the attendance of former ONC Director Farzad Mostahshari and moderation of the meeting by former US CTO Aneesh Chopra.
Interoperability was also front and center at many key vendor booths. This prominently displayed sign (below) in Cerner's sprawling pavilion offers an example of that. This should not be a surprise to anyone since, as I've written about previously, Cerner's David McCallie was co-chair of the JASON Task Force charged by ONC with recommending how best to implement and deploy FHIR.
Possibly more surprising to some was Epic's very prominent real time "dashboard" illustrating, among other things, the volume of CCDA documents exchanged on the EHR vendor's Care Everywhere network.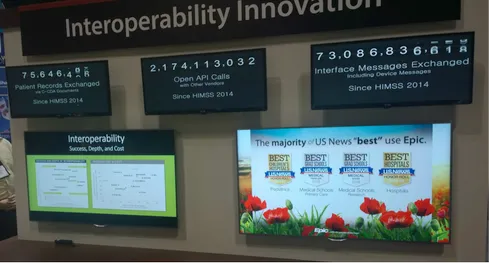 I know many people question Epic's sincerity around interoperability, and I'm not in a position to judge that other than to say that in my recent interview a key executive cited what seems to me like legitimate technical concerns favoring a "go slow" approach. Whatever the company's motivation, its leaders should be applauded for announcing at HIMSS the elimination of a charge they once rendered for use of Care Everywhere to exchange data with non-Epic sites.
I leave it to others to judge whether there is a relationship between this obviously positive action and the pressure the entire industry is feeling to be more open and facile in sharing patient information. (However, I would note that John Halamka said in our recent interview that it wasn't that hard to bring the "big four" HIT vendors to the Argonaut project.)
Of, I think, greater significance was Epic's announcement that the next version of its software, to be released in late June, will include native support for an initial set of FHIR resources. While the list of resources is short, (I'll have an interview with FHIR founder, Grahame Grieve, on that soon), FHIR is still being defined, and only some five to 10 FHIR resources will be "fully baked" in time for the second (DTSU2) release of the draft standard this summer.
With all of this as background I turn to ONC Director, Karen DeSalvo's summary of the situation at a press conference on HIMSS day two, as reported by Rajiv Leventhal of Healthcare Informatics, where she described 2015 as "the year of execution" to create the standards and environment for health data sharing:
"The idea is to move data not only between EHRs, but between other repositories, and get to a place where you can leverage technology for better care delivery and make care more convenient, accessible, and patient-centered," DeSalvo said. She added, "the EHR is one of major drivers to advance care, but the world has evolved and advanced, and now the ecosystem is much broader than EHRs. To provide person-centered care, you need a model that's beyond episodic visits, and we need to make certain that we're allowing technology to evolve. EHRs only tell one part of story."
So, as to my question of a year ago … "Are we actually going to focus on how informatics can fix healthcare?" … the answer is now clear, and it's "yes." As DeSalvo succinctly put it, 2015 is the "year of execution," or at least the first year of the few it will take to reach the long-sought goal of continuous, connected, and patient-centered care.
Many of us "old timers" thought we'd never see that happen. It was the goal that drew me into health informatics decades ago under the spell of my late professor, Dr. Hiram Curry, so it is a genuine personal thrill for me. It also saddens me that he isn't here to share it with me.
Next column, I'll explore what I found to be the second major theme at HIMSS15 -- innovation. It may surprise you where at least some of it is coming from.