Interop Hot Stage: Building An Enterprise Network
The InteropNet comes to life at Hot Stage. For the first time, InformationWeek is there to cover the creation of this complex temporary network.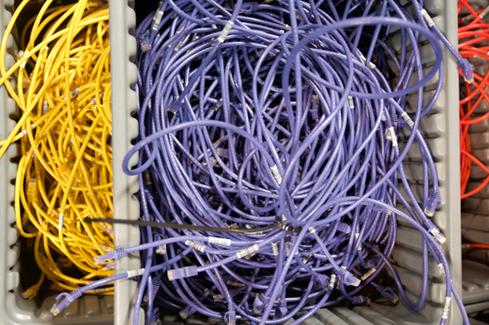 When attendees pick up their badges at Interop Las Vegas, they'll immediately be able to join the wireless network and be productive. Exhibitors will find their booths cabled and ready for high-speed network demonstrations. It's no surprise that the network is key to Interop.
What many attendees don't realize is that, like any good Vegas show, the entire InteropNet is built and tested long before it appears live at the Mandalay Bay Convention Center. InteropNet first springs to life in a Silicon Valley warehouse at an event known as Hot Stage.
Large networks are complicated. There's no news value in that statement. When people attend a conference about cutting-edge networks, they expect the network to, well, work. That's also a statement that carries no surprise. Put the two together, and you have the reason that engineers, network architects, and technicians representing a wide range of technology vendors have gathered in advance of Interop each year for decades. Hot Stage is where new ideas are tried and mistakes are made. It's also where the ramifications of all those new ideas and mistakes are dealt with and corrected, long before the first attendee or expo floor vendor connects to the network. The entire undertaking holds lessons in collaboration and flexibility that can benefit CIOs and IT professionals of all stripes.
For the first time, Interop has welcomed a journalist to Hot Stage. I've spent a week in the warehouse talking to the engineers and taking photos of the action. The slides here are the first few in a large group of photos we'll be bringing you of the back-stage action. In addition, InformationWeek and Interop are cooperating in a daily radio show, the Hot Stage Diaries, on BlogTalkRadio.
What questions do you have about Hot Stage and the InteropNet? Let me know in the comments section below, and I'll take your questions -- and comments -- to the InteropNet team. We're less than a month from Interop Las Vegas. The network is getting ready.
Curtis Franklin Jr. is Senior Editor at Dark Reading. In this role he focuses on product and technology coverage for the publication. In addition he works on audio and video programming for Dark Reading and contributes to activities at Interop ITX, Black Hat, INsecurity, and ... View Full Bio
We welcome your comments on this topic on our social media channels, or
[contact us directly]
with questions about the site.