IT leaders no longer need to manage the IT function -- they now need to lead the IT ecosystem. This ecosystem is composed of the IT team, your clients, and your internal stakeholders. Managing these three components, and of course the ever-evolving technology, is not easy.
This requires chief information officers to develop new capabilities while continuing to grapple with security concerns and keeping an eye on emerging technologies that can help their businesses transform and prepare for the future.
Here are five pitfalls to avoid when transitioning your IT department (and organization) to succeed in the IT ecosystem:
1. Neglecting to recognize that people and partners are critical.
Because of the impact the transformation of your organization will have on your team, failing to understand that your people are the linchpin for its success can undermine the entire effort.
Do your best to obtain buy-in from everyone who'll be affected. You should be prepared to "blow up" your own role, if necessary, so that your team sees that you're leading by example -- and understands that everyone will need to work to make it happen.
Bringing your partners on the journey is equally critical. They often make up 50% or more of your workforce, so they'll have to operate in the way you need them to for your business.
Ecosystem thinking is as much about relationships as it is technology. The soft skills matter because no project will succeed if leaders bulldoze through it. This includes being prepared to pull the pin if some relationships don't work.
If you learn from your experiences, good and bad, and refuse to allow them to derail you when exploring new opportunities, you'll be further along the path toward success.
2. Being disorganized.
Don't allow chaos to take over. Ever heard the term, "organized chaos"? Transforming your team will likely mean you're changing every person's role in your organization. It's challenging. There will be a point in time where no one will quite know what they should be doing. And that's OK. But it's also where planning comes in.
The planning process helps you think through any potential drawbacks and anticipate where there may be friction. This means continually looking for opportunities to evolve your processes or replace them with new ones.
Failure to spend enough time planning can lead to breakdowns, which can affect your systems availability or important programs. This could spell disaster, so be sure to spend enough time in the planning stage and organize the transformation as much as possible.
3. Jumping in feet first.
There may be those in your organization who feel that jumping in feet first and making the changes very quickly is the best way to overcome the naysayers and show progress. Many times, the senior management team or your board may support this path. However, it can be the quickest way to fail.
By implementing pilot programs, you can avoid some of these risks. Piloting allows you to bring people along on the journey with you. It demonstrates a readiness to fail small so that you can get it right when you progress to a larger implementation. Pilot programs also go beyond theory by helping everyone understand clearly what the change means in practice.
4. Failing to obtain buy-in from all the players in your new ecosystem.
Don't forget about your stakeholders. There will always be some impact on business stakeholders that they, in turn, will need to manage within their own teams or with clients. Ensuring they understand the risks and potential downsides is critical to success. If you bring them on the journey, chances are greater that they'll believe in the outcomes, which means they can actively support you when the going gets tough.
For example, involving the legal team early on will help with any changes you make to roles and processes around regulated systems.
Another set of stakeholders to involve is the IT procurement team. Help them think more like bankers than compliance officers. The internal-supply and vendor-management functions will also need to be restructured to work more like M&A, which can help with integrating additional partners or establishing new alliances quickly and efficiently.
5. Forgetting to always put the customer first.
This is the reason you're making the change, right? You're changing your processes to improve something for your client. This might be delivery speed, lower cost, or a better experience. Implementing new technology is never easy, and your partners are crucial to your success. These new ecosystems aren't "off the shelf," and it won't be obvious to partners how your organization wants to make your transformation or new technology work. While thinking through all of this, keep the impact on your customer top of mind.
Then, try out some ideas. Ideally, choose two or three partners in a area where you like the technology and the people on the team. Then pilot a low-risk, low-cost initiative, preferably involving your stakeholders. This will allow you to see the potential customer impact.
Identifying the right partners in the beginning means you can move faster as you progress and more quickly show positive changes for your customers. After all, at some point, you'll need to manage several partners concurrently to meet your organization's new setup. Build the foundation with care to avoid slowdowns and minimize bumps in the road later.
To navigate the new world of IT ecosystems, forward-thinking IT leaders need to embrace organizational transformation. By avoiding these five pitfalls, CIOs can move swiftly to ensure their success.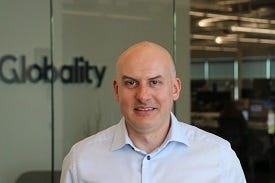 Martin Henley is senior vice president of Globality's technology services sector group. Henley and his team collaborate with customers to innovate through Artificial Intelligence and immediately unlock cost savings by revolutionizing their service procurement process to deliver better results across their technology-related service spend. He previously was managing director and group chief information officer at XL Catlin, a US-listed $15 billion revenue (re)insurance company.