Consumerization 2.0: IT's Only Road To Relevance
Consumerization 1.0 was "we don't need IT." Today, we need IT to bridge the gap between consumer and business tech.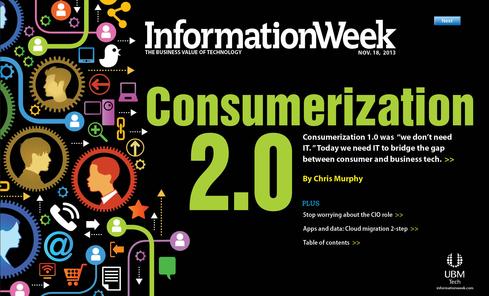 Download the entire Nov. 18, 2013, issue of InformationWeek, distributed in an all-digital format (registration required).
The fallacy of the "consumerization of IT" is that easy-to-use smartphones and consumer-oriented apps such as Dropbox make IT organizations less important. The reality is that consumerization is IT's ticket to continued relevance.
Make that IT's only ticket.
We've moved into Consumerization 2.0. The 1.0 version was: "See you, IT chumps. I got my iPhone, Dropbox, and Google Docs, and I'm out of here."
Consumerization 2.0 sets a higher standard: "Hey, IT, can we build a zippy app for my smartphone so I can grab customer data to do my job better? Is six weeks enough time?"
It used to be that in-house IT merely had to be functional -- employees had no choice but to use it. Now employees expect beautiful design and speedy delivery. And they expect to be able to use consumer apps -- or at least their enterprise cousins -- when they make sense. "It's survival mode now for IT," says Derek Roos, CEO and founder of Mendix, a Boston-based startup that promises to build, integrate, and deploy applications for customers in days or weeks rather than months or years. "If CIOs don't step up now, they won't be in charge five years from now."
The defining characteristics of this emerging 2.0 phase are:
Easy-to-use interfaces: Dish Network gave 15,000 field technicians Galaxy phablets with apps to manage their workday and customer interactions. The training regime: a 17-minute video. If new software doesn't make sense, employees just won't use it.


A "why can't we?" attitude: "Dropbox was happening, and I could understand it because believe me I was tempted myself," says Mary Gendron, CIO of Celestica, a contract manufacturer with 30,000 employees worldwide. That doesn't mean IT organizations must say yes to every consumer app, but if an app offers a better way to get everyday work done, IT had better acknowledge the need and at least replicate that capability.


Speedy delivery: Line-of-business leaders expect apps to go from idea to implementation in a quarter or two, not in a year or 18 months. Speed often means doing iterative development rather than knocking off a big project and moving on, or it means putting more power into the hands of end users to configure software to their needs.


Integration with enterprise apps and data: Consumerization 2.0 apps must draw on data held in legacy IT systems because they're built to meet a very specific business need. Marketing teams that set up quick-hit cloud apps without IT organization involvement now need to draw from other enterprise systems, use those cloud apps on a mobile platform, do deeper analytics on the data, and funnel results into an executive dashboard. IT has to deliver all those capabilities, while keeping data secure and not sacrificing design and speed.
Consumerization 2.0 is just getting underway. Just 30 percent of the companies in our 2013 InformationWeek 500 ranking cite widespread use of enterprise mobile apps by employees; another 30 percent say they're in limited use. Only 26 percent have an employee app store.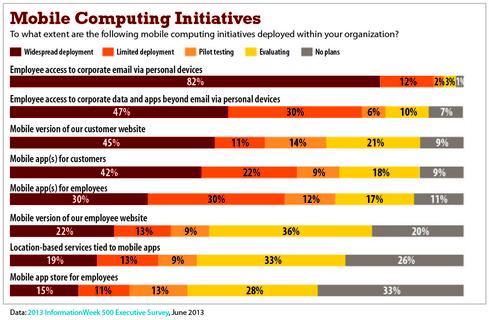 Like any major shift, Consumerization 2.0 will leave some IT roles and strategies behind. But IT teams that embrace it can become more relevant than ever. What follows is the kind of thinking that will get IT there.
Tech can't sit in the truck
Dish Network went mobile about five years ago when it rolled out ruggedized Windows laptops to thousands of the field technicians who install or repair Dish's satellite TV service at customers' homes. But that laptop was an eight-pound brick that techs had to carry along with all their other gear. "It solved some problems for us, but it's also a device that stayed in the truck a lot," says CIO Mike McClaskey.
In January 2012, McClaskey and his colleague Erik Carlson, the executive VP in charge of the field tech team, walked the International CES show floor together. When they saw the five-inch phone/tablet hybrids on display, McClaskey says, "a light went on."
Out went the ruggedized laptops, along with the push-to-talk phones and the GPS routing devices issued to every field tech. In came five-inch Samsung Galaxy Note phablets, in a rollout to 15,000 field technicians that took just six weeks. Dish estimates it's saving several million dollars this year from that three-for-one hardware swap.
More important, the gear is getting used. That's partly because of the handy, consumery hardware -- the Note is lightweight, fits in a cargo pants pocket or belt pouch, and is simple to use.
It's also because of the practical apps on the device. A cloud-based browser app shows the technician's appointments. A routing app called CoPilot provides audio directions integrated with those appointments -- the Note's screen is blacked out while the vehicle's moving to keep the driver focused on the road. There's even an augmented reality app that links to the Dish satellite in orbit and uses the Note's camera to show a virtual image of the dish on a roof -- handy for explaining to a new customer why a dish can't go in a certain place on the roof, say if the line of sight to the satellite is blocked by a tree.
The apps are all HTML5 browser-based, and critical ones such as the appointment calendar work offline, since wireless connectivity can be spotty. The browser approach also lets Dish contractors with their own devices access apps such as job assignments. Even the gadget's case is a business/consumer hybrid -- a standard Otter Box design customized with the Dish brand's distinctive red color.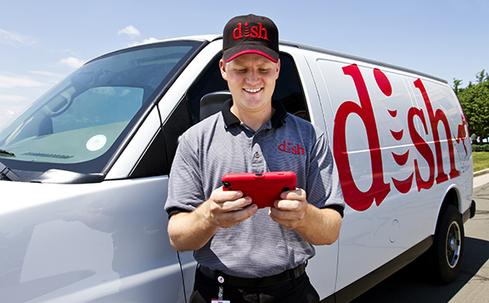 Not a consumer app free-for-all
Smart IT leaders now understand that consumer tech will drive the pace of change and that business IT must be humble enough to learn from what employees use. "Isn't it incredible that it took Dropbox to get all of us thinking about that?" says Avnet CIO Steve Phillips, referring to simple online file sharing. "There's a real need for that file-sharing capability."
But being open-minded doesn't mean it's a consumer app free-for-all. Avnet, a $26 billion-a-year electronics distributor, blocks employee access to the consumer version of Dropbox, for example. But having seen the employee demand for simple file sharing, Avnet now gives employees access to the enterprise-friendly (i.e., auditable) Box service. (Dropbox has its own enterprise version, with administrative controls and audit features.)
Think of Box, Dropbox, and other consumer-to-business application suppliers as filling the "app gap," says Wells Fargo software analyst Jason Maynard.
In that gap is all the unstructured, everyday work employees do that falls outside of conventional ERP, CRM, HR, and supply chain management applications. The people who do those jobs are the ones who really understand how the work gets done, and it's up to IT to give them room to experiment with new tools to help them do that work. Do they need Skype to talk with certain customers? A screen-sharing app like Screenhero? A tablet or smartphone?
Avnet also was an early adopter of bring your own device five years ago, giving employees a stipend to buy their own phone and service contracts. The biggest benefit has been financial: a 30 percent drop in cellphone costs. The savings came from setting "hard but reasonable" limits on data plans, Phillips says, and ending the orphan phones that stay on the bill after employees leave the company or stop using them. The BYOD program also cut IT support and repair costs, since employees own the phones but also are responsible for them if they break.
An intangible benefit of the program is that Avnet now has a more engaged and mobile workforce, while employees like having a choice of smartphones. Back in 2008, about 700 Avnet employees had company-issued smartphones, all of them BlackBerrys used mostly for email. Today, Avnet has about 7,000 company-managed smartphones, of which only 1,000 are BlackBerrys, and those devices access not only email, but also Concur expense reports, Workday HR apps, and some custom-built apps for order management and shipping as well as price and availability lookup. Avnet also provides some custom smartphone apps for its sales teams.
Avnet will ban consumer apps for two reasons: security (to keep confidential data from leaving the company) and bandwidth (which is why it blocks most streaming video from its network). But again, Avnet IT must keep an open mind to new application demands. The latest is Skype, for which Avnet opened up access because employees made a strong business case for it -- certain clients want to talk via Skype. "This consumerization of IT and the grassroots feel of 'here's a useful application' -- that's something to be encouraged, not repressed," Phillips says.
Speed means sharing control
Celestica's employees in 18 locations worldwide, mostly in Asia, use the enterprise version of Google Apps for email and collaboration. How can a factory team in Malaysia share its success with new soldering techniques with a team in Spain, given the language barriers? Google Translate, a consumer tool built into Google Apps. "Soon people who had never talked with each other were solving problems," CIO Gendron says.
Celestica's IT teams have developed their own apps on the Google platform, like one for conference room registration and another that automated several steps for six top executives to sign off on quarterly results. The alternative was to buy those apps off the shelf, but every time you do that "you hear cha-ching, cha-ching," Gendron says.
Celestica's next step is to let tech-savvy employees build some of their own applications using a development framework called OrangeScape that sits on top of Google Apps, in a process closer to configuration than coding. For governance, a committee meets as needed to monitor apps and their use, but the bias is toward change. "When I think of Google, I think of speed," Gendron says.
IT is learning to share control. Emmet Keeffe, CEO of visualization software maker iRise, says it's working with a company that's trying to break five monolithic apps into 200 apps, so that employees can access just the piece or pieces they need. At the very least, IT and business end users must work together more closely and iteratively in the early stages of an application's design if that design and user experience are going to be great.
"Business people are getting more vocal" in demanding intuitive software, says Keeffe, whose iRise software is used in development to show what an app will look like before people start writing code. "They know it's possible now."
At MetLife, the IT team borrowed from Facebook when it created The Wall, a customer service app that integrates data about a customer in one screen, data that reps used to need as many as 15 screens to access. "We set out to make a prototype that looks like Facebook," says Gary Hoberman, MetLife's CIO of regional application development. "Why Facebook? Because a billion people use it. We don't need to train them." MetLife also developed the interface in about three months. Even when it comes to internal apps, Hoberman says, "our job in IT is to show the magic of technology again."
IT organizations still provide huge value in a consumer-led, user-driven tech world, Gendron insists. Integration remains a huge challenge, as is data security. And IT pros are still the most capable of vetting technology vendors, since a lot of vendors can't deliver what they promise. "You can't pull wool over our eyes," Gendron says. "Before you put the power in the hands of the user, make sure that power is secure and has all the conditions you need to run a solid business upon."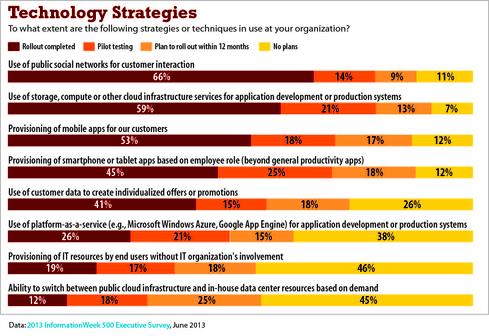 Where we're headed: data-intensive
Employee demand for mobility will keep the pressure on IT organizations to deliver a consumer-like work experience. Most companies implementing BYOD have focused simply on securing each device for email. Now they're starting to think about mobility for all their apps -- not quite a "mobile first" mentality, but at least a "mobile at the same time as desktop" strategy.
At Dish, McClaskey and Carlson are looking at whether it makes sense for field techs to use their own devices to access company apps instead of checking out a company device each day. They're exploring whether to give techs mobile email for direct customer interactions. Meantime, Dish has provided 10-inch tablets to its salespeople for product demos on door-to-door calls and in kiosks at shopping malls and state fairs.
"Where we still see IT behind is in content and collaboration," says John Marshall, CEO of AirWatch, a maker of mobile device and app management software. What he means is that companies have rolled out mobile devices quickly -- for example, to a 500-person pharmaceutical sales staff -- focusing on securing devices for email and sales support. But they haven't worked through content management controls, such as auditing whether salespeople are using the most-current prices or medical research.
We'll see much larger-scale BYOD adoption, Marshall predicts -- the 100,000-employee retailer offering a simple bundle of apps to hourly staffers to coordinate schedules and other tasks. Such apps must be secured, but it's "not going to kill the company if someone gets access to your scheduling app," he says.
Forty-five percent of InformationWeek 500 companies now provision smartphone or tablet apps widely based on employee roles, another 25 percent do that on a limited basis, and 18 percent are piloting it. Only 12 percent say they have no such plans.
A common thread runs through Consumerization 2.0: Give people access to more data. At Avnet, SAP is the source of a lot of data Avnet could start providing to customers -- data around product availability, shipment, and billing, for example. Phillips thinks the mobile development platforms and SAP tools for mobile apps are finally mature enough to make that happen. Likewise, customer expectations for the look and feel for a mobile site have settled, much like they did around Web apps a decade ago, he says.
Using its OrangeScape development platform, Celestica is just giving non-IT business users more capability to build some of the "meatier" enterprise apps. Yesterday's model was IT command and control. Today's model recognizes that tens of thousands of tech-savvy people walk into Celestica's factories every day, so the IT organization needs to build a software development framework that taps their energy. "Get yourself an IT-savvy workforce," Gendron advises, "and then watch them make things happen."
We welcome your comments on this topic on our social media channels, or
[contact us directly]
with questions about the site.