Digital workflow management platform ServiceNow is making use of low-code and no-code resources as part of its development strategy, a sign of a long-term trend its CIO Chris Bedi sees changing how he and his peers approach their roles within organizations.
The intent of using low- and no-code platforms is to make citizen developers, who may not have extensive coding skills, part of the app development mix. That can take some of the burden off professional developers and potentially accelerate the development cycle, but there are caveats. Apps created through low-code and no-code platforms are not usually as granular or detailed under the surface as software developed from scratch, yet they may suffice for certain purposes.
Bedi spoke with InformationWeek about how he has included low-code development in his strategy and how it may change the CIO's approach to a plethora of tasks going forward.
Where does low code reside as part of your framework?
It's a rapidly evolving area. I don't think there's any argument that the pandemic accelerated digital transformation. With that acceleration, there is an insatiable appetite to digitize every single thing across the company. There are not enough skilled developers to do it. You have a workforce that is now entering companies that grew up with tech; this is nothing foreign to them. They're used to building stuff, building apps. These are people that have been probably creating their own YouTube channels from when they were 10 years old.
The tech's gotten a lot easier. There's ways now to manage low code, no code at scale without some of the things probably at the back of minds of CIOs from past experiments, which is you create a ton of tech debt around the organization. You don't have visibility to it; you don't know where the data's going. You're unclear on your compliance posture all of the sudden. You're unclear on your data governance posture. Those are "No Fly Zones" for CIOs to be unclear on those things.
I really think CIOs have three choices when it comes low code, no code because it's happening. Whether a CIO wants to acknowledge it as part of their strategy or not, it is happening.
One is block it, which is a losing strategy. You won't be able to block it; people will always find a way.
The second is to ignore it, which I think is dangerous especially when it comes to security and governance.
The third is to embrace it, which I think is the only winning strategy. There are a couple of benefits that come from embracing it. Visibility -- you actually know what's going on at the edges of the enterprise. You get rid of this phrase "shadow IT." There's no shadow IT; we're all part of one ecosystem that's helping digitally transform the enterprise. Shadow IT was this bad word for so long, almost like, "Let's chastise people for wanting to improve their own department." We can get rid of that whole negative paradigm.
With platforms, you can now have a continuum from low code, no code all the way to maybe pro code. It's one platform, which is serving all those needs. Apps can move across that spectrum over time and into the right governance model to suit what's needed.
Were there particular projects or programs that, for your needs, lent themselves well to making use of low code?
We think in areas like HR, in areas like marketing for two different reasons. Marketing is fast evolving, always having to respond with some urgent go-to-market need. They could really use a low-code, no-code solution to solve their departmental level challenges.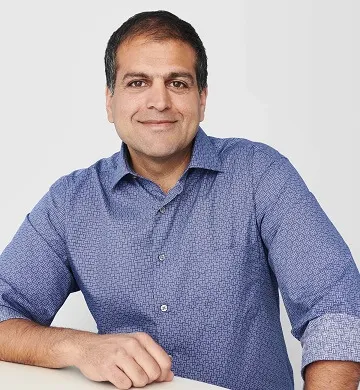 As we rolled out this framework, which is very light-touch, people would submit ideas of what they wanted to do with low code, no code. We found that, I think, 72% of ideas are incepted. The 28% was use cases where we already had that/did that in the enterprise and we don't want to create tech debt; it was really, really sensitive data; or we thought they would get in over their skis.
For the 72% that made it, here is a learning path to get up to speed.
The use cases really surprised us. We often order reference calls with our customers. When one of our customers has been really successful with our platform, we'll ask them to do a reference, then have other customers join that call to listen in. I had no idea that was a process, how messy it was, or how much people hated it. In our marketing organization, I had a hypothesis of where they would go. This was one of the first. Help us get out of this Excel hell that we're in and build an app to manage that.
As a central IT organization, you may have a hypothesis around citizen development needs --maybe it's based on DBS surveys, maybe it's based on demand you can't get to -- once people know this is available, you are going to be surprised by the use cases and what rises to the top.
For those who want to block low code and no code, where does reluctance and pushback tend to come from? Is a security concern? Is there a presumption that there will not be enough horsepower under the hood to do anything effective?
This is a big change and the skeptics are going to come out: "They're not going to develop anything meaningful." "Once they develop it, they're going to let it languish." "We've got to keep an eye on security."
All those risks are real. And you could say, "Because of those risks, we're not going to embrace low code, no code." What about the risks of not embracing it? I think those are far higher.
The positioning of the program really matters. "We're rolling this thing out to help all of you. Join the force. Join the community. We're going to help you along the way with a learning path. You'll have access to professional developers if you get stuck."
All of that really matters in the acceptance. We had to help ourselves realize this was a force multiplier for us. One of our key strategy pillars is driving speed and scale internally. By embracing this low-code, no-code citizen development as a strategy, we're going to accelerate whatever our ambitions are on speed and scale.
Related Content:
HealthBridge's Low-Code Strategy to Process Medical Claims
Low-Code and No-Code Platforms: What IT leaders Should Consider
Is There a Case for Using Low Code to Develop End-User Apps?
Why CIOs Must Set the Rules for No-Code, Low-Code, Full-Code