Apple, Intel Hire With Diversity In Mind
More women and minorities have been hired at Apple and Intel, but there is more work to be done.
Technology companies are working to diversify their largely white and male workforce. Apple and Intel are the latest tech giants to try and reverse the trend with more women and minority hires.
The overwhelming lack of women and minorities in the tech workforce has become a critical concern across the country, specifically in hotspot Silicon Valley. Now corporations have begun implementing programs and increasing efforts to boost diversity in the tech sector.
Has progress been made? Yes. Is it enough? No.
Apple's second annual report notes the company has hired more than 11,000 women around the world over the past 12 months. This marks a 65% jump from the amount of women it hired the year prior.
[AARP CIO: How we can get more women in technology.]
In total, women made up 35% of Apple's global hires. During the first half of 2015, almost half of the company's new US hires were female, African-American, Hispanic, or Native American.
It sounds impressive, but women still only make up 31% of Apple's global workforce. This indicates a 1% increase from the previous year. The percentage of women among its leadership team did not change, remaining at 28%.
Apple also made progress, however minor, in hiring a more ethnically and racially diverse workforce. The percentage of Asian employees grew from 15% to 18%; that of African-Americans grew from 7% to 8%. Hispanics remained constant at 11%, and the percentage of white employees dropped from 55% to 54%.
"We are proud of the progress we've made, and our commitment to diversity is unwavering," wrote CEO Tim Cook in Apple's report. "But we know there is a lot more work to be done."
Intel also boasted a more diverse workforce in its mid-year diversity report. The company set a 40% diversity hiring goal for 2015, which it surpassed within the first six months of 2015.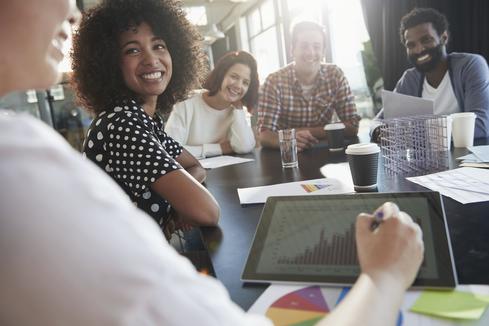 During that time frame, more than 43% of new Intel hires were minorities and women. Women made up 35.2% of new employees, African-Americans 4.7%, and Hispanics 7.5%.
Intel's leadership pool got a slight diversity boost. Women now make up 17.1% of the leadership team and minorities make up 6%.
Intel has implemented a five-year program to shape its employee demographics so they reflect the full workforce representation in the US by 2020. The company has committed to five core programs in order to achieve its diversity goals.
In addition to achieving workforce representation, Intel plans to increase the pipeline of technical talent for the industry overall, boost diversity among its supply chain and vendors, support women in gaming, and invest in a diverse population of entrepreneurs in emerging technologies.
"As technology and markets continue to evolve, building and growing a workforce that is fully representative of the customers we serve and communities in which we operate is paramount to our success," said Intel CEO Brian Krzanich in the report.
Kelly Sheridan is the Staff Editor at Dark Reading, where she focuses on cybersecurity news and analysis. She is a business technology journalist who previously reported for InformationWeek, where she covered Microsoft, and Insurance & Technology, where she covered financial ... View Full Bio
We welcome your comments on this topic on our social media channels, or
[contact us directly]
with questions about the site.