America is stressed out. For the last ten years, the American Psychological Association (APA) has conducted an annual survey on stress in America. Work consistently tops the list of stressors, and it's no different now. Sixty-one percent of Americans reported that work is a source of their stress.
While stress isn't a new accessory to the workplace, Eduardo Ruiz, senior director of Information Technology at the Association of Schools and Programs of Public Health (ASPPH) says there are issues unique to 2018 that contribute to workplace stress.
Ruiz says a lot of people are struggling with our hyper workplace environment, the political climate, and the polarization of the country (The APA found that 'the state of our nation' topped the list of stressors in the November 2017 survey, which was cited by 63% of respondents).
Having a reserve of energy or resources to deal with work during stressful times, whether the stressors are internal or external to your organization, is absolutely critical to leadership.
That reserve is often referred to as "resiliency," or the ability to cope with and recover from stressors and change.
Research shows that leaders with high resiliency report lower levels of stress and burnout, and higher levels of organizational resiliency.
"When you have a resilient leader, you're able to get through the difficult times a lot more effectively," says Ruiz. "You don't allow stressors or the crisis of the moment to sway or influence you as much…you have a much clearer path forward and you're able to stick with your strategy," he adds.
There are a number of environmental factors that help create a resilient leader. One of those is building and maintaining a supportive network around you.
Ruiz says this includes both professional and social personal networks, such as friends and family.
Support networks can help you parse out challenging situations, such as a digital transformation or cloud migration in the case of IT professionals. Ruiz says he started attending Interop ITX when the ASPPH underwent a digital transformation.
"[I wanted] to get in touch with a network that was facing the same challenges, so I wasn't stressed out about it," says Ruiz.
Knowing the challenges that are most likely to affect your organization or department are also critical to building resiliency as a leader.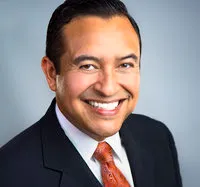 "For me, I think the two biggest stressors in the IT industry are the change of pace, and security," says Ruiz. "When we move so quickly, we're fundamentally compromising security."
He adds that you have to have a plan in place when the worst hits.
"In order to be resilient, you have to prepare for unexpected events. In a ransomware situation, you're going to have a lot more stress if you don't have a backup plan in place and communication ready to go to your customers."
If you'd like to learn more about what makes a leader resilient as well as stories of recent leadership challenges and tragedies from Ruiz that he says have tested the limits of his resilience, check out his session at Interop ITX, Resilient Leadership.