Technological innovations are occurring at what feels like lightning speed and the demand for qualified tech talent has never been higher. Yet the technology sector has more than a half-million job vacancies in the United States alone. The problem is so severe that 60% of employers report job vacancies that last 12 weeks or longer, according to the U.S. Chamber of Commerce Foundation's Center for Education and Workforce.
While colleges and universities are rolling out new programs to educate the future workforce and foster new ideas in computer science, they're still not able to graduate enough people to meet the technology sector's insatiable demand for workers. At the same time, immigration to the US collapsed by 70% in 2019, which means the talent pool is shallower than ever.
To fill open roles, tech companies will need to pursue non-traditional recruiting tactics. In 2020, IT leaders should lean into a three-fold approach to solving the problem: identify and train people working in other fields; reach out to moms and other women who left the workforce; and look to Africa for the next generation of talent. Beyond headcount, these avenues will open opportunities for greater diversity in the workplace, and an influx of fresh ideas as a result.
Apprenticeships
A variety of reskilling programs have popped up in recent years to tap workers who have college degrees or equivalent experience, but who need training to work in tech. They are apprenticeships for mid-career workers called "mid-termships." They're the adult-version of internships and often lead to full-time positions at tech companies.
For example, Washington state's nonprofit Apprenti identifies and trains diverse individuals, including those who are in mid-career, for apprenticeships at tech firms. More than 500 companies have also hired new employees from Microsoft's Software & Systems Academy for service members transitioning to the private sector.
Not only is this appealing for workers who want, or must, transition into a new field, but it also brings the kind of outside perspective IT leaders are looking for to inspire creative ideas and new innovations.
Recruiting women back into the workforce
Women have long been underrepresented at tech companies. In the US, female employees make up between 28% to 42% of the total workforce at the biggest tech companies. With women populating half the world, that's low.
As companies look to improve their gender diversity, they're recognizing the type of programs and work culture their employees need in order to balance work and their personal lives. For example, about a third of women do not return to the workforce after their first child because of a lack of support from their employer.
In an effort to recruit female talent, innovative firms -- including Amazon, GoDaddy, Hewlett Packard, PayPal, Oracle, Verizon, and Zendesk -- have partnered with the nonprofit Path Forward to run "returnship" programs. They offer temporary job placements that allow women to learn or regain the skills they need to return to work. Companies then consider participants for fulltime roles. Some organizations are even experimenting with in-house iterations on this great idea, such as IBM's Tech Re-Entry Program.
By offering flexible programs that encourage and support working moms, tech companies can tap into the two-thirds of women that are job-hunting in order to return to work.
The promise of Africa
Part of the solution to the worker shortage is less about importing talent and more about growing additional hubs of innovation around the world. Alibaba's Jack Ma points out that six of the 10 fastest-growing economies in the world are now in Africa, home to 1.3 billion people, 40% of whom are under age of 16.
Google and Microsoft are among those investing there, establishing development centers to hire from the growing talent ecosystem. These operations also play a role in helping grow the African economy, which is paying dividends. In 2020 and beyond, IT leaders can help solve talent shortages by recruiting from among the ranks of the continent's growing talent pool.
Light at the end of the tunnel
Not only will these recruiting methods fill empty desks, they will address a long overdue issue: how the technology industry can better diversify its talent. Women, African Americans and others have been underrepresented for far too long. For an industry that thrives on intellectual property, that means we aren't tapping a large enough pool of ideas and are missing out on potentially world-changing innovations. As a mom, female and African American in the technology sector, I believe that's about to change.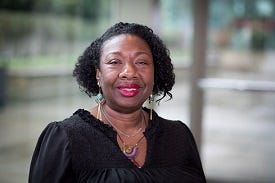 Michelle Grover is VP of software development at SAP Concur, where she leads a global team of mobile and platform engineers who focus on TripIt and the Concur mobile app. She studied physics and structural engineering but fell into technology quite by accident, when she translated a receptionist job into her first engineering role, as a systems support engineer at what is now Verizon. Several companies and development leadership roles later, Grover joined the TripIt and Concur team in 2014. She sits on the board of Techtonica, a nonprofit that helps guide women and non-binary individuals into the technology industry, and executive sponsor for [email protected] Silicon Valley.