UPS: Where Good Is Never Enough
UPS, the No. 1 company in the InformationWeek Elite 100, is analyzing a constantly changing, 100-terabyte data warehouse in order to start predicting problems and delays and dealing with them sooner.
UPS invests more than $1 billion per year in information technology, and the latest large-scale project driven by that investment is Near-Real-Time Service Performance Reporting, or NRT for short. Launched in 2014, the goal with NRT is to combine near-real-time monitoring of events with predictive analytics, so UPS staff and customers can detect and respond to potential service problems.
UPS already had detailed insight into the state of every package in its network, thanks to scanning, sensing, and signature-capture technologies spanning the pickup-to-delivery lifecycle. UPS enhanced those capabilities in 2011 through another, major technology-driven project, UPS MyChoice, which lets customers set up delivery-time windows, reroute deliveries to new locations, or ask UPS to hold packages for pickup at a distribution center.
With NRT, UPS sought a bigger-picture view above the individual package level, such as by local delivery truck, tractor-trailer, train, aircraft, or by shipper, so UPS staff can use that information to better understand broad problems emerging on its network, or for a particular customer.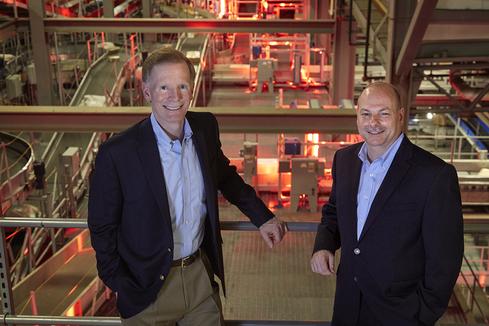 "If we have a tractor-trailer on a route that's discovered to be impassable because of a blizzard, or we learn that there's a derailment on one of the train lines that we use, NRT gives us insight into which shippers might be impacted and the value of shipments at risk," says Dave Barnes, UPS's CIO since 2005.
Before NRT, UPS could look at performance historically, of course, using conventional, batch-oriented reporting approaches, but that only showed UPS and its customers what happened hours or days ago -- too late to do anything to change outcomes. NRT gives UPS and its customers a heads-up warning about a specific problem within seconds or minutes -- in time to proactively reroute shipments or make contingency plans.
NRT is just the latest example of "constructive dissatisfaction" -- the mindset Jim Casey introduced at UPS, the company he founded in 1907, that no matter how good of a job you're doing, you can always do a little better.
We all know UPS as one of the world's largest shipping and logistics companies. But according to Barnes, UPS has evolved dramatically over his 37 years with the company. In his earliest days there it was a shipping company that applied technology to its business challenges, but now, he says, it's a technology company that happens to have trucks, trailers, planes, distribution centers, and collection points.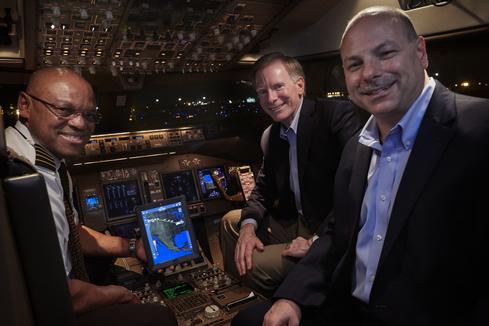 "IT is an integrated, core part of the company, not a cost center," Barnes says. "We embraced technology as a strategic enabler of our future in the late 1980s, and we've been steadfast ever since in investing in IT to accelerate growth and profitability."
NRT's Holiday Trial By Fire
UPS developed and deployed the NRT system over a six-month period from March to September 2014. After a brief shakedown period, NRT had a trial by fire during peak 2014 holiday-shipping season. The project's reporting, alerting, prediction, and proactive planning capabilities were exposed to UPS ground, air, and international operations, UPS sales and senior management, and to the company's largest customers.
"NRT gives us a single pane of glass through which we can see the state of performance across all packages, all modes [of transportation], all buildings, and all customers," says Nick Costides, VP information services, a leader of the project. In the peak season, that meant visibility into that status of as many as 35 million packages per day and more than 550 million packages delivered between Black Friday and Christmas Day.
NRT certainly qualifies as a big data project, capturing as many as 8,700 events -- pickups, sorts within distribution centers, transfers between transportation modes, and deliveries -- per second, 24-hours per day. This highly structured event data was already flying around UPS transactional systems, but NRT introduced a new, low-latency data mart built on Microsoft SQL Server Parallel Data Warehouse. The new store holds more than 100 terabytes of data at any given point in time, a rolling window of recent delivery information with in-memory OLAP cubes giving users the ability to slice their way through different views of the data.
Much of the technology behind NRT is from Microsoft's data-management stack, including Microsoft SQL Server Analysis Services. But UPS had to do custom work to ensure low-latency ETL processes and refreshes of the in-memory OLAP cubes every 30 seconds. UPS also internally developed the predictive algorithms and models that give users insight into the probable impact of a delayed truck, train, or flight.
"The predictive analytics are a work in progress, but we're bringing a growing number of attributes into our models," says Barnes. "If we know, for example, that a particular railroad is at capacity, we can predict which trains travelling on that line will be delayed a few days from now, even if they're not in trouble today. What do you do about it? Now we can look at our options to reroute that train before we experience a delay."
[ Want more innovation ideas? Read about all the Elite 100 winners. ]
NRT proved its value during holiday season 2014, according to Barnes and Costides, so UPS rolled NRT out across the entire network in the first quarter of 2015. NRT isn't something UPS customers access directly, but having it across the whole network means UPS employees can use the data to help all shippers, not just the largest customers, using near-real-time information and proactive alerting capabilities.
Previously UPS only offered proactive monitoring-and-notification capabilities like these to a limited number of high-value shippers, such as pharmaceutical manufacturers and other providers of perishable goods. NRT is bringing that level of insight -- minus the special temperature- and environment-monitoring -- to the entire UPS network -- bringing proactive insight to the movement of more than 4 billion packages per year worldwide.
Existential Threats
What will constructive dissatisfaction lead to next? Is UPS truly thinking outside of the brown box truck? Or are there potential disruptive threats, with customers like Amazon experimenting with drone-based delivery? Could some variation of Uber steal a chunk of the last-mile deliveries UPS handles today?
"Drones are interesting, and they're something we've tested, but it's not the type of thing that's going to move 35 million packages in a day," says Barnes. "You could use drones for special-needs use-cases, like delivering medical supplies in areas where roads don't exist. But we're looking a level up at things like autonomous operation."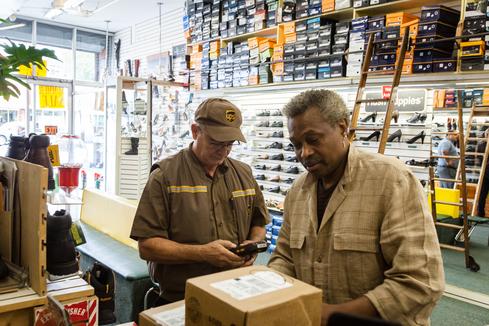 Barnes describes autonomous operation vaguely as "a new way to manage things that move." As the capability of driverless vehicles steadily improves -- Delphi recently completed a coast-to-coast trip with an Audi in automated mode 99% of the time -- it's easy to imagine at least parts of the UPS network -- trains, planes, or trucks -- guided in some way at some point in their journey by sensors and smart computers.
"I don't know that it's specifically about drivers, but it's the idea of augmenting drivers or complementing them for safer, more efficient operation, introducing control systems for things like planes -- I think that's where UPS is focused, and it's very exciting."
It's exciting, indeed, to realize that there's so much you can do to improve the efficiency, reliability, visibility, and timeliness of getting a package between point A and point B. And it's a problem UPS has been working at since 1907.
Doug Henschen is Executive Editor of InformationWeek, where he covers the intersection of enterprise applications with information management, business intelligence, big data and analytics. He previously served as editor in chief of Intelligent Enterprise, editor in chief of ... View Full Bio
We welcome your comments on this topic on our social media channels, or
[contact us directly]
with questions about the site.