UBM TECH EVENTS
Interop
Las Vegas: March 31-April 4, 2014
New York: September 29-October 3, 2014
Interop is the leading independent technology conference and expo series designed to inform and inspire the IT community. Through in-depth educational programs, workshops, real-world demonstrations and live technology implementations in its unique InteropNet program, Interop provides the forum for the most powerful innovations and solutions the industry has to offer. Interop Las Vegas is the flagship event held each spring, with Interop New York held each fall and annual international events in London, Mumbai and Tokyo, all produced by UBM Tech.

Register Now!
InformationWeek Conference and Elite 100 Awards @ Interop
March 31-April 1, 2014 | Las Vegas, NV
InformationWeek Conference is our exclusive conference for CIOs and technology leaders. Please join us in Las Vegas for two packed days of learning, information sharing, professional networking and celebration. Following the conference featuring world-class CIOs and other thought leaders and experts, InformationWeek will honor the nation's leading digital businesses at our InformationWeek Elite 100 Awards Ceremony.

Register Now!
Cloud Connect Summit @ Interop
March 31-April 1, 2014 | Las Vegas, NV
Designed to appeal to both technology stakeholders and business leaders alike, the Cloud Connect Summit is a two-day conference program -- held alongside Interop Las Vegas -- offering a dive deep into the most pressing cloud technology decisions and trends including how cloud services are reshaping business technology. In addition to the Cloud Connect Summit, Interop will feature cloud workshops and an entire conference track filled with sessions programmed by Cloud Connect. The Interop Expo will feature a Cloud & Virtualization Zone with leading exhibitors showcasing the latest cloud technologies.

Register Now!
WEBINARS
Gartner's Take on Enterprise Mobility: Technology Gatekeepers or Business Enablers?
An InformationWeek Webinar
With the introduction of employee choice, BYOD environments, and the ever-expanding list of form factors and operating systems, IT leaders are expected to turn mobility challenges into organizational productivity. But along with business efficiencies, mobility can introduce new risks to an organization, with unprecedented challenges to corporate data, networks, and employees. So how does IT transform from a technology gatekeeper to a key business enabler?

Register for this webinar to join Terry Cosgrove, Research Director at Gartner, for a look to the future, including the potential impact of the mobility challenges we face today.

Tuesday, January 21, 2014 -- Time: 11:00 AM PT / 2:00 PM ET
Register Now!
Intrusion Prevention Systems: What to Look for in a Solution
An InformationWeek Webinar
Attend this webinar to learn how to:

-Define Deeper Network Security
-Choose a new IPS or NGFW
-Discover how cyber criminals attempt to evade IPS detection

Register for this webinar to learn what to look for in order to make the right choice when selecting an intrusion prevention system.

Thursday, January 9, 2014 -- 8:00 AM PT / 11:00 AM ET -- 60 minutes
Register Now
Why Netezza Technology is a Game Changer For Analytics
An InformationWeek Webinar
Speed-of-thought analytics is created on a sound architecture.

Loading up data and formulating it for analysts is relatively easy, compared to making it an ongoing, operational and durable environment.

Join this webinar to learn how you can:

-Forsake application-centric, tightly coupled front-end/back-end BI implementations
-Embrace a decoupled-but-harnessed back-end/front-end architectural approach, preserving integrity but increasing volume and velocity
-Empower the architects to easily extend functionality and maintain performance without disrupting the user experience
-Isolate the end-users with a self-contained, stable and durable experience, achieving the elusive self-service-BI dream

You can now enable broad functionalities and scale to stratospheric volumes with little additional effort.

Discover IBM PureData System for Analytics, powered by Netezza technology, that changes the game and the rules-of-play, providing the power, simplicity and agility required for effective analytics development and refactoring, as well as automating the analytics for operationally-enabled mass consumption.

Register for this webinar now.

Thursday, December 19, 2013 -- Time: 11:00 AM PT / 2:00 PM ET
Register Now!
Cloud Shift: Object Storage Services
An InformationWeek Webinar
Developments in object storage technology have made integrating inexpensive, flexible cloud storage solutions easy for organizations of all sizes. As new solutions pour into the space, Increasing product maturity and brand trust have garnered improvements in performance, security, availability and compliance. Yet in this increasingly competitive market, only good planning and careful implementation will yield a strong ROI. Join us while we discuss how to achieve maximum benefit and cost savings from object storage.

Thursday, December 19, 2013 -- Time: 10:00 AM PT / 1:00 PM ET
Register Now!
The Real Cost of Healthcare Data Breaches
An InformationWeek Webinar
In this presentation, IT security veteran, Mac McMillan will analyze the security costs associated with a healthcare data breach and describe its impacts on a healthcare organization's top-line revenue. McMillan will also provide guidance on determining the appropriate approach to security and the formula for identifying the financial costs associated with security incidents, which is invaluable to IT professional tasked with protecting sensitive data.

- Learn how prevalent breaches are in the healthcare industry and why most security and privacy programs aren't enough
- Identify that total financial costs associated with an incident
- Understand the costs of security viruses

Thursday, December 19, 2013 -- Time: 8:00 AM PT / 11:00 AM ET -- 60 minutes
Register Now!
The Mobile Business Mindset
An InformationWeek Webinar
Mobile devices have changed how we communicate, read, shop and entertain ourselves -- and they're changing the way we do business. Tablets and smartphones with slick apps tapping into backend cloud services make existing business processes more efficient while enabling brand new ones. But mobile apps are a different breed -- you can't just reformat a desktop client for a phone or expect developers to jump from a client-server project one week to a mobile app project the next. The differences between mobile apps and conventional Windows clients, or even web applications, are far more than skin deep. Yes, the touch-versus-keyboard interface, APIs, and programming languages are new, but that's small potatoes. In this webinar, we'll outline the attributes of mobile app functionality and development that distinguish it from traditional PC or even browser applications and what's necessary to make a business mobile ready.

Thursday, December 18, 2013 -- Time: 11:00 AM PT / 2:00 PM ET
Register Now!
Transforming Operations - Part 1: Managing Outsourced Development in Telecommunications
An InformationWeek Webinar
Communications Service Providers are large users of outsourcing to help them in their software development efforts - and this trend is continuing, especially with the availability of lower-cost, overseas software development firms and crowd-sourcing.

But how do you ensure requirements are met and the software is delivered in a timely matter with the expected quality? Join us to learn how properly outsourced telecommunications can cut cost and expedite growth.

Wednesday, December 18, 2013 -- Time: 11:00 AM PT / 2:00 PM ET
Register Now!
The Epidemic of Healthcare Analytics: How IT Can Cure
An InformationWeek Healthcare Webinar
In this webinar we will identify some of the key principles, concepts and barriers to successful data collection, analysis and program improvement, including how to:

- Set core strategic objectives and establish control over your data;
- Identify key metrics, and lay the groundwork for collection of usable, useful and actionable data; and
- Anticipate trends in data collection and analysis, particularly always-on patient-facing mobile data collection.

It's not what you have, it's what you do with it - and making sure that what you do have is what you actually need. As the flood of data rises higher, we'll help make sure it lifts your boat instead of swamping it.

Wednesday, December 18, 2013 -- Time: 8:00 AM PT / 11:00 AM PM ET -- 60 minutes
Register Now!
IT Budget: Getting A Seat At The Table
An InformationWeek Webinar
Nobody denies that there's serious technology spending happening outside of central IT. 37% of respondents from a recent InformationWeek budgeting survey say that this spending is on the rise, and 25% say that IT only gets involved when invited by business units to do so. And, in an era where the integration of technology into all aspects of business is seriously on the rise, 14% say that IT spending is on the decline. What can IT leaders do to ensure that they are at the table when key budgeting decisions are made? It's about the carrot, not the stick, and focusing on business units' self interest. We'll review several key activities that IT can engage in to boost their chances of project success via a more healthy budget process. Our guest, who has worked at the world's second largest asset manager, will share insights about budgeting status quo both as internal IT and a consultant.

- Learn useful industry metrics that allow you to better present your case to management
- Review key IT pro activities that make IT top-of-mind during executive budget deliberations
- Gain insight about how traditional budgeting can impact business project agility and cost



Tuesday, December 17, 2013 -- Time: 10:00 AM PT / 1:00 PM ET -- 60 minutes
Register Now!
The Automation Games: Why Your Cloud Vendors are Holding You Back
An InformationWeek Webinar
Too many enterprises embrace cloud computing just to avoid having to allocate virtual machines manually, and then they call it a day. Once the server is the launched, it still requires human intervention to install and configure software and get the machine running properly -- and then more human intervention every time the operating system or software needs an upgrade. Sometimes the site even needs to go down to apply a new service patch. What is this-1995?

Vendors want you to believe they're going to save you but they're the biggest problem -- their technology still lives in the data-center virtualization world of the past decade, and they're just trying to stay afloat -- they're not interested in helping companies implement good cloud automation strategies. This webinar will walk through what is possible today in cloud automation, and outline how you can get there, with or without your vendors.

You will learn:

- The three levels of cloud automation, from virtualization to orchestration;
- The tools that you can use to orchestrate your cloud; and
- Questions you can ask your vendors to assess their ability to help you.



Tuesday, December 17, 2013 -- Time: 8:00 AM PT / 11:00 AM ET -- 60 minutes
Register Now!
Mobile Content Management: What You Really Need to Know
An InformationWeek Webinar
How effective is your mobile business environment? Interacting with content via a mobile device is the expected user paradigm; employees want to use a smartphone or tablet to interact with business content from where ever they are. But how can users access the information that they need without putting your content assets at risk? Does your business have a policy regarding the use of consumer-based fileshare services? If your business systems don't support it, your employees may be putting your assets on third-party fileshares which can cause significant risk.

Attend this webinar to learn how to:

-Integrate your applications to a mobile work environment
-Keep your data safe and well-managed, regardless of where the content is created
-Support multiple business uses and content sources

Join us for a conversation around mobile enterprise content management, featuring Social Content Management experts from IBM and guest Forrester Research Analyst, Rob Koplowitz. We will discuss best practices for allowing employees working remotely to access their data while maintaining security and governance. You will also hear the results of the latest Forrester Research survey around mobile content management.

Tuesday, December 17, 2013 -- Time: 10:00 AM PT / 1:00 PM ET
Register Now!
Data-Driven Insights Help Healthcare Organizations Achieve Outcomes that Matter
An InformationWeek Healthcare Webinar
Join InformationWeek Contributing Editor Karen Bannan and Sri Srinivasan, Global Industry Leader, Big Data & Analytics, IBM to learn how healthcare organizations are addressing these issues, the benefits patients are seeing, and how big data and analytics brings about knowledge, innovation, and - in some cases - improved quality of life and care.

You will learn:

- Which forces are creating the greatest need for change
- Perspectives on how healthcare organizations need to transform to survive
- What types of analytics will make a difference in the business
- How to get there, delivering value now and establishing the foundation for a long term strategy
- Examples of how healthcare organizations are charting their analytics journey


Register today to attend this December 16th webinar. Or, if you can't make it on 12/16, register today for on-demand access.

Monday, December 16, 2013 -- Time: 11:00 AM PT / 2:00 PM ET -- 60 minutes
Register Now!
The future of BYOD: Securing The Mobile Enterprise
An InformationWeek Webinar
Mobile device platforms continue to infiltrate the enterprise and users are clamoring for deeper and broader access. Anytime anywhere work possibilities are multiplying and controlling access is getting more challenging. BYOD devices are directly connecting to email, associating with corporate wireless networks, and downloading files from cloud data stores on a regular basis. Beware the risks that uncontrolled mobility places on your data and your organization's reputation...

In this webcast you'll learn about some of the current thinking on mobility management as it relates to security, identity and resource access. In particular we'll address:

- What type of mobile management is appropriate for my organization
- How can I enhance the existing network infrastructure to support mobility initiatives
- Ways for making BYOD a success while adequately protecting corporate data

It's not too late to get ahead of the mobility curve! Just be ready and be smart about your mobility strategy.

Monday, December 16, 2013 -- Time: 10:00 AM PT / 1:00 PM ET -- 60 minutes
Register Now!
8 Ways Enterprises Screw Up Cloud Deployments (or Architectures)
An InformationWeek Webinar
Most companies cite business agility as the most important reason for moving to the cloud. But as companies migrate more and more services to the cloud (public, private, hybrid), they are failing to realize the enormous benefits of the cloud because they're just forklifting existing applications from on-premises servers to "the cloud". It's like running a mainframe terminal session on an iPad – you're missing out on key benefits of the iPad. In this webcast, we'll talk about the 8 most common ways that Enterprises fail to realize the benefits of a cloud deployment, and explain how you can avoid them.

You will learn:

-How hardware and software failure can be your friend
-hy you should never again pay a sysadmin to "stand up a server"
-The new paradigm: Servers are software

Register today to attend this December 16th webinar. Or, if you can't make it on 12/16, register today for on-demand access.

Monday, December 16, 2013 -- Time: 8:00 AM PT / 11:00 AM ET
Register Now!
Agile Desktop Infrastructures: You CAN Have It All
An InformationWeek Webinar
Technology experts agree: to achieve an optimal desktop environment – and still deliver the very best end-user experience - your transformation must begin now. While no single point solution is likely to address all of your desktop management needs, don't lose hope. With the Agile Desktop Infrastructure, you CAN have it all - physical, virtual and desktop-as-a-service.

Attend this webinar to learn how to:

-Approach the management of multi-device environments, applications and content
-Secure IP and data and ensure compliance
-Improve cost management
-Avoid the most common mistakes organizations make

Register for this webinar to learn how to significantly impact desktop management in your organization in 2014. Don't miss out.

Thursday, December 12, 2013 -- Time: 9:00 AM PT / 12:00 PM ET
Register Now!
Why Adopt DevOps? Top Reasons Revealed
An InformationWeek Webinar
Attend this webinar to learn how to:

-Apply DevOps lean and agile principles across your entire software delivery life cycle.
-Use "application development as a service" to help your organization.
-Power greater collaboration between software delivery teams with cloud-based services.
-Drive greater innovation by utilizing DevOps and cloud services.

Register for this webinar to learn how DevOps can help you provide a highly differentiated and engaging customer experience, achieve much quicker time to value, and dramatically boost innovation.

Tuesday December 10, 2013 -- Time: 9:00 AM PT / 12:00 PM ET -- Duration: 60 minutes
Register Now
Catch the Security Breach Before It's Out of Reach
A Dr. Dobbs Webinar
Software security breaches can happen in many places, including at the source code level. Opportunities for vulnerable code breaches are often created innocently enough, sometimes because we don't know what to look for.

Join us for this interactive webinar to uncover techniques to recognize and assess potential problems in source code, identify potential application security problems in your code and understand how data breaches occur in web, desktop and mobile applications.

Tuesday December 10, 2013 -- Time: 11:00 AM PT / 2:00 PM ET
Register Now
The Only Alignment Plan You'll Ever Need
An InformationWeek Webinar
In this webcast, Michael A. Davis, trusted advisor to Fortune 500 CIOs, will provide a battle-tested, simple to execute, step-by-step plan to align IT goals with business and customer objectives and, critically, measure and monitor progress to ensure you stay on track.
This interactive webinar provides attendees with:

- A step-by-step plan to align IT goals with business and customer objectives
- The 5 Metrics you need to stay aligned
- Real world success and failure case studies in aligning IT goals

Monday, December 9, 2013 -- Time: 8:00 AM PT / 11:00 AM ET -- 60 minutes
Register Now!
Social Anxiety: Why 2014 Will Make Or Break Collaboration
An InformationWeek Webinar
2013 saw another year of rapid growth in social collaboration redefining our relationships with friends, customers, and employees. We'll discuss the major trends going into 2014 and touch on the most critical components for success including:

- Learn why CIOs need a more complete digital strategy
- Discussing the shifting role of email
- What you need to understand about the rise of social monitoring
- Learn the best ways to manage your security concerns

Monday, December 9, 2013 -- Time: 11:00 AM PT / 2:00 PM ET -- 60 minutes
Register Now!
Measuring And Reporting On Your Organization's Security Posture
A Dark Reading Webinar
How safe is our enterprise? Unfortunately, answering that question is no simple task.

Join this webinar to see how you can:

- Develop a baseline set of metrics to benchmark your enterprise's security posture
- Implement practical methods for reporting changes in security risk
- Create benchmarks for accurately measuring the performance of your IT security team
- Understand how new threat intelligence data may help you measure security posture
- Improve your ability to harvest data from security systems and mine it for security posture reporting
- Create methods for measuring security risks and performance that non-IT executives can understand

Gain the best methods for measuring security risk and benchmarking security performance over time.

Register for this webinar now.

Tuesday, December 6, 2013 -- Time: 10:00 AM PT / 1:00 PM ET
Register Now!
Architecting Private and Hybrid Cloud Solutions: Best Practices Revealed
An InformationWeek Webinar
Successful cloud implementations not only require the best solutions, they also necessitate proper execution to realize your business objectives and yield the greatest results. Join this session to hear IBM Distinguished Engineers describe the key considerations and guidelines for architecting private and hybrid clouds.

Attend this webinar to:

-Hear experienced cloud experts architect innovative private and hybrid cloud solutions to realize client requirements and business outcomes
-Discover how to securely orchestrate the development, deployment, and management of your private and hybrid clouds
-Gain knowledge of how you can create, deploy, manage and monitor applications in the model of "Everything-as-a-Service" (EaaS)
-Find out how cloud computing implementations realize savings, streamline business processes and improve business results

Register for this webinar to learn how to design, build and implement your cloud infrastructure using proven cloud technologies.

Tuesday, December 6, 2013 -- Time: 8:00 AM PT / 11:00 AM ET
Register Now!
Client Windows Migration: Expert Tips for Application Readiness
An Enterprise Efficiency Webinar
With the looming April 8th 2014 end-of-support date for Windows XP, IT departments are working to wrap up the move to Windows 7 and Windows 8.

Yet at many organizations, lingering concerns about application compatibility are impeding the process. Join us for a detailed, interactive webinar to hear expert advice on how to address application-related issues in your OS migration.

Thursday, December 5, 2013 -- Time: 10:00 AM PT / 1:00 PM ET -- Duration: 60 minutes
Register Now!
Real results: Speeding quality application delivery with DevOps [in financial services]
A Banking Systems & Technology Webcast
Financial services companies must deploy – update – and redeploy new services faster. How can you respond when new solutions require a combination of mobile apps, mainframe systems and external interfaces – each offering a unique set of roadblocks? Attend this Webinar to see examples of how financial institutions are speeding "time to feedback" while maintaining quality, compliance and costs with a DevOps approach and tools.

Thursday, December 5, 2013 -- Time: 8:00 AM PT / 11:00 AM ET -- Duration: 60 minutes
Register Now!
Why You Need Social Cloud Collaboration Tools
An InformationWeek Webinar
In today's dynamic and competitive global environment, you're facing a multitude of complex challenges. Sometimes trying to solve these problems can put IT and LOB at odds. LOB wants something they can implement quickly and easily; IT needs to ensure the organization's network and data are protected. How can you enable line of business to solve their specific business problems using cloud based, flexible collaboration and social business tools, while ensuring IT feels confident that security and reliability objectives are met?

Register for this webinar to learn how social cloud technologies like real-time online document editing, community based blogs and wikis, and file sharing can meet the needs of both IT and LOB to help you cut costs, improve communication and make your workforce more productive.

Tuesday, December 3, 2013 -- Time: 11:00 AM PT / 2:00 PM ET
Register Now!
How to Protect Your Content and Improve Security with Cloud Client Computing and Thin/Zero Clients
An InformationWeek Webinar
Protecting your organization's data is critical to your success since the loss or compromise of that data could be catastrophic. As more data is being created than ever and at a faster rate, with much of it starting its life on individual devices, having any of it residing on users' computer hard drives can be particularly dangerous.

A strong cloud client computing strategy that leverages desktop virtualization and thin or zero clients can offer immediate and vast improvements in protecting your digital assets by virtually eliminating most of the risks that currently confront your data. Join us for this informative webinar to learn how cloud client computing and thin/zero clients can vastly improve your data security.

Tuesday, December 3, 2013 -- Time: 10:00 AM PT / 1:00 PM ET
Register Now!
The Economics of Cyber Crime
A Dark Reading Webinar
In this one-hour webinar, you will learn:

-Which industries are most at risk
-How long it takes to respond to an attack
-How to fully neutralize an attack
-How to take proactive action with advanced security intelligence solutions
-What governance practices should be implemented

Design and execute a successful OpenStack cloud.

Tuesday, October 29, 2013 -- Time: 8:00 AM PT / 11:00 AM ET
Register Now!
Deeper Network Security: Protection Tips Revealed
An InformationWeek Webinar
Modern attacks employ several complex techniques to avoid detection as they sneak quietly into corporate networks to steal intellectual property.

Attend this interactive discussion that reveals:

-The state of the current threat landscape
-Next-Gen Firewalls
-SSL decryption & inspection as part of a security strategy
-The importance of IPS with anti-evasion
-Workings of network-based malware protection

Join Dell SonicWALL to learn how advanced attacks work and what you can do to keep your organization safe.

Register now and you will also receive a whitepaper that describes how you can use next gen firewalls to achieve greater security in your organization.

Tuesday, October 29, 2013 -- Time: 9:00 AM PT / 12:00 PM ET
Register Now!
Quality Enablement Webinar: Test Plans That Reduce Risk
A Dr. Dobb's Webinar
Join this webinar to discover how you can:

-Develop test plans that focus the development effort and reduce risk
-Find regressions with fewer, more reliable tests
-Reduce mean time to detect regressions using defense in depth
-Find high-quality bugs using streamlined exploratory testing

Join Dell SonicWALL to learn how advanced attacks work and what you can do to keep your organization safe.

To remain competitive organizations must develop extremely efficient Test organizations that focus the development effort on delivering maximum customer value.

Wednesday, October 30, 2013 -- Time: 9:00 AM PT / 12:00 PM ET
Register Now!
WinXP at the 11th Hour: Deploying an effective Win OS Migration Strategy
An InformationWeek Webinar
either start or complete the migration to Windows 7. Given the security and compliance risks facing them come April, 2014, the question is, why? Here's why. These organizations fall into two camps: those who have tried and failed, and those who are simply waiting it out. Fear, frustration, project complexity and lack of resources are the common showstoppers -- but they need not be. This Pomeroy-InformationWeek webcast tells you what you must know to make an effective 11th hour migration.

-What preparation and steps do you need to take now? How should you prioritize?
-What are the 5 most common mistakes and how do you avoid them?
-Can you do this yourself with internal resources and available tools?
-Your pilot failed -- what do you do right now to get back on track?
-Is your budget adequate -- what should you expect it to cost?

Why participate? The webcast will be facilitated by hands-on migration experts with one goal -- to help you know exactly what to do for an orderly transition by next April -- and how to go about it. They have been on-site with companies of all sizes, at all stages of migration -- they will answer your questions live.

Whatever your stage of migration -- from initial discussion to a stalled pilot -- this webcast is likely to be the most important 50 minutes you spend online this year.

Wednesday, October 30, 2013 -- Time: 10:00 AM PT / 1:00 PM ET
Register Now!
How to Break the I/O Bottleneck
A Network Computing Webinar
Register to learn how to:

-Improve performance of existing workloads
-Increase workload density by leveraging improved bandwidth
-Improve security all the way down to the chip with new features
-Reduce power consumption while delivering enterprise performance.

Attend this webinar to explore how to streamline and improve high-density workload performance, save energy and improve your security posture just by buying a new rack of servers.

Thursday, November 7, 2013 -- Time: 11:00 AM PT / 2:00 PM ET
Register Now!
Business Drivers for Adopting the Next Generation of Wi-Fi: Why 802.11ac Now
An InformationWeek Webinar
Billions of devices and millions of apps are driving the growth for a new generation of wireless networks that are mobile, open and with high capacity. Enterprises and organizations such as education, hospitality and healthcare are at the forefront in experiencing this change.

Register for "Business Drivers for Adopting the Next Generation of Wi-Fi", and join guest Andre Kindness from Forrester Research and Meru Networks to explore the results of new research on the benefits and challenges associated with the business reasons for adopting the new wireless standard 802.11ac.

Our experts will examine:

-How the wireless landscape has changed
-How enterprise networks must change to support these new challenges
-Why 802.11ac should be considered today.

Join us to discuss how leading organizations are preparing for the migration to the new standard for greater mobility, speed and capacity. Don't be left behind.

Thursday, November 7, 2013 -- Time: 11:00 AM ET
Register Now!
Improve the Economics of IT: Best Practices Revealed
An InformationWeek Webinar
In today's environment, you need to keep IT costs under control while still supporting a more robust, flexible infrastructure to extract more value and insights from data. Integrating, automating, and simplifying your IT infrastructure can result in breakthrough economics. Attend this webinar to:

-Hear how to optimize your workloads to better manage, retrieve, and analyze your data for better business insights
-Learn about the importance of integrated systems and how it can improve your IT efficiency
-Reduce the cost of delivering workloads that run your business

Register for this webinar to explore how your business can leverage smarter computing technologies to gain valuable insights faster and more economically than ever before.

Tuesday, November 12, 2013 -- Time: 10:00 AM PT / 1:00 PM ET
Register Now!
Gain Control of IBM i Application Lifecycles: Stop Risking Business-Critical Systems
A Dr. Dobb's Webinar
Attend to learn how organizations using IBM i as one of their platforms can learn how to:

-Improve visibility, coordination, and control over your multi-platform development environments
-Enable development, operations, release and IT management to coordinate and synchronize legacy systems with today's development environments
-Meet your audit requirements so you can stay compliant
-Align with DevOps processes and best practices

Register for this webinar to hear how to enable development, operations and IT management to coordinate and synchronize legacy systems with today's development environments, while managing releases in a compliant manner.

Wed, Nov 13, 2013 -- Time 02:00 PM EST
Register Now!
How to Defend Your Network from Advanced Persistent Threats (APTs)s
A Dark Reading Webinar
Register for this webinar to learn:

-Why and how malicious actors are targeting your endpoints
-Strategies for integrated detection and defense that leverage next-generation firewalls and malware detonation technologies
-How organizations like yours have deployed a unified solution to prioritize alerts, accelerate incident response, and drive down operational costs

Attend this webinar with Ruby Sharma, Technical Alliances at FireEye, and Michael Bilancieri, Director of Product Management at Bit9, to get the latest intelligence on advanced attack scenarios and how FireEye and Bit9 are working together to deliver an integrated malware defense platform.

Date Thu, Nov 14, 2013 -- Time 01:00 PM EST
Register Now!
IBM Content Analytics adds real business value to Cognos
An InformationWeek Webinar
Register for this webinar to learn:

Content Analytics and Cognos® have nuanced ways of loading vast amounts of real business value into a single solution. To start with, Content Analytics sifts through the 80 percent of your information that is unstructured and uses the Watson Natural Language Processing (NLP) engine to extract what is most helpful.

Join us on November 14th to learn how to deliver technical value and significantly speed the development cycle with Content Analytics - saving you money and delivering faster business results.

Thursday, November 14, 2013 -- Time: 11:00 AM PT / 2:00 PM ET
Register Now!
Top Business Continuity And Resiliency Learnings
An InformationWeek Webinar
A strong resiliency program requires constant evolution to keep up with a changing risk landscape. Building such a program requires resiliency for everything from disruptions caused by natural events to risks resulting from strategic growth initiatives. Register for this interactive discussion to discover how you can:

-Expand resiliency planning beyond disruption mitigation
-Realize real benefits from good planning and execution of resiliency strategy
-Obtain techniques for how you can implement a more business-centric approach to business continuity management and help reduce risk
-Engage your C-suite executive in your business continuity budgeting & planning efforts

Interact with Paige Poore, Director of Business Continuity for IBM Global Technology Services, as she discusses key considerations for resiliency planning that you may overlook - and how you can build C-suite buy-in for improvements to your resiliency roadmap. Please remember to share this information with your colleagues who may also be interested in business continuity best practices.

Date Tuesday, November 19, 2013 -- Time: 10:00 AM PT / 1:00 PM ET
Register Now!
Accelerate Cloud Computing Success with an Open Standard
An InformationWeek Webinar
Attend this webinar to learn how to:

-Reduce the risk of vendor lock-in with cloud standards and open source
-Ensure an interoperable cloud with open source and open standards
-Lower IT integration and switching costs

Register for this webinar to learn real-world examples of how open source can impact the design and implementation of your public, private, and/or hybrid cloud.

Date Monday, December 2, 2013 -- Time: 8:00 AM PT / 11:00 AM ET
Register Now!
Space Ships to Heart Monitors: Find out why leading companies use IBM Rational DOORS for requirements management
IBM Rational DOORS, has a solid history as the leading requirements engineering tool for decades. DOORS continues to be used by organizations across industries for managing their requirements. By providing rich requirements management capabilities, DOORS helps to increase the quality of systems engineering, safety, business or mission critical systems and software development projects by improving requirements communication and collaboration. In this webcast, Dr. Jeremy Dick, Principal Analyst at Integrate Systems Engineering Ltd and a long term DOORS user, walks you through how DOORS enhances product and systems quality by increasing the visibility of business objectives, customer needs, technical specifications and regulations. This webinar will show how you can:

-Find out what return on investment you can realize by using DOORS
-Discover how IBM Rational DOORS can improve your requirements management process in complex systems and IT projects
-Learn how IBM continues to lead the next generation of requirements management

IBM Rational DOORS is a proven requirements management application for optimizing requirements communication, collaboration and verification throughout the organization and supply chain. It is a scalable solution to help meet business goals by managing project scope and cost. Rational DOORS lets you capture, trace, analyze and manage changes to information while maintaining compliance to regulations and standards.

Wednesday, December 4, 2013 -- Time: 8:00 AM PT / 11:00 PM ET
Register Now!
INFORMATIONWEEK FORUMS
These are executive events produced by InformationWeek.com.These events may vary in subject matter but are designed for executives to network with peers, hear from industry experts and participate in panel and/or open discussion forums led by an by InformationWeek Moderator. If you would like further information about these events or are interested in attending, click the event links below.
Standardizing and Automating Your Infrastructure: The Path to Productivity
An InformationWeek and Wipro Executive Dinner Event
September 24, 2013
New York City

At this executive-level roundtable event, hosted by Wipro, you'll have a chance to exchange ideas about your approach to global infrastructure services and how your company deals with variability in business needs and IT performance. Representatives from Wipro and InformationWeek will be on hand to provide expert insight into the issues that challenge IT pros on this important topic. We'll discuss:

-Exploring alternate computing architectures and service models for your IT infrastructure
-Centralizing and automating the management of your infrastructure to maximize efficiency
-Ensuring performance objectives in a high-speed, global environment
-Mapping the right technologies and services to your business processes for optimal productivity gains

This event will feature an elegantly prepared sit-down dinner. The Lambs Club offers Chef Geoffrey Zakarian's casual and modern approach to American cuisine. Chef Zakarian has been a lead judge on Food Network's Chopped for nine seasons and was the winner of Food Network's The Next Iron Chef, Super Chefs, Season 4.

Date & Location
September 24, 2013
The Lambs Club
132 West 44th Street
(Between 6th Ave and Broadway)
New York, NY 10036
Register Now!
INFORMATIONWEEK VIRTUAL EVENTS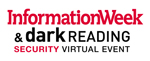 February 7: Hackers Unmasked – Detecting, Analyzing, and Taking Action Against Current Threats

In this all-day InformationWeek & Dark Reading Virtual Event, experts and solution providers will offer a detailed look at how enterprises can detect the latest malware, analyze the most current cyber attacks, and even identify and take action against the attackers. Attendees will also get a look at how cybercriminals operate, how they are motivated -- and what your business can do to stop them.

December 11th: Mobile Health: Opportunities and Obstacles

Mobile medical devices and apps are popping up all over. This growth offers opportunities for developers, clinicians and patients alike. But along with those opportunities come several obstacles to contend with. Depending on the type of app, developers will have to jump through all sorts of hoops to get FDA approval. Similarly clinicians sometimes face resistance from IT managers when they want to bring their own devices into the enterprise setting. And patients are faced with a long list of mobile apps, some of which offer more hype than help. Join us for this InformationWeek Healthcare virtual event, where editors and industry experts will sort through these issues and discuss how to best take advantage of all that mobile health has to offer patients, clinicians, and entrepreneurs.

Platinum Sponsor: Thawte

Available on demand

October 2nd: InformationWeek 500 Virtual Event: Throw Out The Old IT Rulebook

Most CIOs say they understand that the old IT rulebook is obsolete, mostly because customers or colleagues in other departments are making noises about working around their organizations -- or they already are. At this year's InformationWeek 500 Virtual Event, you'll hear CIOs at leading companies discuss how their organizations are rewriting the old IT rulebook and at the same time accelerating business execution and growth.

Gold Sponsor: IBM

Available on demand
ON-DEMAND RESOURCE CENTER
View recent Virtual Events and TechWebcasts on a variety of business technology topics.
Windows Upgrade: Key Process And Resources Revealed
An Enterprise Efficiency Webinar
The end of Windows XP support is quickly approaching yet many organizations still have users on XP with legacy applications. Register for this interactive webinar by Dell and discover how you can:

-Accelerate your migration to Windows 7 or Windows 8
-Automate the migration to reduce cost and timeline
-Get control over the software library to optimize software license spend, harvest unused licenses and reduce ongoing support costs
-Avoid XP custom support costs or the risks of running on an unsupported OS

Now is the time to seek the help needed to upgrade outdated hardware and migrate compatible hardware before XP support ends.

Thursday, September 12, 2013 -- Time: 10:00am PT/ 1:00 PM ET
Register Now!
How to Establish & Manage a Recurring Revenue Model
An InformationWeek Webinar
Attend this webinar to learn how to:

-See if recurring revenue can work in your business
-Effectively manage your recurring revenue-based business
-Increase customer satisfaction with a recurring revenue model
-Minimize impact to IT and financial operations

Register for this webinar to learn about a new breed of billing that doesn't stress IT or finance.

Thursday, September 12, 2013 -- Time: 10:00am PT/ 1:00 PM ET
Register Now!
Why Healthcare Can't Afford Not to Improve B2B Integration
An InformationWeek Webinar
Attend this webinar to learn:

-How to use big data & analytics to gain a competitive advantage over your industry peers
-Platform considerations to best leverage the power of this Big Data transformation
-Overview of IBM DB2 with BLU Acceleration and how you can leverage it to transform your business
-How DB2 and BLU Acceleration further exploits the IBM Power Systems™ advantages to push beyond the limits of memory-only solutions

Register for this webinar to learn about a new breed of billing that doesn't stress IT or finance.

Thursday, September 12, 2013 -- Time: 10:00 AM PT / 1:00 PM ET
Register Now!
Implementing a Multichannel Approach
An InformationWeek Webinar
In a world where IT needs to support smartphones, tablets, PCs, TVs and the Web, development teams need to find ways to simplify and streamline app design, development, and deployment. Join this session to understand why you need a multichannel strategy and how this approach will need to adjust in the future.

Wednesday, September 4, 2013 -- Time: 10:00 AM PT / 1:00 PM ET
Register Now!
Mind The Gap: Surviving The Technical Security Skills Crisis
An InformationWeek Webinar
Hear from Andy Rose (Principal Analyst, Security & Risk group – Forrester Research), Nick Hayes (Lead Researcher, Security & Risk group – Forrester Research), and Jack Danahy (IBM Security Services executive) as they discuss the security skills gap and insights gained from the recent research study. Attend this webinar to hear key recommendations for preparing for a future when technical skills will be in even higher demand.

Tuesday, September 3, 2013 -- Time: 10:00 AM PT / 1:00 PM ET
Register Now!
Cloud Service Management: How to Reduce Complexity and Minimize Risk
An InformationWeek Webinar
As corporations accelerate their use of cloud technology, the demands on the IT department to manage these hybrid environments increase dramatically. Automation can reduce the complexity, ensure consistency and compliance and enable the IT department to effectively broker and manage these new cloud services.

Join this interactive webinar on how you can reduce complexity through cloud brokering of dynamic application, platform and infrastructure services, unify operations with comprehensive cloud management for hybrid clouds, and minimize risk with support for multi-vendor hardware, multiple hypervisors, public cloud services and integration with 3rd party products.

Begin the journey with low-cost starter software and services to accelerate cloud service management and build a foundation for growth and expansion of cloud services.

Thursday, August 29, 2013 -- Time: 11:00 AM PT / 2:00 PM ET
Register Now!
Embedded System Quality: Top Competitive Techniques Revealed
A Dr. Dobb's Webinar
Join us for this special webinar to see how you can:

-Gain the benefits of automating change and defect management with traceability throughout the entire project lifecycle
-Increase test throughput with automated test scheduling, execution, and analysis
-Integrate testing and lifecycle management tools makes it easier for engineers to collaborate from requirements through to test.

Free Solution Brief: Register Now, and you will instantly receive a copy of the brochure: Integrating Testing into the Development Lifecycle.

Thursday, August 29, 2013 -- Time: 11:00 AM PT / 2:00 PM ET
Register Now!
OpenStack from Top to Bottom
An InformationWeek Webinar
OpenStack has so many players and technologies sprouting up it is becoming harder and harder to ascertain if it can actually solve the problems that started the movement. There are so many moving parts with complementary or overlapping technology initiatives, resulting in an ever-changing landscape. Cutting through the noise and defining a clear set of strategies can help companies exceed their expectations and leverage OpenStack to achieve both business and technical objectives. OpenStack experts from AMD and Forrester will review the current situation of where OpenStack is and where it is heading into the future.

The key takeaways of the session will be:

-Determine which OpenStack strategy (public, private or hybrid cloud) is the right strategy
-Leverage OpenStack for key applications and understand why not every application is well suited for OpenStack
-Learn what OpenStack is good at and where OpenStack needs to improve for enterprises to fully leverage its capabilities
-Gain insights into the key infrastructure innovations that can shape the direction of OpenStack and redefine its capabilities to simplify operations, reduce space/power consumption and maximize computing resources

This webinar will provide valuable insights for enterprises currently evaluating, designing or implementing OpenStack. It will be a provocative discussion based on data driven industry insights and real life customer deployments.

Wednesday, August 28, 2013 -- Time: 10:00 AM PT / 1:00 PM ET
Register Now!
HTML5 Roundtable Series: Inside the Brackets
An InformationWeek Webinar
The explosive growth of computing devices means no app strategy is complete without considering a cross-platform approach to reach this full spectrum of devices—faster, better and at lower cost.

Join us for a series of short roundtable discussions to explore the opportunities, challenges and best practices of cross-platform HTML5 development. Hear directly from industry analysts, the W3C, Intel, and other experts. Go < inside the brackets > and get an insider's view of HTML5.

Join the conversation as experts from Adobe, Intel and Evans Data discuss the opportunities and challenges of HTML5; why HTML5 matters to app developers and IT managers; and why you oughta care, too. All followed by a live Q&A.

Tuesday, August 27, 2013 -- Time: 8:00am PT/ 11:00 AM ET
Register Now!
Stop Making It Easier For Criminals To Commit Fraud
An InformationWeek Webinar
This webinar will discuss how IBM is helping banks and financial institutions implement dynamic investigation processes. The solution leverages powerful content capture, classification, case management and content analytics capabilities that result in a reduction in the resources needed to collect and assimilate data, eliminating manual steps, and progressing toward a 'just in time' approach to fighting fraud. Attend this webinar to learn how to:

-Improve investigation effectiveness
-Expedite investigations
-Augment existing enterprise fraud management solutions

Thursday, August 27, 2013 -- Time: 10:00 AM PT / 1:00 PM ET
Register Now!
Should You Run Your ERP/CRM in the Cloud?
An InformationWeek Webinar
Join this informative webinar to get the answers you need from two top industry experts—IDC chief analyst Frank Gens and IBM VP of Global Cloud Managed Service Delivery Mike Valente as they discuss ERP and CRM in the cloud. If you attend, you'll also get access to our useful white paper, "Taming the SAP Maintenance Burden to Deliver Bottom-Line Value."

Thursday, August 22, 2013 -- Time: 10:00 AM PT / 1:00 PM ET
Register Now!
Vulnerability Management Challenges and Best Practices Revealed
A Dark Reading Webinar
In this webinar, we'll discuss:

-How security teams can move from a reactive to proactive security strategy
-Methods for determining the magnitude and severity of risks and vulnerabilities across your organization
-Importance of an integrated approach for turning a sea of vulnerabilities into a swimmable lake
-How enterprise visibility to all sources of vulnerability data is the key to success

Wednesday, August 21, 2013 -- Time: 9:00 AM PT / 12:00 PM ET
Available on demand
SAP Platform Considerations - What the Findings from over 54,000 Deployments Reveal
An InformationWeek Webinar
In this webinar, we'll discuss:

-Critical business and performance metrics that can assist you in choosing the optimal platform for SAP ERP deployments
-Insights, lessons learned and benefits derived from 54K+ customer deployments via data gathered by Solitaire Interglobal
-Comparative results of production deployments across UNIX and x86 offerings for SAP implementations ranging from risk, security, overall costs (TCO and TCA) to customer satisfaction and perceived value

Wednesday, August 21, 2013 -- Time: 10:00 AM PT / 1:00 PM ET
Available on demand
Discover How Flash Can Boost Your Business
An InformationWeek Webinar
Join this webinar to hear about the architecture of the new IBM® FlashSystem™ shared flash storage products; understand unique performance, reliability, and efficiency benefits that the architecture provides; and learn how those benefits directly translate to differentiated business value. This webinar will also include a brief discussion of the broader IBM flash portfolio, including hybrid and server-based flash solutions. Even if you're not technical, this webinar will show you how flash technology can boost your business. Please register today!

Tuesday, August 20, 2013 -- Time: 10:00 AM PT / 1:00 PM ET
Available on demand
Putting Mobile First: 4 best practices for IT
An InformationWeek Webinar
This webinar will provide you with cutting-edge tips and advice, based on the findings of the new IBM survey that will help you get the most from your mobile strategy. As a bonus, attend this live broadcast, and you will also receive the full IBM study.

Thursday, August 15, 2013 -- Time: 10:00 AM PT / 1:00 PM ET
Available on demand
Shorter Response Times and Increased Efficiency with Simplified Private Cloud Deployments
An InformationWeek Webinar
As the industry continues to shift, challenges and opportunities abound new technologies and strategies are necessary. Technologies such as cloud architectures are rapidly turning physical compute resources into a highly liquid asset.

This webinar will:

-Identify the changing landscape of IT and business organization necessitating a need for a more optimized IT environment.
-Examine the current challenges taxing IT resources and how cloud computing can create an agile IT infrastructure
-Help understand how cloud computing can improve datacenter operational efficiency and speed time to launch applications
-Discuss options to simplify cloud deployments and improve service levels with x86 cloud solutions from IBM.

Wednesday, August 14, 2013 -- Time: 10:00 AM PT / 1:00 PM ET
Available on demand
Take Charge of the Way You Work: Maximizing Productivity of a Decentralized, Data-saturated Workforce
An InformationWeek Webinar
MIT professor, critically acclaimed author and organizational visionary, Thomas Malone, takes a look at process strategies for today's decentralized workforce. For almost three decades, Malone has been researching the enormous impact of information technology on organizations. He will help you think through the new and necessary ways of working and how to best put them into practice.

You'll learn the answers to these core questions:

-What is changing?
-What can you do about it?
-Where do you start?
-The Role of Output, Process and Content Management

Thursday, August 8, 2013 -- Time: 9:00 AM PT / 12:00 PM ET
Available on demand
SDN First Steps
A Network Computing Webinar
This webinar will help attendees understand the overall concept of SDN and its benefits, describe the different conceptual approaches to SDN, and examine the various technologies, both proprietary and open source, that are emerging. It will also help users decide whether SDN makes sense in their environment, and outline the first steps IT can take for testing SDN technologies.

Thursday, August 8, 2013 -- Time: 11:00 AM PT / 2:00 PM ET
Available on demand
Mobile ECM — What You Should Be Thinking About
An InformationWeek Webinar
Attend this webinar to learn how you can:

-Bring collaborative and mobile content to your business
-Create a seamless user experience, regardless of platform (PC, tablet, mobile phone)
-Update content on-the-fly from any device with all of the security and control that you would expect from a desktop software
-Improve productivity and manage content in context of the work environment

Thursday, August 6, 2013 -- Time: 9:00 AM PT / 12:00 PM ET
Available on demand
Exposing the Hidden Costs of Database Security Solutions
A Dark Reading Webinar
In this webinar, we will provide a framework to calculate the financial impact of any database security solution, and evaluate the attributes and features:

-Tool monitoring and configuration management
-Reporting capabilities
-Solution administration and management
-APIs and integration methods
-Architecture
-Alerts, policies, and audit reports

Thursday, August 1, 2013 -- Time: 11:00 AM PT / 2:00 PM ET
Available on demand
Gaining Competitive Advantage in the New Era of Big Data & Analytics
An InformationWeek Webinar

-How Mobile, Social and Big Data & Analytics are transforming processes, business models and industries
-Considerations for a successful analytics deployment
-IBM's approach to integrated Big Data & Analytics solutions
-Use case examples on how customers are gaining a competitive advantage with Big Data & Analytics and IBM Power systems
-New ways to leverage Big Data (DB2 BLU/Flash/Cognos/SPSS) and Why Infrastructure Matters

Wednesday, July 31, 2013 -- Time: 10:00 AM PT / 1:00 PM ET
Available on demand
Strengthen Organizational Agility with the Latest Advances in Case Management
An InformationWeek Webinar
Join this webinar to hear Keith Swenson, VP of Research and Development for Fujitsu America who will share his learnings on how to apply best practices and new tools that will help increase productivity while improving agility of your entire organization. Attendees will learn:

-How to understand the value of knowledge work
-Ways to identify pitfalls and challenges for your knowledge workers
-Latest advances in the field of Case Management, and how Adaptive and Production Case Management differ
-Best practices and tips for leveraging Case Management

Thursday, June 27, 2013 -- Time: 10:00 AM PT / 1:00 PM ET
Available on demand
Meeting the Unilever eScience Challenges: To out-compute is to out-compete
An InformationWeek Webinar
While data volumes grow and applications require more compute power, organizations are pressured to accelerate time-to-results while controlling or reducing costs.

Dr. Massimo Noro from the Strategic Science Group at Unilever will reveal how technical computing is the high performance secret behind transforming information that delivers "outstanding products to the consumer faster than anyone else".

Register for this webinar to see how you can apply the lessons learned by Unilever about leveraging technical computing environments to your own organization and gain an end-to-end, high-performance infrastructure optimized for compute-intensive, big data, cloud and analytics workloads.

Thursday June 27, 2013 -- Time: 8:00 AM PT / 11:00 AM ET
Available on demand
Real Time Analytics: A Case Study Webinar
A Dr. Dobbs Webinar
Slow queries. Performance problems. Operational nightmares. Lost sleep... and lost business.

Without the ability to make faster and better business decisions, your company just can't compete.

Join this case-study oriented webinar to learn how one company used true real-time analytics and the power of a scale-out database to take their business to the next level.

The webinar will reveal how you can dramatically reduce the time to get query results and leverage the technology innovations that are powering true real-time analytics.

Tuesday, June 25, 2013 -- Time: 11:00 AM PT / 2:00 PM ET
Available on demand
Insights to Why DCIM (Data Center Infrastructure Management) Matters in your Data Center
An InformationWeek Webinar
With savings of up to 30% and 13% on infrastructure and operational savings respectively, having the right DCIM (Data Center Infrastructure Management) strategy in place is critical to ensuring you are tapping the full business value of your data center. These and other valuable insights into why DCIM matters and how it can ensure your data center performance aligns with your business are presented by Schneider Electric along with Intel in this live webinar.

Tuesday June 25, 2013 -- Time: 8:00 AM PT / 11:00 AM ET
Available on demand
Accelerate Agility Now: WebSphere Application Server v8.5.5 Overview
An InformationWeek Webinar
Learn more about the benefits of WebSphere Application Server v8.5 and v8.5.5 (WAS) and the impressive set of features and functions available, including what's new in the latest release by attending this webinar.

Monday, June 24, 2013 -- Time: 11:00 AM PT/ 2:00 PM ET
Available on demand
Windows Storage Server 2012 on IBM System x
An InformationWeek Webinar
By attending this webinar, you will learn about three deployment scenarios for Windows Storage Server 2012 on IBM System x hardware:

-Branch office file and print server
-Stand-alone unified storage server
-Highly available unified NAS gateway

Learn about key file-server technologies, including:

-Continuous availability for iSCSI, SMB and NFS
-SMB Scale-out application storage for Hyper-V VMs and SQL databases
-Deduplication
-Storage Spaces
-Storage Provisioning and management using Server Manager and PowerShell

Thursday, June 20, 2013 -- Time: 12:00 PM PT / 3:00 PM ET
Duration: 60 minutes
Available on demand
Data Discovery, Visualization and Apache Hadoop
An InformationWeek Webinar
In this webinar, we will discuss how Apache Hadoop works with your current infrastructure and how you can use data discovery and visualization tools to gain deeper insights from new data types stored in Hadoop and your existing data center investments.

Join Hortonworks, developers of the only 100% open source Apache Hadoop distribution, and Tableau Software, developers of visual analytics software for all business users, and learn how to get started to visualize Hadoop data.

In this webinar, learn:

-How Hadoop fits into the Modern Data Architecture and how it works with your existing data center infrastructure
-How businesses are using Hadoop and typical Hadoop patterns of use
-The importance of data discovery for all business users, not just data scientists and skilled analysts
-How to enable your team to get started with Hadoop and visual analytics software

Thursday, June 20, 2013 -- Time: 10:00 AM PT / 1:00 PM ET
Available on demand
Putting the Mobile Employee to Work
An InformationWeek Webinar
The technology in smartphones and tablets is easier to use and more compelling than ever, so it's no surprise that end users want access to these same tools in the workplace. Ironically, BYOD often becomes a roadblock to productivity when a device crosses the enterprise threshold.

In this webinar, you will discover how mobile device management can make workers more productive, and also learn how to give mobile workers file and print tools on any device.

Thursday, June 20, 2013 -- Time: 11:00 AM PT / 2:00 PM ET
Available on demand
BYOD and Windows 7 Migration are the Questions. Is Desktop as a Service the Answer?
An InformationWeek Webinar
In this webinar Pomeroy's virtualization experts will cut through the hype and myths to clear up the confusion over Desktop as a Service:

-What are the clear advantages and disadvantages of Desktop as a Service? What do you need to know now?
-Why the urgency? How are BYOD and Win 7 Migrations driving cloud-hosted virtual desktops?
-Market leader lessons learned -- what top organizations discovered that changed their thinking about desktop virtualization.

Why participate? This webinar is the perfect opportunity for IT managers to better understand the requirements, use cases, risks and benefits of DaaS to help frame their own decision-making. From the operational to the technical, attendees will develop a clearer understanding how DaaS may make the most business sense for their individual use cases.

Whether your organization is wrestling with BYOD and security, or how to control increasing desktop management complexity and costs, this webcast may be the best one hour of your time you spend this month.

Wednesday, June 19, 2013 -- Time: 10:00 AM PT / 1:00 PM ET
Duration: 60 minutes
Available on demand
Desktop and Application Virtualization Best Practices
An InformationWeek Webinar
Attend this webinar to:

-Learn infrastructure sizing recommendations
-Understand how various worker types impact your Desktop Virtualization project
-Discover how non persistent images can save you significant storage costs
-Determine the best practices you should undertake to have a successful project

Register for this webinar to gain information about the steps you need to insure your desktop virtualization project meets ROI expectations and is successful.

Date: Tuesday, June 18, 2013 -- Time: 10:00 AM PT / 1:00 PM ET
Available on demand
Intelligent Management of WAS Applications: Reduce Cost, Complexity, and Errors
An InformationWeek Webinar
Applications (and their availability) are the lifeblood of an organization. They can mean the difference between a happy paying customer or an unsatisfied suing customer. You need to ensure that business critical applications are 100% operational, fully secure and delivering service levels to meet your customers' expectations. This webinar will discuss how to markedly improve customer satisfaction and conversion rates by prioritizing business-critical applications and ensuring availability.

Monday, June 17, 2013 -- Time: 11:00 AM PT / 2:00 PM ET
Available on demand
Agile Mobile Development -- faster response time to feedback
An InformationWeek Webinar
Mobile is hot! To succeed in the market, a truly mobile enterprise must respond to feedback quickly, ensuring they maintain customer loyalty and increase their market share as a result of continuous positive feedback. In this webinar we will review the understanding of agile development applied to mobile app development, and how the right approach can deliver on a fundamental need of mobile, faster response time to user feedback.

Thursday, June 13, 2013 -- Time: 11:00 AM PT / 2:00 PM ET
Available on demand
Proven Tips for High Volume Sending
An InformationWeek Webinar
Issues with messaging deliverability can be dramatically compounded when sending in large volumes. Learn how to overcome these obstacles as we chat with Jill Resnick, a Postmaster who previously worked at Macy's and American Cancer Society, and Mike Hillyer, Global Solutions Consultant from Message Systems. They'll share their best practices on reducing deliverability issues, traffic shaping and other tips! Join us in this webinar, and learn proven techniques.

Wednesday, June 12, 2013 -- Time: 11:00 AM PT / 2:00 PM ET
Duration: 60 minutes
Available on demand
Secure Cloud: Taking Advantage of the Intelligent WAN
A Network Computing Webinar
Are you caught between a desire for the benefits of the cloud and concerns about security and control? Then you should attend this insight-packed webinar to learn how private data networking technologies like MPLS IP-VPNs can address your concerns and allow you to safely and intelligently reap the savings, agility and other benefits associated with cloud computing.

In this webinar, you will learn:

-How private data networking enables safer, more efficient use of cloud resources
-How network-based security complements your overall cloud strategy
-How to increase IT productivity and cost-efficiency by getting smarter about how you leverage the cloud

Join us to hear top industry experts discuss the private data network technologies that are best suited for enterprise cloud access requirements. You won't want to miss this opportunity to learn how your organization can best mitigate risk while reaping the full potential benefits of the cloud.

Wednesday, June 12, 2013 -- Time: 11:00 AM PT - 2:00 PM ET
Available on demand
Why is Information Governance So Important for Modern Analytics?
A Dark Reading Webinar
The data that feeds your analytics solutions can include everything from customer details to financial records to employee data. The impact of this data getting into the wrong hands either internally or externally can have a major impact on the organizations success and can cost many millions of dollars, which brings information governance and analytics to the forefront for many organizations. Register for this teleconference to learn how to:

-Reduce business risks and costs
-Deliver the business insights your users need to drive optimal business performance
-Decrease the opportunity for critical data to be exposed and put at risk

Join this teleconference and learn how the combination of IBM information governance offerings and analytic solutions on the z Enterprise platform can help you to enhance information integrity, availability and quality.

Wednesday, June 12, 2013 -- Time: 9:00 AM PT / 12:00 PM ET
Available on demand
Use Process Analytics to Drive Better Business Performance
A UBM Tech Webinar
Join this UBM Tech webinar to find out how process analytics can change your business. Brad Power, noted process innovation consultant and researcher, joins Danny Cates, process evangelist in Lexmark's Perceptive Software division, to dissect case studies of process improvement success. Brad takes the 50,000 feet view, while Danny gets down into the nuts and bolts of business process magic.

Tuesday, June 11, 2013 -- Time: 9:00 AM PT / 12:00 PM ET
Duration: 60 minutes
Available on demand
To view additional Live and On-demand events go to past events.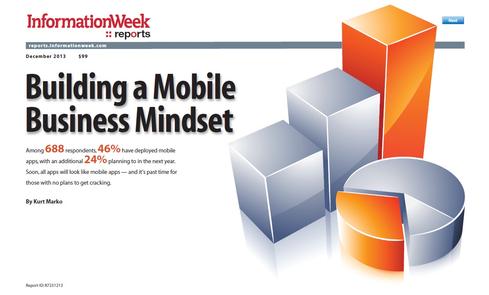 Building A Mobile Business Mindset
Among 688 respondents, 46% have deployed mobile apps, with an additional 24% planning to in the next year. Soon all apps will look like mobile apps – and it's past time for those with no plans to get cracking.

Audio Interviews
Archived Audio Interviews
How do you use big data analytics to drive real-world business results? At ConocoPhillips, it came down to collecting more data points, more often, and then figuring out what story the data told. Join us as we talk with ConocoPhillips CIO Mike Pfister about what people across various industries can learn from the company's analytics strategy.