It's a prediction that has been made for decades, even centuries. Technology-driven automation is about to trigger mass unemployment. In today's rendition this means that there will soon be no need for truck drivers, fast food workers, retail store staff, middle managers, and machine operators -- even doctors, lawyers, bankers and accountants are at imminent risk. What will we all do?
Fortunately, there is little evidence of this actually occurring. In fact, it's just the opposite. Even before the coronavirus shut down much of the business landscape, aging and cash-strapped modern nations are struggling to find people to pick their crops, work in their hotels and restaurants, take care of their children and their elderly, staff their health service providers, and maintain the physical and technical expertise that every advanced society needs. As immigration levels shrink in many developed nations, these shortages are likely to worsen.
Once the pandemic is behind us, even greater employment demands lie ahead. Modern nations know that they need to fundamentally transform their energy, transportation, agricultural, educational, environmental, and supply chain systems. Coping with climate change alone will likely require massive investments in infrastructure and resiliency. Society must also address seemingly intractable challenges such as raising living standards, reducing inequality, controlling health care costs, improving social services, and rebuilding troubled cities and war-torn nations. And this doesn't even count the new industries and jobs that future technologies will surely enable.
Do we really think that robots and AI can do all this on their own? How?
Despite the awful track record, predictions of a jobless future are understandable. The farmers of the last century could not be expected to envision a manufacturing economy full of cars, planes, televisions, and air conditioners, just as the industrial workers of the 1920s had no way to know that someday there would be a vast service economy full of shopping malls, health clubs, and organic juice bars, let alone this thing called the internet and millions of "IT professionals." It's clearly much easier to point to specific job losses than it is to trust in long-term employment expansion. But while the transitions of the past were often painful, the societal increases in jobs, productivity, and living standards are undeniable.
Indeed, many of today's automation pessimists acknowledge the previous false alarms but insist that this time it will be different. The essence of their argument is that just as industrial machines replaced many forms of physical labor, artificial intelligence will automate most knowledge tasks, and therefore not enough uniquely human work will remain. It's not an illogical hypothesis.
Cobotics?
Technology proponents often counter this argument by pointing out that AI is only effective in relatively narrow realms, and that more generalized machine intelligence will remain elusive for the foreseeable future. They also point out that in virtually every AI field -- from playing chess to automating warehouses to performing surgery to flying an airplane -- the combination of humans and machines (cobotics) outperforms machines alone. However, while all of these points are correct, trying to minimize the future impact of AI will eventually put this argument on the wrong side of history.
I believe that fears of a jobless future should be challenged on more fundamental and longer lasting grounds. The bigger and more complex economies become, the more future needs they automatically generate. New industries, systems and services are built upon older ones, and because of competition and changing customer and cultural preferences everything needs to be improved, maintained and eventually replaced. Consider how the many downsides of today's industrial food production system will be addressed through some combination of precision agriculture, vertical and saline farming, meatless and lab-grown "meat," dietary supplements, and other nourishment innovations. Such relentless and ever-changing dynamics are the main reason why fears of massive unemployment have always been wrong in the past and seem destined to be wrong once again.
Perhaps someday super-smart robots will be able to do literally everything people can, while also meeting every conceivable human need, but such speculation remains deep in the realms of science fiction. For the foreseeable future, if society is to meet the pressing 21st century challenges above, massive numbers of people will need to be re-skilled, re-deployed and fully engaged. Large-scale increases in technology-enabled automation is the only proven way to enable this transition.
This is why technology will not cause us to "run out of work." Quite the contrary: modern societies will need all the automation they can get. I wish we had more right now.
Access the complete report on this topic here.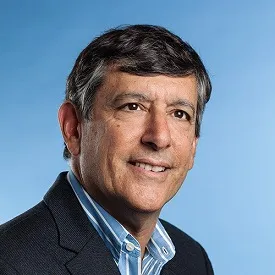 David Moschella is a Research Fellow at Leading Edge Forum (LEF) where he explores the global business impact of digital technologies, with a particular focus on disruptive business models, industry restructuring and machine intelligence. Before LEF, for more than a decade, Moschella oversaw worldwide research for IDC, the largest market analysis firm in the information technology industry, responsible for the companys global technology industry forecasts and insights.