Microsoft Office 365 remains the cloud-based productivity suite of choice for many businesses, according to the [email protected] 2016 report from Okta, an identity and mobility management service provider.
The report is based on anonymized customer data from Okta's network collected in the second half of 2015. In sizing up the more than 2,500 customers who use its identity and mobility management service to access more than 4,000 off-the-shelf cloud-based apps, Okta found Microsoft Office 365 was the most popular cloud app during that time period. It was followed by Salesforce, Box, and Google Apps.
While Office 365 earned the top ranking, startup Slack showed the fastest growth in the same period, according the report.

Learn to integrate the cloud into legacy systems and new initiatives. Attend the Cloud Connect Track at Interop Las Vegas, May 2-6. Register now!
Okta published its first ever [email protected] report in August 2015, which tracked activtions and deployments for the first half of last year.
Adoption of Office 365 among Okta customers increased 116% since the first half of the year, according to the report.
"Office 365 has continued to extend its lead, as Microsoft makes a major push with customers to the cloud," Jenna Kozel, an Okta spokeswoman, told InformationWeek in an interview. "Enterprises are ready to make the move to the cloud to increase the productivity and security of their employees, customers, and partners, and Microsoft has made it a mission-critical business imperative."
Office 365 use is also, interestingly enough, often paired with Google Apps, Okta's latest study found. Over 40% of Okta's customers use both Google Apps and Office 365. And of this group, 30% said they use Office 365 purely for desktop licensing purposes for tools such as Excel, Word, and PowerPoint, while Google Apps is deployed for email and collaboration.
Even as Office 365 gains ground with its productivity apps, Okta customers are also embracing communications cloud app Slack, which posted a 77% increase in usage from the first half to second half of 2015. That growth earned the high-profile startup, which is valued at more than $2 billion, the title of the fastest growing app in Okta's report.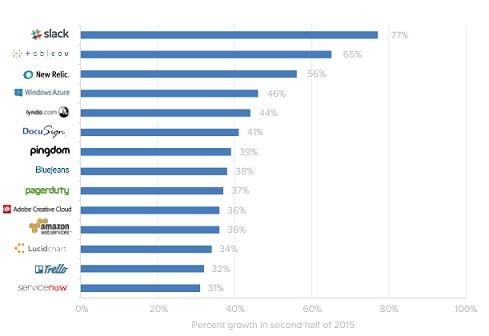 "The most surprising thing ... is how quickly Slack has managed to earn a customer base in the enterprise," Kozel said. "Not only is Slack one of the fastest growing apps, it moved into the [list of] top 15 most popular apps in Okta's application network."
Other fast-growing cloud apps among Okta customers included Tableau, New Relic, Windows Azure, Lynda.com, and DocuSign.
Cloud Customer Trends
The study found that the average number of public cloud apps that employees can access ranges between 10 and 16.
And, while in the past email has served as a main introduction to cloud computing for the enterprise, Okta customers are now relying on cloud apps for more specialized tasks. As a result, the use of public cloud services is increasingly morphing into a situation where the use of custom apps is growing in Okta's network.
Because Okta is a cloud-first identity and mobility management company, the report noted, Okta's customers are likely to be more cloud- and mobile-friendly than your average businesses.
Okta customers that are most likely to deploy cloud apps are, not surprisingly, in the tech industry -- mainly software companies and Internet service operators, the study found. Finance, healthcare, and education sectors are far behind in adopting cloud apps and managing them, according to Okta.