IBM on Tuesday introduced IBM ExperienceOne offerings that blend the many cloud-based and on-premises tools and technologies in its arsenal to deliver very specific customer experience outcomes.
"Understand Your Customers," "Maximize Sales, Profit, and Loyalty," and "Deliver Empowering Digital Experiences" are three examples out of 10 "solution sets" that IBM is offering with the goal of solving customer problems by bringing together combinations of technology.
"We're pushing beyond the marketing cloud because this isn't just about marketing," said Kevin Bishop, IBM's VP, enterprise marketing management, in a phone interview with InformationWeek. "The leading organizations understand that it's about continuous engagement with the customer right through to use and advocacy of the product."
[Want more on IBM's latest acquisition? Read IBM Silverpop Buy Will Boost Marketing.]
IBM has plenty of assets it can draw on to build these offerings given its many acquisitions in recent years. In the marketing arena there's Unica, Coremetrics, Tealeaf, Xtify, and, in a deal closed on Monday, e-mail marketing vendor Silverpop. There's DemandTec for cloud-based price, promotion and merchandizing analytics. And there's Sterling Commerce and WebSphere Commerce in the e-commerce domain.
IBM Global Business Services has been putting together many of these technology components for years in more than 8,000 customer engagements. The approach with ExperienceOne is to pre-integrate for the most common usage patterns, according to Bishop. Some of the integrations are entirely new. Coremetrics and Tealeaf, for example, have been integrated for the first time to provide screen-by-screen insight into Web and mobile user sessions.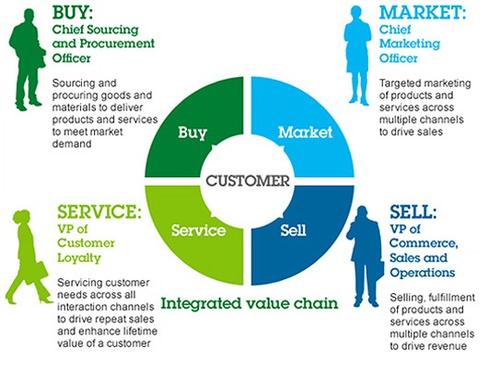 Many of technologies behind these offerings are cloud-based while others are conventional on-premises technologies. IBM's SoftLayer data centers add a degree of private-cloud deployment flexibility, but Bishop said an all-public-cloud approach is often unrealistic.
"We think that everything in the cloud at all times isn't right," Bishop said, "particularly in banking, pharmaceuticals, and wherever there are regulatory requirements that demand that people do things on-premises or that cause many clients to not accept that environment."
What if customers want to take advantage of several of IBM's outcome-based offerings, such as Understand Your Customer and Maximize Sales, Profit and Loyalty?
"Business buyers are increasingly focused on the outcome they want to drive, so they're really interested in having clarity around business cases, but all of these solutions are built on a common base of technologies," Bishop said.
As part of Tuesday's announcement, IBM introduced three new IBM GBS consulting services designed to complement ExperienceOne deployments. Customer Data as a Service engagements will help customers combine disparate customer data from internal and external sources, according to IBM. Customer Analytics as a Service engagements will help organizations identify customer trends, anticipate future behavior, and suggest next-best actions. Digital Commerce as a Service engagements are intended to accelerate time to market for various customer-engagement solutions, IBM asserts.
All of these services will be provided by IBM Interactive Experience, a global consulting practice recently set apart within GBS that qualifies among the largest digital agencies in the World, according to Bishop, competing with firms such as Sapientnitro and Razorfish. The group combines IBM Interactive, which has handled websites and creative behind the PGA Masters Tournament and Grand Slam Tennis tournaments, with GBS strategy consulting around customer engagement and customer experience.
IBM rivals Oracle and Salesforce.com have set up marketing clouds with distinct software-as-a-service offerings that are presented as unified suites. Just how unified they might be is an open question given that these vendors, too, have acquired many of the pieces of their marketing clouds over the last year to 18 months. Unlike Salesforce.com, Oracle can go toe to toe with IBM in e-commerce as well with ATG and other assets.
The one missing link in IBM's portfolio is it's own CRM system. Here it acts as an integrator for SugarCRM as well as Oracle, SAP, and even Salesforce.com, but it's a pretty glaring absence in a customer experience portfolio. Against this gap it has the differentiator of IBM GBS and IBM Interactive Experience.
Is it folly to believe that a cloud-based suite will eliminate the need for integration and consulting work? IBM is betting that customers will see ExperienceOne as a more complete answer than competitor marketing clouds.
Our InformationWeek Elite 100 issue -- our 26th ranking of technology innovators -- shines a spotlight on businesses that are succeeding because of their digital strategies. We take a close at look at the top five companies in this year's ranking and the eight winners of our Business Innovation awards, and offer 20 great ideas that you can use in your company. We also provide a ranked list of our Elite 100 innovators. Read ourInformationWeek Elite 100 issue today.