When I was digging deeper into robotic process automation to create this curated guide, I realized that I was confused by RPA, artificial intelligence and AI subset machine learning. In many cases the terms are used interchangeably, and that's not correct. The distinction is really about whether they're process driven (RPA) or data driven (AI, ML).
I found the simplest explanation on Silvertouch, which states: "RPA is a software robot that performs repetitive tasks while following strict rules. It is like a clerk who is good at clerical jobs. But AI is an umbrella term that involves the simulation of human intelligence and thought process by machines while dealing with plenty of interrelated information." RPA can be boosted by AI, which is called intelligent automation, and then you have vendors also creating their own automation terminology that may or not be related to RPA at all. No wonder it's confusing, but hopefully the distinction above will help.
RPA is helping enterprise organizations in their digital transformation efforts, and the ROI appears to be quite high. RPA can be used to smooth out and speed up business processes, help with manual and repetitive tasks (and that boosts human employee productivity), handle customer service (think chatbots), assist in compliance for regulations and standards. The list goes on with probably many more benefits to be discovered.
RPA is still gaining traction, but enough is going on right now that our team of editors and writers from InformationWeek distilled our coverage to help IT leaders and managers who may be considering this technology. This guide includes the following: Business and IT considerations and benefits; how to get started; vendors to watch; and applications of RPA.
Check out this collection of articles, and more from InformationWeek on other topics such as IT management, careers, big data, DevOps and cloud.
RPA business and IT considerations, benefits:
Robotic Process Automation Gains Momentum
Robotic process automation software is growing fast in enterprises. Here's why it can be an attractive option for businesses racing into digital transformation.
Robotic Process Automation: Is It Ready for Big Business?
At first glance, the robotic process automation (RPA) market has hit the big time. Enterprises in a range of industries are embracing RPA, and analyst firms agree that the market is thriving. However, whether the technology is actually ready for big business -- and whether big business is ready for RPA -- requires a closer look.
Who should own RPA shouldn't be an either/or proposition. Business and IT leaders, as well as process owners, should work together within the context of an enterprise automation strategy.
3 Automation Technologies to Transform Your IT Department
While there are many emerging technologies that can help IT departments transform, here are three trends that leaders should be focused on.
A Robot That Can Throw Bananas? Why CIOs Should Take Notice
Scientists are now developing models that allow robots to learn from experience. Pay attention, because deep learning is poised to drive significant advances.
RPA implementation advice and best practices:
Dos and Don'ts: Robotic Process Automation
RPA is the fastest growing category of software today, driven by enterprise digital transformation efforts. Here's how to make the most of it.
Robotic Process Automation: 4 Key Considerations
Project sponsors and managers of automation initiatives should carefully consider building these elements into their projects from the outset.
Planning for RPA? Read This First
Robotic process automation promises to replace expensive, error-prone humans performing standardized, repetitive work with software "robots" that work faster, at lower cost and without error, and deliver an impressive ROI. Understand how three key elements are crucial to the success of an automation project.
How to Manage the Human-Machine Workforce
Today's managers and executives need to oversee humans and machines in this age of AI and RPA, but should machines be managed as humans in a way that some suggest?
The Art and Science of Robot Wrangling in the AI Era
Just as HR departments manage employees throughout the employee lifecycle from onboarding to disposition, IT must take a similar responsibility for robot wrangling -- from implementation, to evaluating robot performance, and spurring continuous productivity improvements through AI.
RPA vendors:
Robotic process automation offers enterprises a way to leapfrog to the benefits of digital transformation. Here are 10 vendors that can help in your efforts.
Top 10 Enterprise RPA Platforms in 2019
This list breaks down the leading vendors in the robotic process automation space based on customization, cognitive tools, deployment options and customer support. (From ITPro Today)
Low-Code Player Grabs RPA for Automation
Low-code platform vendor Appian is looking to provide a single platform for automation, AI and low code with a new RPA acquisition.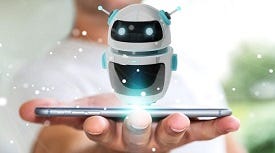 How RPA is being applied:
Voice Assistants Bring AI to the Workplace
More enterprise organizations are experimenting with AI-based voice assistants to boost internal efficiencies, but it will be a while before they realize the ROI they seek.
How Do Companies Maximize the Impact of AI & Automation?
By the end of next year, nearly half of all global businesses are expected to use robotic process automation (RPA), software "bots" that work side-by-side with humans and automate the repetitive work we do.
Customer-Led Automation Changes the Service Game
To prepare for customer-led automation, enterprise IT organizations need to account for the fact that customer self-service will involve both customers and their bots.
Intelligent Automation: A Step Ahead of AI
Organizations that use intelligent automation to amplify human potential will stay ahead in the game, while those that don't will lag.
Chatbots Should Be Your Most Reliable 'Employee'
Chatbots have become a tool of choice for several industries. Whether it's a financial services company or bank, a retailer, or a healthcare provider -- the technology has enabled organizations of all sizes to converse with customers 24-7, understand their requests, and respond directly to their questions.
No Wonder the Chatbots are Sad
Emotional cognition is maturing, and there's a great deal of potential. Perhaps 'happiness' is in store for AI-powered bots in the not-too-distant future.