Big data, meet human resources.
That pretty much sums up the Big Data Analytics Suite (BDAS), a new analytics platform built by Broadbean and its parent company, Careerbuilder.
BDAS will even incorporate data from a company's own career site, applicant tracking system, or HR information system, relying on graphically clear instrument panels to display that information. Even a client company's job site counts as a data feed. The cloud-based service went online for sale today, Aug. 12.
"Nobody likes dealing with different data formats," said Dominic Barton, COO of Broadbean. The company, now a subsidiary of Careerbuilder, began business incorporating information from two million job postings spread out over 6,000 job boards in 140 countries.
"Without realizing it, we put together a skill set normalizing data recruitment feeds," Barton said.
Prior to Broadbean BDAS, recruiters would have to get their data from six or seven job boards, each with its own log-on, and compile information on the hiring process for display in spreadsheets. Data was scattered across multiple sources, each source providing only one kind of data, and combined together in a spreadsheet provided no insights for good decision-making, Barton explained.
"The idea was to have a design method that was not about ad hoc representation," Barton said. Consistency was the objective. The starting point began with the users, asking them about what data they pondered when discussing a hiring decision and understanding how they used it.
To make Broadbean BDAS effective, the visualization aspect had to combine data in order to tell a story. At the same time, it's important to make sure the data was consistent and never wrong, Barton continued. What data got included was a matter of finding the best practices in that organization and incorporating that into the visualization.
"We didn't invent any of this stuff," Barton said.
A typical screen would show the cost of filling a position, along with each step of the hiring process, including itemized cost in terms of dollars and time. A hiring manager would know how long a job opening has remained vacant and how much was spent trying to fill it.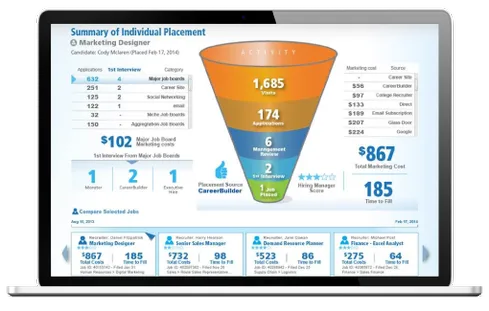 The hiring process itself can be illustrated as a funnel, showing number of visits to the website, how many applications that generated, how many interviews were done from that base, how many offers were made based on those interviews and how many hires resulted.
[Read about data-centric computing.]
"Quality" of the leads generated can be expressed as the percentage of people interviewed out of the applicant pool, which can also be broken down by which job boards were the sources of those applications.
Needless to say, some sources work better than others, depending on the job.
"Most talent acquisition teams are under some sort of budgetary pressure," Barton said. BDAS should be able to identify "a good spend" or "find a bad spend," thus helping make the most of limited resources.
Broadbean BDAS is part of a larger transition at Careerbuilder, which is transforming itself from a jobs board to a global provider of "human resources as a service." Careerbuilder acquired Broadbean in April of 2014. PepsiCo was a beta customer of BDAS for the past 12 months, with other beta customers signed up after that, Barton remarked.
The base price for the service will cost $100,000 for the year, according to the company.