Sports fans are connoisseurs of big data, although they may not know it. They gobble up statistics as they weigh the probabilities of their home team winning a game, a playoff, or a league title.
The National Hockey League (NHL) has taken notice of this, teaming with Samsung and SAP to offer hockey fans a chance to construct their own playoff brackets to predict which team will win the Stanley Cup.
The 2015 Stanley Cup Bracket Challenge Powered by Samsung gave fans the chance to compete for prizes by predicting which teams would end up in the Stanley Cup playoffs. This year, the NHL worked with SAP to create Match-Up Analysis with Insights From SAP, designed to help fans determine which teams had the edge in each series.
The Bracket Challenge is more than a guessing game. The NHL is relying on SAP's HANA Enterprise Cloud Server to crunch team and game statistics according to a model designed to "predict" which team was most likely to win each playoff match. The same system also aggregated the predictions of fans, and they don't always match the NHL's statistical model. More than 800,000 fans ventured "educated guesses" online in a massive fit of predictive crowd-sourcing during the NHL Bracket Challenge, which wrapped April 15, the date the first playoff game was held.
Stephen McArdle, the NHL's EVP for digital media and strategic planning, said in an interview that he sees the potential for deepening fan engagement with the game. Equally important, he said, is getting fans to talk about the game, and the NHL wants to provide the game and player stats that could lend some depth to all that talk. Currently, the playoff bracket predictor is available in desktop and tablet form, though there is interest in making sure game stats and future brackets are available for smartphone format.
[ Is your mobile strategy broad enough? Read Enterprise Mobile Strategy, Meet The Connected Toilet. ]
The 2015 project marked the start of a five-year partnership between SAP and the NHL that will include the rollout of historical stats in time for the league's 100th anniversary in 2017.
"NHL stats are not that much different from other sports," said Eric Blabac, senior research scientist at SAP, baseball fan, and recent convert to ice hockey. There's a lot of "slicing and dicing" of data. But there are also "a lot of contextual pieces to sports that do not show up on the business side," Blabac said in an interview.
Rather than relying on a database app to retrieve information, the NHL/SAP solution relies on real-time calculation of game statistics, which are then compiled and available for analysis. For example, when we called up a comparison for the New York Rangers and the Tampa Bay Lightning, a win-loss-tie record was shown for each team.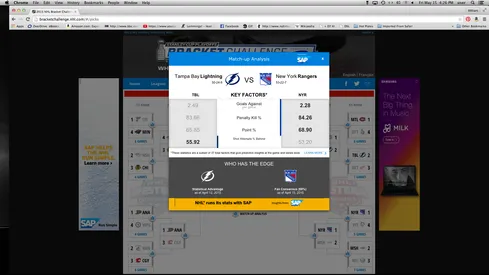 The output also showed Tampa with a statistical advantage, while New York is the fan pick. Four more calculated stats are then shown for each team: goals against per game, penalty-kill success rate, points percentage, shots per game, and shots-against per game. And that is just the tip of the data iceberg, as the NHL/SAP analysis takes into account 37 different factors when calculating a team's statistical advantage in the playoffs.
Constructing this system did not take many hands. According to Blabac, there were a "handful of guys" to take care of the calculations, a solutions architect, and a HANA modeler.
For the fans, the NHL's goal was to make the stats more digestible by providing interactive visualizations and improving overall search functionality with features such as drag-and-drop.
The grand prize winner of this year's NHL Bracket Challenge will receive an all-expense paid trip to the 2015 NHL Awards in Las Vegas and a Samsung Galaxy S6 Edge. Other prizes include Samsung's SUHD 55-inch Curved TV.
[Did you miss any of the InformationWeek Conference in Las Vegas last month? Don't worry: We have you covered. Check out what our speakers had to say and see tweets from the show. Let's keep the conversation going.]