With big data and analytics becoming more mainstream, the market for those technologies has grown alongside the shift. But the questions now are how much more growth is coming, and what role IT will have in integrating the technology into the core business?
In its latest report on the big data and business analytics market, IDC provides some guidance on those questions.
The IDC "Worldwide Semiannual Big Data and Analytics Spending Guide," released Oct. 3, predicts that the big data and business analytics market will grow from $130 billion by the end of this year to $203 billion by 2020. That's a compound annual growth rate (CAGR) of 11.7% over the next years, according to IDC.
By comparison, the big data and analytics market was worth about $112 billion in 2015.
While any number of companies are investing more in big data and analytics, the banking industry is especially interested in the technology. It will lead a wave of investments between now and 2020. IDC finds that the banking, discrete manufacturing, process manufacturing, federal/central government, and professional services will account for about 50% of all spending in this market during this time.
However, industries such as telecommunications, insurance, transportation, and utilities will start increasing their own spending during this same period, helping to fuel growth.
For IT, especially those working in banking and financial services, this is a critical time, considering that most of the investment will be made by IT professionals, administrators, and CIOs, as well as by the company's business services division. Some of the biggest spending -- about $60 billion -- will go toward software such as reporting and analysis tools, as well as data warehouse management systems. Hardware investment will reach nearly $30 billion by 2020.
The IDC report found numerous reasons why certain industries are investing in big data and business analytics. In the banking field, these investments will focus mainly on security- and compliance-related issues. For others, there's a focus on getting more information from the customer, while improving that experience.
"Within banking, many of these efforts are focused on risk management, fraud prevention and compliance related activities," Jessica Goepfert, IDC's program director for customer insights and analysis, wrote in a statement.
"The customer experience is at the heart of the telecommunication industry's BDA investments; for instance, BDA technologies are being deployed in call centers to enable representatives to delight callers with superior service."
While the IDC data reports a fairly robust picture of big data and analytics spending over the next four years, an Oct. 4 report by Gartner paints a slightly different picture.
Gartner's survey of 199 members of its online community of IT and business leaders finds that, while some firms are investing in big data, many remain in the pilot stage. This situation could cause investment to slow.
About 48% of respondents say they plan to invest in big data this year -- an increase of 3% compared to 2015. However, those indicating they plan to invest in the technology within the next two years fell from 31% to 25% in 2016.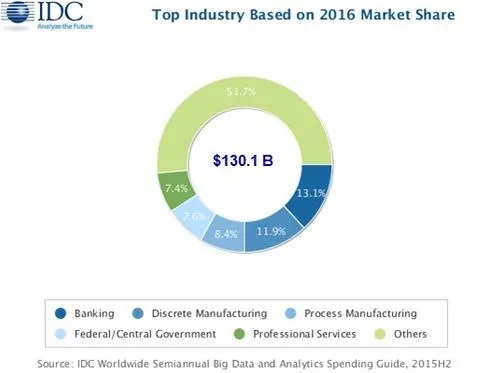 Instead, enterprises are putting their cash to use on other IT initiatives to build up their infrastructure, especially since the immediate return on investment from big data is hard to calculate.
"This could be due to the fact that many big data projects don't have a tangible return on investment (ROI) that can be determined upfront," Nick Heudecker, research director with Gartner, wrote in a statement.
"Another reason could be that the big data initiative is a part of a larger funded initiative. This will become more common as the term 'big data' fades away, and dealing with larger datasets and multiple data types continues to be the norm."
[Does your company have big data, or too much data?]
However, no matter the amount being invested in big data, it appears that larger businesses will lead the way, according to IDC.
During the next four years, IDC finds that large enterprises with 500 or more employees will be the main driver in big data and analytics investing, accounting for about $154 billion in revenue. However, small businesses also plan to investment, but not at the rate as large firms.
Finally, when it comes to geography, IDC reported that US will lead the way in spending for this market, with nearly $95 billion in investments during the next four years. After that, Western Europe, the Asia/Pacific region (excluding Japan), and Latin America round out the list of regions with the most interest and dollars invested in the big data and analytics market, respectively.