When it comes to cloud computing adoption, money is still the main motivator.
In fact, many large IT departments view the cloud, whether it's public, private, or a hybrid combination, as a way to cut costs and save money, according to a new analysis from CompTIA.
The study found that 47% of large enterprises, 44% of medium businesses, and 41% of small firms surveyed reported that slashing costs outweighed other factors such as speed, modernization, and reducing complexity.
The report, "Trends in Cloud Computing," is based on the online responses from 500 business and IT executives conducted during July. The study also quotes Gartner numbers that forecast the public cloud will generate $204 billion in worldwide revenue in 2016, which is a 16.5% increase over last year's figure.
Overall, the Sept. 27 CompTIA report finds a robust, if somewhat maturing market for all different types of cloud structures and services. The study finds than nine out of ten companies are using cloud computing in at least one way. Additionally, 71% of respondents reported that their business is using cloud either in production or at least for non-critical parts of the company.
This, the report finds, is a sign of maturity:
The familiarity with technical details has grown, and while business opportunities may still flourish around models that are mislabeled as cloud, the market is growing more savvy. End users from both the IT function and business units are growing more aware of the tools they are using and how those tools compare to other options that are available.
While the cloud is popular, its ability to trim costs in the face of mounting pressure on budgets and bottom lines is what's driving the adoption of more of the technology. In an email exchange with InformationWeek, Seth Robinson, senior director of technology analysis for CompTIA, writes that IT sees cloud as the ultimate way to do more with less.
"Cost savings are important for IT as they rethink what a modern architecture looks like, but that is only one factor for building a new IT approach," Robinson wrote.
No matter what the motive, Robison writes that IT needs to view cloud as a way to deliver value, not only to the tech department, but to the whole business as well. This is a major concern as IT is asked to deliver solutions across the enterprise in many different sections.
"Cloud offerings can deliver cost efficiency, but they can also simplify workflow, speed up operations, introduce new features, or lead to new business products/services," Robinson wrote. "The role of the IT team is not to simply implement a cloud component to perform a discrete function, but to drive business objectives forward by utilizing the right mix of cloud solutions."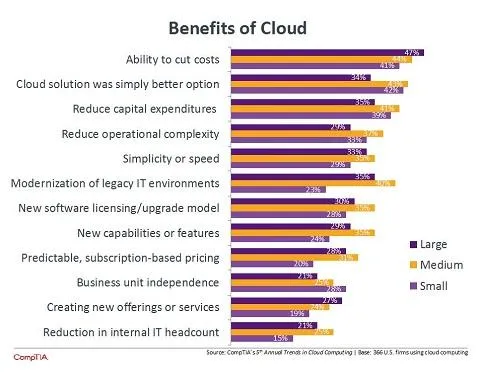 For those surveyed in the CompTIA study, private cloud remains the primary option, although that is expected to change soon. The report found that 46% of respondents are using private cloud, compared to 28% using public cloud, and 26% working with a hybrid option. Those numbers will shift as companies get more familiar with what is a true cloud platform and what is not, according to Robinson.
"Private cloud usage is probably still somewhat exaggerated even as companies are becoming more precise in their terminology," Robison writes. "Long-term, we expect that companies will migrate towards a hybrid or multi-cloud model, utilizing public cloud, private cloud, and [on-premises] resources."
When it comes to the different types of cloud technologies that businesses are using, Software-as-a-Service (SaaS), is the most popular -- a finding that supports other recent studies that show IT departments are increasingly adopting SaaS. It also highlights the popularity of companies such as Salesforce, and also Microsoft, which uses a SaaS model to push out versions of its Office 365 suite, as well as Windows 10.
"SaaS options give IT more flexibility across many areas when trying to build an overall technology environment," Robison writes. "There are benefits to be had by replacing individual applications with SaaS, but greater benefits to understanding how multiple SaaS applications work together to enable operations."
[Read more about the public cloud market.]
The most popular cloud-based application is email, which 51% respondents reported using. Other top-ranking applications include:
Business productivity suites -- Office 365 and Google Apps -- at 45%
Web presence at 46%
Collaboration at 39%
CRM at 37%
Financial management at 32%
VoIP at 31%
Virtual desktop at 30%
Another finding of the report suggests that for most applications, there was a dramatic drop in the number of companies that say they are using a cloud solution from 2014 to 2016, along with corresponding jumps in the number of companies reporting use of on-premises systems. However, the fluctuations could be attributed to the fact that what IT and businesses call "cloud" has changed as the technology has matured.
"In the early days of cloud, employees likely assumed that any [off-­premises] application was cloud-based (or may have even assumed the use of SaaS applications without considering where software was hosted)," the report stated. "With a greater appreciation for cloud-specific characteristics, employees are honing their assessment."