Microsoft Philanthropies, a recently formed organization within the software giant, announced this week that it would donate $1 billion of Microsoft Cloud Services, measured at fair market value, to serve nonprofits and university researchers over the next three years.
The program's three major goals are to provide additional cloud resources to nonprofits, increase access for university researchers, and help solve last-mile Internet access challenges.
This $1 billion donation from Microsoft coincides with the World Economic Forum in Davos, Switzerland, which CEO Satya Nadella is attending. In a Jan. 19 blog post announcing the gift, Nadella wrote that, since the cloud holds so many keys to future development, it should be viewed as a public good:
Among the questions being asked in Davos are these: If cloud computing is one of the most important transformations of our time, how do we ensure that its benefits are universally accessible? What if only wealthy societies have access to the data, intelligence, analytics and insights that come from the power of mobile and cloud computing?
To help fulfill Nadella's vision, a nonprofit donation program for Microsoft Cloud Services, including Microsoft Azure, Power BI, CRM Online, and the Enterprise Mobility Suite, will begin rolling out this spring. Microsoft Philanthropies aims to assist 70,000 nonprofits in the next three years with these services.
Microsoft's philanthropy and business development divisions will also donate access to Microsoft Cloud services with investments in new, low-cost, last-mile Internet access technologies and community training. The ultimate goal is to support 20 projects in at least 15 countries by the middle of next year.
In addition, Microsoft Research and Philanthropies plan on broadening access to cloud resources for faculty research in universities by expanding the Microsoft Azure for Research program that grants free Azure storage and computing resources. Currently, the program provides free cloud computing resources for over 600 research projects on six continents.
Azure could help non-government organizations (NGOs) access Microsoft's data centers around the world to develop and run their applications and make use of Microsoft's computing and storage power. At the same time, CRM Online gives nonprofits access to the company's cloud solution for managing relationships with donors and beneficiaries.
The initiative also expands the company's Office 365 Nonprofit program, which currently includes the cloud-based versions of Outlook, Word, Excel, and PowerPoint. It will also now include Microsoft's Power BI.
The donations program includes Enterprise Mobility Suite (EMS), which gives nonprofits the ability to manage their devices, applications, and data on a cross-platform basis with security and identity management services.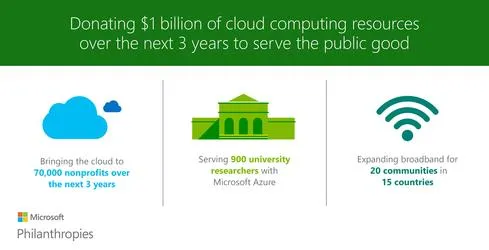 The initiative continues the work Microsoft has already been doing to tackle global challenges through international partnerships.
For example, Microsoft Research is currently working with the São Paulo Research Foundation (FAPESP) Biodiversity Research Program through the use of 700 wireless sensors, cloud technology, and automated data-stream processing to understand how cloud forests work and study the impact of climate change on the communities supported by those forests.
[Read more about Yahoo's recent donation of a massive data set.]
"We're committed to helping nonprofit groups and universities use cloud computing to address fundamental human challenges," Microsoft president Brad Smith wrote in a statement. "One of our ambitions for Microsoft Philanthropies is to partner with these groups and ensure that cloud computing reaches more people and serves the broadest array of societal needs."
The company joins efforts from the likes of Google and Facebook to bring the Internet and Web-based services to populations currently lacking sufficient resources to get connected.
The announcement follows Microsoft's decision to buy the game MinecraftEdu and invest in the expanded version of it, which is designed for the classroom and will be called Minecraft Education Edition.
The new title, which will be available for free trial this summer, offers an expanded set of features aiming to foster deeper student engagement and collaboration. It builds upon the success of the first title from Teacher Gaming.