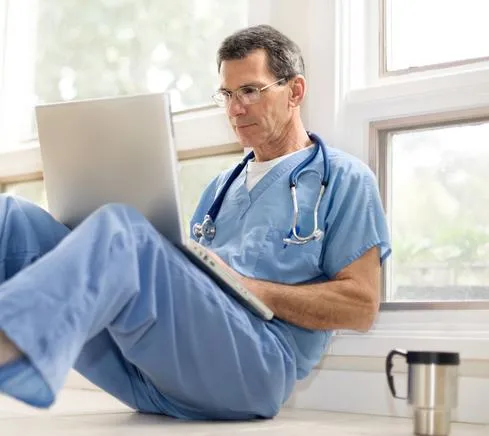 Healthcare Social Networks: New Choices For Doctors, Patients
(Click image for larger view and slideshow.)
Verizon on Wednesday unveiled Verizon Virtual Visits, a mobile-based technology that combines several existing Verizon technologies with a provider network to give consumers easy and secure access to remote care.
The company is targeting the telehealth offering -- available via smartphone, tablet, or computer -- at multiple groups, including health systems, insurers, and health plans that can white-label the service or keep the Verizon Virtual Visits moniker, says Julie Kling, director of product management for Mobile Health Solutions at Verizon Wireless. Self-insured employers can provide the service to employees to reduce emergency room expenses and healthcare costs, and improve workers' access to convenient care, she tells us. Retailers, too, have expressed interest in Virtual Visits, Kling adds. And consumers themselves increasingly want telehealth services.
"Now everyone is using their phone to learn about their health and find out where to get service and even connect and engage with good doctors now and get the care we need. It's really about convenience and ease of use."
When patients register at Virtual Visits via a smartphone app (operating across 3G or 4G) or web portal, Verizon verifies eligibility and co-pay information, and presents patients' self-reported histories, symptoms, medication allergies, and other information, and collects the co-pay at intake. The clinician then initiates a video chat and can send an e-prescription via SureScripts to patients' preferred pharmacies, if warranted and allowed by local law. Following the consultation, members may review a detailed summary, which they can share with their primary care physician.
Data is encrypted during the online visit, as well as when it's stored in Verizon's HIPAA-enabled cloud, the company says. Clinicians must use two-factor authentication when logging on for patient consultations.
Medical services are provided through a relationship Verizon forged with a third-party provider network, which the company declines to name. Virtual Visits matches patients to the next available participating clinician in their state. Organizations such as health systems also can use their own healthcare professionals or use a hybrid mix that combines a blend of internal clinicians augmented by external clinicians for after-hours support, says Kling.
"Some may want more nurse practitioners; some may want more physicians," Kling says of Virtual Visits' contracts with payers. "Verizon did its own market research on that. Customers and consumers are fine with both."
Typical visits take 30 minutes and can occur almost anywhere, according to Verizon Enterprise Solutions.
Telehealth solutions could reduce the emergency room burden by providing consumers with alternatives for worrisome but non-emergency options. Currently, 62 million Americans have no access to a primary care physician, according to the National Association of Community Health Centers. In a 2011 Centers for Disease Control study, about 80% of adults that visited an ER did so because they lacked access to other providers, the Rand Corporation reported in "The Evolving Role of Emergency Departments in the United States."
In its ninth year, Interop New York (Sept. 29 to Oct. 3) is the premier event for the Northeast IT market. Strongly represented vertical industries include financial services, government, and education. Join more than 5,000 attendees to learn about IT leadership, cloud, collaboration, infrastructure, mobility, risk management and security, and SDN, as well as explore 125 exhibitors' offerings. Register with Discount Code MPIWK to save $200 off Total Access & Conference Passes.