Why Design Thinking Will Save Businesses From Themselves
Why Design Thinking Will Save Businesses From Themselves
What you'll learn about customers by incorporating design thinking will improve operations and make your bottom line much easier to achieve.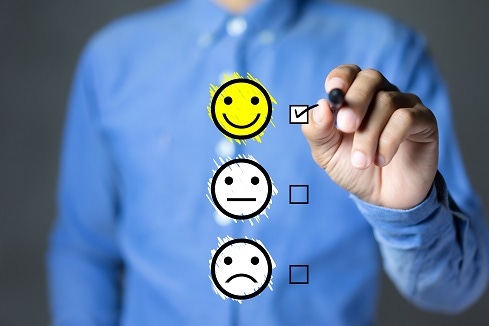 Image: Worawut - stock.adobe.com
Digital leaders recognize the benefits of using data analytics to gain a holistic view of customers. But data spreadsheets alone are not enough to generate the deepest understanding of customer viewpoints. You need to sit down and have real conversations with customers, too.
Think about it like this -- when was the last time you asked your significant other how you could be a better partner? You likely have an idea of what drives him or her crazy (leaving dishes in the sink or dirty clothes on the floor). But wouldn't it be more effective to confirm those suspicions? That conversation won't be comfortable, but it'll help both you and your partner arrive at the best solution.
Design thinking offers a similar approach for businesses. The system elicits qualitative feedback through creative exercises to better solve complex problems. To start listening, incorporate design thinking methodologies that qualify business insights with storytelling and naturally engage customers as an important part of the customer experience (CX) improvement process. By getting businesses and customers in the same physical space, design thinking breaks down traditional barriers and empowers organizations to talk to customers more freely and frequently.
Strategies to incorporate design thinking now
Design thinking allows organizations to uncover CX problems and express them in engaging ways that inspire action to reach solutions faster. Any organization can incorporate design thinking strategies at scale to elevate the role qualitative customer insights play in future CX strategies.
To get started:
1. Forget what you know.

Before engaging customers, let go of the idea that you're the expert. Preconceived notions limit your openness to criticism, which leaves you putting words into customers' mouths.
For example, internet service providers (ISPs) struggle to deter attrition at the end of customer contracts. ISPs have lots of ideas about how to convince customers to stay, and they're likely already conducting some customer research. But even when ISPs interact with people, they find it hard to escape echo chambers of what they want to hear. ISPs may ask "What could we offer you to extend your contact?" A valid question, but one that's grounded in what ISPs believe is true -- that customers crave savings or value-added services.
To avoid jumping to conclusions, allow customers to guide conversations and create space for genuine responses. In this instance, ISPs should prompt customers to explain what inspires them to be more loyal across all industries and commerce experiences. ISPs may learn that more effective customer service outranks lower prices in customers' eyes.
2. Give customers tools to express themselves.

Offer design thinking experiences that allow customers to express themselves free from fear of critique, and with some joy. Design thinking is so effective because, using creativity, the strategy unlocks what people objectively believe and feel.
Imagine you're an airline company trying to learn what customers dislike about flying with you. If you open the conversation with "Why do you hate our airline?" you're likely to get canned responses or half-truths. Instead, what if you asked everyone in the room to visualize their problems using Legos? Or what if you had customers write love letters to their favorite airlines or fast food restaurants?
Both activities offer customers the freedom to express themselves honestly and in terms that make sense for them -- something much harder to achieve with, say, an online questionnaire. Design thinking also ensures no one voice overpowers others, meaning there are opportunities to identify and solve multiple CX problems in combination.
3. Establish the right team.

Customers won't have all the answers, so assemble a team capable of championing CX improvements.
Remember, your team should pull in CX experts from all departments and levels. There's a reason senior executives at credit card companies face major gaps with customers -- they don't use credit cards in the real world like the vast majority of people. The wealthy tend to use credit cards for reward points rather than temporary loans, for example.

This disconnect underscores why teams should capture the full customer journey from all perspectives.
No matter your current relationship with customers, regularly train staff to operate in more customer-centric ways. Your top two educational goals should be how to help employees build the confidence to talk to customers regularly, and how to instill in employees the awareness to think like customers.
Once you've mastered these three steps, position your organization to quickly act on and test customer insights. What you're learning about customers via design thinking goes to waste if your organization isn't willing to challenge itself and improve operations based on surfaced customer needs.
While it's unrealistic for every business to prioritize customer voices at the same level as say Netflix does, it is possible for any organization to embrace design thinking at scale. Welcoming and understanding customer voices empowers those at your organization to be more competent and expressive storytellers. This skill better blends data insights with real-world experiences to identify business improvements that not only delight customers, but also make bottom-line sense.


Rachel Armstrong is the Design Studio Partner for Globant. She has 20 years of knowledge, expertise and award-winning experience in digital and UX by unearthing customers insights that transform strategic thinking and developing breakthrough solutions. Armstrong is a specialist in qualitative and quantitative global research and has extensive experience creating and deploying new initiatives and methodologies that connect with consumers on all levels and diverse ranges of project typologies.
Never Miss a Beat: Get a snapshot of the issues affecting the IT industry straight to your inbox.
You May Also Like
---