Microsoft's Azure Machine Learning is one of many changes making its way into Dynamics CRM 2016, the customer engagement software set for release later this year, the company announced Nov. 5.
We first learned about the development of Dynamics CRM 2016 in September, when Microsoft promised the upcoming version would be more mobile-friendly and include better transitions across apps like email, Excel, and OneDrive for Business.
The push to improve Dynamics CRM continued in late September 2015, when Microsoft acquired technologies and assets from partner Adxstudios. Web portals from Adxstudios are built into Dynamics CRM so sales and customer service can be conducted online; its tools are also designed to improve customer communications.
For the upcoming release of Dynamics CRM 2016, Microsoft plans to release related updates in waves as the launch grows closer.
[Microsoft Red team up to put Linux on Azure.]
Today's news is focused on customer service, specifically on closing the gap between consumers and the enterprise. Future updates on mobility and intelligence capabilities will arrive "in coming weeks," said Bill Patterson, general manager of customer service for Dynamics, to InformationWeek.
Consumers' preference for digital self-service is challenging businesses. People generally prefer to fix their own problems online. As a result, those who approach customer service reps bring more complex problems. The longer it takes to address those problems, the unhappier customers will be.
It doesn't help that customer service departments are among the least empowered within their organizations. Service teams experience a 27% annual turnover rate, said Patterson.
As a result, Microsoft is integrating new capabilities in CRM to help businesses provide a faster and more effective customer experience. One of these is Azure Machine Learning.
Patterson explained how research indicates most customer service agents no longer trust the information they are given because they believe it's stale and not tied to customer problems.
The inclusion of Azure is intended to provide analytics-driven intelligence and a knowledge management system so businesses can record and access data when resolving issues. Machine learning tech attaches to the business process to receive data from customer-employee interactions. The more employees use it, the more it learns.
Dynamics CRM 2016 will also provide analytics regarding how employees provide service, so businesses can recognize and address problems. Machine learning capabilities identify patterns, so employees can learn from consistent problems and improve over time.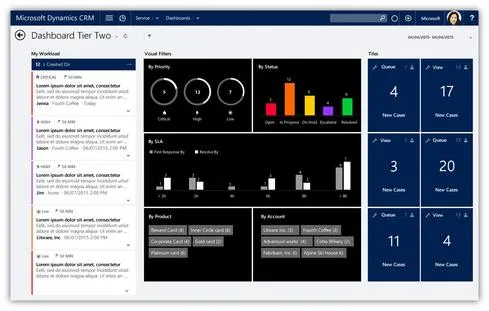 Microsoft's next release of Dynamics will also include an interactive service hub to provide relevant information for tier 1 and tier 2 agents, real-time dashboards with a single view of employees' workload, and interactive charts for work items and data. The hub also includes Office 365, Power BI, and Excel. The service desk now has access to Skype and Yammer so reps can chat with customers and colleagues.
Finally, Dynamics CRM 2016 records customer feedback through surveys. Employees can analyze this data on an individual customer basis, or as a whole, so they can better understand their target audience. Social channels are also integrated with Azure ML to track information via Microsoft Social Engagement and interact with customers on Twitter and Facebook.
The next release of Dynamics is currently undergoing testing by Microsoft customers and partners through an early access program. It will launch "closer to the end of this calendar year," said Patterson. Voice-of-the-customer capabilities will be available in a later release.
If your business doesn't already use Dynamics, Microsoft plans to offer Dynamics CRM 2016 and Office 365 as part of a "Service Productivity" package for $65 per user/month. Organizations already subscribing to Office 365 can buy the new Dynamics for a monthly fee of $50 per user.