he said he wanted to offer an Amazon alternative to proprietary systems at one-tenth the cost. At last year's Re:Invent, Jassy introduced a version of MySQL, Amazon's Aurora, re-architected by Amazon for cloud operations and available as a service.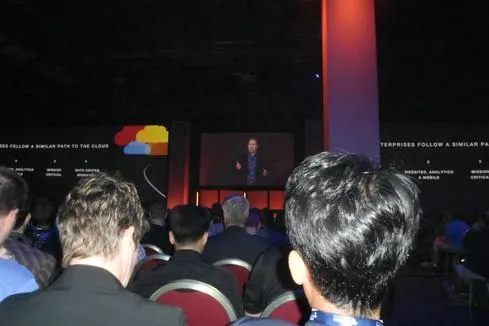 The response, said Jassy, convinced AWS it should go further and help prospective users solve the problem of migrating off a long-established database system in their shop onto one of the open source options that make up the Amazon Relational Database Service. To that effect, he introduced the AWS Database Migration Service, meant to minimize the interruption of use of a production system as it moves.
A key obstacle is prospects' worries that a migration from one system to another will require database schema conversion, a process they've rarely attempted and one in which they lack expertise. Part of the Migration Service will be the AWS Schema Conversion tool.
A Shot at Oracle
Some customers will migrate a proprietary database to Amazon, and run the same system there under a cloud license. Others will use the move as a chance to break with a proprietary vendor and convert their systems to one of the AWS Relational Database Service choices.
Although Jassy didn't refer directly to Oracle, he said, "It's extremely rare that I don't meet a customer who doesn't want to flee their proprietary database provider." He then flashed on the screen two press interviews with database users complaining they felt they were getting "strong-armed" as they renegotiated their contracts. Oracle's name had been blacked out of the headline, but was still discernible, and the audience chuckled as that fact sank in.
Since its launch as generally available in July 2015, Amazon's Aurora system "has become the fastest growing service in the history of AWS," Jassy said. He added that AWS will charge $3 for use of Database Migration Service in moving a 1TB system, plus the cloud server time involved. Use of the Schema Conversion tool, currently available in a preview version, is free.
[What are 10 IT Hiring Trends Confounding Public, Private Sector CIOs?]
In the announcement of the migration service, Amazon specifically mentioned support in the Schema Conversion tool for migrating Oracle and Microsoft SQL Server systems. It made no reference to IBM or other proprietary systems. The migration services "radically change the cost and speed of moving databases from the old world to the new," said Jassy.
Amazon also added a fourth target system for Amazon customers to migrate to, MariaDB, the high-performance version of MySQL that is maintained by one of the MySQL project's original founders, Michael Widenius. MariaDB will be a managed service that can sustain 30,000 input/output operations per second and scale out to 6TB of data per instance. The other three are Aurora, MySQL, "and soon, PostgreSQL." PostgreSQL is an open source system that has built in several features to make it compatible with Oracle applications.
Jassy said Aurora has displaced Redshift data warehouse as its fastest growing service. "The huge amount of traction for Aurora made us wonder: What else can we do in the database space?"
One additional thing Amazon is doing is offering Snowball to help customers move their data into the cloud. Snowball is a physical appliance in "a highly secure enclosure" used for moving 50TB of data from an enterprise data center to an AWS data center. The device is sent to a customer after he or she creates a Snowball job on the AWS Management Console.
The appliance loads itself from an on-premises enterprise database system, encrypts the data, creates a magnetic address on the enclosure for its AWS destination, then dials in an order for a UPS delivery van. Once inside the cloud, it uploads the data with minimal human assistance. The device can be dropped from six feet in the air onto concrete and maintain the data. Jassy said AWS will charge $200 per Snowball shipment.
In addition, Jassy announced several additional new services from AWS. Amazon QuickSight is business intelligence service that allows business users to get insights out of their data without needing a lot of data management or analytics knowledge.
[Want to see what happened at last year's Re:Invent? See Amazon Focuses On New Services, Not Price.]
QuickSight is characterized by its rapid query response, the result of its Spice query engine. Spice stands for "superfast parallel in-memory computation engine." It provides 2X to 4X columnar compression, along with compiled queries. QuickSight can discover a customer's data sources in the cloud on its own and inspect their data types. It also has "beautiful graphics and visualization," Jassy said. It can also build dashboards that are updated live as a customer works with the data. A user can drill into the data on a chart or visualization, inspecting a particular aspect of it.
Amazon Kinesis collects streaming data for use in the cloud. On Oct. 7, AWS announced the immediate availability of Amazon Kinesis Firehose for loading that streaming data into S3 storage or AWS's Redshift data warehouse. Other Amazon data stores will be added later.
AWS Config service was announced at Re:Invent last year for configuring software that was about to be deployed as a cloud instance. It's been followed this year by AWS Config Rules, which can be used to set policies over how software is to be configured. Config Rules alerts an administrator if those rules are violated in a deployment. A possible example: If a new EBS volume is created, it must be encrypted.
Jassy also said the large consulting group, Accenture, will create an Accenture AWS Business Group from its existing consultants on AWS, and will train and certify an additional 500. The effort will be jointly financed as part of a longstanding Amazon/Accenture partnership.
A reported 19,000 attendees were at the conference.