How the Cloud Can Help Cure Cancer
How the Cloud Can Help Cure Cancer
The experience of Angelina Jolie highlights how cloud computing can help address cancer by cutting the cost of genomic sequencing and enabling data sharing.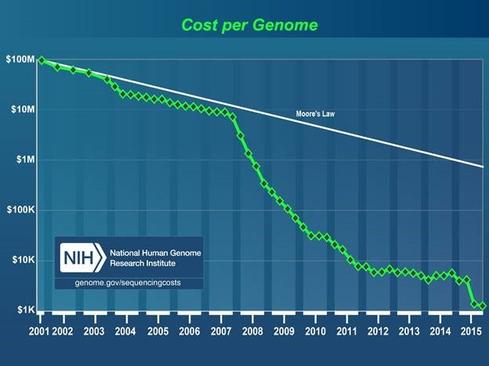 We have all seen Angelina Jolie on the covers of tabloids, often featuring humdrum personal details. This glaring spotlight on the minutiae of Jolie's life draws focus away from some of the more compelling aspects of her life: She is a goodwill ambassador for the United Nations High Commissioner for Refugees and has been a high-profile proponent of international adoption. Plus, her DNA has helped point the way to the potential of cloud computing as a key tool in the efforts by healthcare IT to effectively treat and beat cancer.
In Hackers, Libby was unwilling to accept the possibility of defeat, and the same can be said of Jolie related to her health. Through a form of sophisticated genetic analysis called genomic sequencing, she realized that her risk of breast cancer was incredibly high, prompting her to avoid the issue with a preventive double mastectomy.
The key takeaway here is not that Angelina Jolie is a great person, or that celebrities know how to survive, but that she is a bellwether of people taking advantage of genetic analysis, which is now more affordable and available because of cloud computing.
How much does genomic sequencing cost?
Through an integration of artificial intelligence and cloud computing approaches with cutting-edge DNA analytic methods, sequencing a genome is now completed at a lower cost and faster rate than ever before. According to the National Human Genome Research Institute, or NHGRI, the price of full-spectrum genetic testing has dropped in breathtaking fashion since the turn of the century. The National Institutes of Health notes that the original "draft" human genome sequence cost $300 million to produce (with 50-60% of funds from the NIH itself); as of late 2015, the average price had fallen below $1,500.
How predictive medicine helped Angelina Jolie survive
In 2013, Jolie decided to get her DNA information (including the entire range of chromosomes, proteins, and metabolites) because she wanted to know what her greatest vulnerabilities were for hereditary disease. Her doctors informed her that she had a BRCA1 gene variant that greatly increased her chances of breast cancer, to a somewhat shocking 87% risk.
It is hard to say what the most reasonable response is given this information, but Jolie's was rather straightforward and drastic: a double mastectomy to remove both of her breasts before any problem could arise. This strategy was certainly effective in reducing her cancer risk: she now only has a 5% chance of contracting the disease.
It was a challenging personal decision surely, but its impact is far-reaching because of Jolie's huge profile. Her story was addressed onstage at a genetics symposium in San Diego soon after it came out in the news. "This is the moment that will propel genomic medicine forward," said Eric Topol, director of the Scripps Translational Science Institute. "It's incredibly important symbolically."
The power of sequencing post-diagnosis
Angelina Jolie's story is interesting from a cultural perspective, but it can be difficult to relate to the experience of a Hollywood star. Plus, it is interesting to be able to predict disease; but what about when you get diagnosed with a life-threatening illness?
Eric Dishman, was just 19 years old, he received terrible news: he had a rare type of kidney cancer, and treatment would necessarily be experimental. Dishman, now director of the All of Us Research Program at the NIH, spent more than 20 years trying therapies that were generally ineffective. As he went through this long-term process, the price of genomic sequencing was gradually dropping. Finally, the test was accessible to Dishman, and he had his genome analyzed. By identifying the gene that was ultimately responsible for the cancer, his doctors were able to determine the right pharmacological approach.
Today, recovered from the deadly disease, Dishman credits the technology with his recovery. Prior to the DNA test, there was a lot of guesswork. "It turns out that 92% of the drugs I had been on would never have worked, but they didn't know that," he said.
Cloud computing is known for its speed; because of this rapid technological approach, analyzing a genome can seem to be a quick-fix solution. However, for Dishman, zeroing in on the correct medication was not immediate. It took seven months: three months for specialists to assess his DNA and four for them to look at his genome in relationship to those of other kidney cancer patients nationwide.
Dishman has been an outspoken proponent of collaboration between different healthcare entities in order to expedite genomic sequencing. By interconnecting the data on which medications work for patients with which genomes, doctors have data that is broader but also leads to more precise and directed treatment. With personally identifiable details removed, encryption in place, and the right hosting provider, patient information in a cloud computing setting can be HIPAA-compliant. Plus, a strong cloud portal allows oncologists to free themselves from their technological efforts (which can be incredibly time-consuming) and, as Dishman says, "go back to being oncologists."
In case you did not catch this part from the above, cloud computing is saving lives. There may be no better way to illustrate the potential of the technology than that. What could cloud do for your needs and ability to help your customers? Maybe you are not in the business of saving lives, but you can certainly make them easier.


Marty Puranik, Atlantic.net
Marty Puranik is the founder, president and CEO of Atlantic.Net, a leading cloud hosting solutions provider. In 1994 Marty and two classmates founded Atlantic.Net from their dorm rooms at the University of Florida. Operating under the name ICC Computers, they quickly developed a reputation for quality and service and in 1995 launched one of the first commercial Internet services in North Florida. Under Marty's leadership Atlantic.Net became one of Florida's largest privately-owned ISPs, providing Internet access in cities and small towns throughout Florida and the southeastern United States
Never Miss a Beat: Get a snapshot of the issues affecting the IT industry straight to your inbox.
You May Also Like
---