Talking Cloud Journeys and Transition Lessons at Google NYC
Talking Cloud Journeys and Transition Lessons at Google NYC
Panel discussed coping with resistance to change and finding the right operational mix as companies explore the cloud.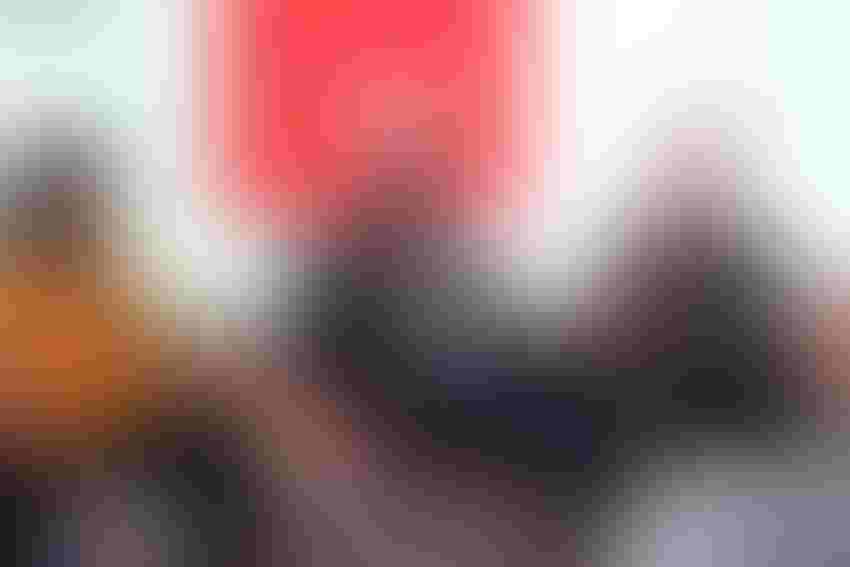 Sharonyka Kumar, Michael Beal, and Mark Etherington at Google NYC
Joao-Pierre S. Ruth
Stubborn reluctance to adopt the cloud continues to hinder some organizations, according to a group of cloud advocates who gathered at Google New York last week, but the benefits of making the transition could be worth the effort.
The latest session of C2C Global held in Google's office in the Chelsea neighborhood of New York touched on data monetization and other going concerns in cloud. James Tsai, financial services lead, cloud value & transformation advisors with Google, moderated a panel discussion on early cloud transformation woes and a few stories from the trenches about making such moves worthwhile.
"The resistance to going to the cloud is sometimes still a little surprising thing for us as we work across all these different enterprises," said Sharonyka Kumar, group vice president and global head of Google practice at Publicis Sapient. There can be assumptions by a company that the cloud is a cost-reduction mechanism, she said, but it is really a way to help innovate, grow, and create additional revenue streams. "That's still a big thing that a lot of enterprises are still not fully understanding," Kumar said.
There can be a personal element to some resistance to the cloud, said Mark Etherington, operating advisor with OpCo. Getting some people's heads around the idea of the cloud, he said, can be a difficult part of the transition as individuals tied to the existing infrastructure may feel their futures are at risk. In some cases, companies that eventually do adopt the cloud might not leverage it properly after they embrace it. "There are very few workloads that really can't run in the cloud and yet the number of excuses I've heard over the years for not running in the cloud -- If I had a dollar for every one," Etherington quipped. "Don't underestimate human nature and how difficult it is for people to think their jobs are being threatened."
Even tech-oriented companies may go through their own learning curve with the cloud. Geoff Tudor, director of Google Cloud solutions at NetApp, talked about his company's cloud journey as they sought to find the right balance adapting to certain resources being spun up and then taken down constantly. "Getting the FinOps right, so that we can meet estimates and have predictability in that, has been a struggle," he said.
Cloud Territory
The cloud is the native territory for many startups, but some of the enterprises they aim to take on as clients might not be ready immediately to take advantage of this digital space. "A lot of the brands we work with are using legacy systems that are more archaic and can be painful to work with," says Derek Canton, CEO of Paerpay, a startup that developed a contactless payment solution for restaurants.
He said his startup can provide real-time insights to the brands it works with, and that includes tailoring the solution to function with older systems. Since Paerpay is cloud-based, Canton said his company has an edge in speed to market, being able to send over an API to get clients started quickly. "Being a small startup … it's really about how we can support these brands [in a way] that's high impact but also doesn't create tons of technical debt," he said.
The flexibility of the cloud still requires some planning and foresight to take advantage of, according to Michael Beal, CEO of Data Capital Management. For all the potential the cloud promises, memory capacity in workflows can still be a constraint, he said, even as virtual machines get spun up automatically in response to demand.
When Beal's team got its start, they were excited about the seemingly limitless potential of horizontal compute, he said, but there were restrictions and choices still had to be made. "If you have a lot more data that's coming on, unless you've been really thoughtful about the sharing of the memory … you're still going to have these engineering challenges," Beal said.
A cloud-based approach to infrastructure allows for building and paring down resources as needed, he said, though it also requires discipline within the organization, specifically with teams knowing the workflows and allowing for flexibility to get work done. "We're out here trying to create things that have never been created before," Beal said. "It's already hard enough -- we shouldn't create artificial barriers to our team being able to get things done."
What to Read Next:
Costs, Tech Skills Impeding Network Modernization Efforts
Success in the Cloud Requires an Attitude Change
Virginia Beach Using Sensor Data to Respond to Extreme Weather
Never Miss a Beat: Get a snapshot of the issues affecting the IT industry straight to your inbox.
You May Also Like
---