Division Of Labor
Division Of Labor
ABN Amro's move to tap five outsourcers to handle its IT needs may lead to lower costs and reduced risk, since it won't depend on a single vendor. Just add good managers. ABN Amro is handing off the bulk of its IT operations to five outsourcing vendors under contracts totaling more than $2 billion and involving 3,200 jobs. In doing so, the Amsterdam financial company is joining the ranks of multinationals that are increasingly loath to turn over their critical technology assets to a single IT-services vendor. Instead, some CIOs at global companies are enlisting a team of service providers, hoping to reduce risk and get better prices--even if it increases the complexity and management challenges.
"There is no single vendor who can satisfy all of our requirements ... one size doesn't fit all," said Lars Gustavsson, ABN Amro Holding NV's CIO, during a conference call last week. Outsourcing IT work to multiple vendors also offers greater geographic coverage, Gustavsson said, noting that last week's agreements will provide services for ABN Amro operations from Brazil to Japan.
In taking a tag-team approach, ABN Amro will likely soon be joined by General Motors. After having a single vendor, EDS, handle most of the automaker's IT needs, CIO Ralph Szygenda says it's time for a new approach. "A monopoly won't provide the innovation you need," he says.
A recent study of the strategies of 108 global companies that externally sourced more than $1 billion in IT work in the last 10 years found that 44% of them used one service provider, compared with 56% who used two or more. Few went as far as ABN Amro, though: Only 20% used four or more service providers, according to the study, which was conducted by research firm TPI.
That's likely to change as companies hand more of their critical IT functions to outsourcers. A CIO wants enough service providers familiar with the company and its business so that it's possible to shift work among them and keep all the vendors competing for more work. As Richard Patterson, who heads IBM's outsourcing operations in the Asia-Pacific region, puts it: "It's the new model in outsourcing."
ABN Amro isn't spreading the wealth evenly; IBM will get more than 80% of the $2.2 billion, five-year contract as it provides infrastructure-support services and some application development. It also will take on more than 1,000 ABN Amro staffers. But Tata Consultancy Services Ltd. and Infosys Technologies Ltd. will handle application support under deals that are worth $250 million and $125 million, respectively. More significantly, though, is that ABN Amro has tapped five vendors for the most-strategic IT work--application development. ABN Amro will contract with Accenture, IBM, and Indian firms Infosys, Patni Computer Systems, and TCS as preferred vendors for app-development services, though it hasn't committed to a dollar amount.
The services agreements are part of a broader reorganization of ABN Amro's IT operations, which will shed about 3,200 full-time positions. The Dutch bank says it expects to save about $258 million annually, beginning in 2007, as a result of the shake-up. "We'll also get better and earlier access to newer technology," chief operating officer Hugh Scott-Barrett said during the conference call. The bank wouldn't specify what locations the job cuts will come from or where the outsourcing work will be done. But it's likely much of the work being handed to the outsourcing vendors--including that performed by IBM and Accenture--will ultimately be done by employees in lower-cost countries, primarily India.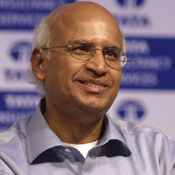 ABN Amro is "going to set the stage for a lot of other global corporations looking at this model very seriously," says TCS CEO Ramadorai.



Photo by Rajesh Nirgude/AP


India's fast-growing IT-services firms could get a major boost from moves to divvy up work among multiple vendors, as ABN Amro has. Its deals with Infosys and TCS represent the most money to date that a Western company has committed to Indian services companies in a single initiative. Had ABN Amro opted for one vendor, only a handful of major Western services providers would have had the resources to swallow the contract whole. India's services firms are growing fast, but the largest still have annual sales of less than $2 billion, compared with IBM's services business, which does more than $40 billion a year.
Indian IT firms are increasingly being invited to bid on contracts that are global in scope but designed to be parceled out. The trend "puts the Indian IT-services industry into the big leagues," says TCS CEO S. Ramadorai. Patni executive VP Mrinal Sattawala calls the ABN Amro contract "a landmark deal for us" and says team-based outsourcing "opens up a whole new playing field for us."
Even companies that aren't handing long-term contracts to outsourcers find benefits in spreading the work. Staffing-services provider Manpower Inc. uses outsourcers to deal with the variability in its project demands, particularly for a low-cost solution to short-term projects. Manpower global CIO Rick Davidson sends some of that IT work to India, where the company finds the lowest absolute cost but also considerable churn in the IT talent it works with there. So the company also works with outsourcers in Argentina, the Czech Republic, Romania, and Uruguay. "There are other countries that are just as hungry and just as talented," Davidson says. "I don't want to get too dependent on India. I'm experimenting with other models, too." Yet IT executives trying to work with multiple IT-services vendors quickly learn a hard lesson: The vendors all have different ways of working. At GM, Szygenda has spent the last year bringing competing services firms, including Accenture, EDS, and IBM, to GM's Detroit headquarters to find ways to standardize common IT processes such as network provisioning and configuration management. Doing so creates an environment in which GM can tap a consortium of vendors to handle its outsourcing needs when its current 10-year contract with EDS expires next year. Szygenda won't say who's got an inside track but says he expects to announce winners by the end of the year. "Then we'll have a half-year transition, if there is any transition," Szygenda says.
GM spends around $3 billion a year on outsourced IT services, with EDS getting about two-thirds of the work. But $1 billion in IT-services contracts is held by other heavyweights, and a lot of the carmaker's development work is spread over a number of vendors, including Hewlett-Packard and IBM, Szygenda says. "It's not just picking new vendors. We're moving to a global model, so we're changing the way we run IT at General Motors," Szygenda says.
ABN Amro certainly is changing how it runs IT and what the remaining staff will do. Of the 1,800 or so IT workers who will be left inside ABN Amro after it completes its outsourcing transition, many will devote much of their time to managing the company's growing list of vendors, Gustavsson said.


How The Deal Divvies Up Infrastructure Management
IBM gets $1.9 billion



App support



TCS gets $250 million



Infosys gets $125 million



App development



Accenture, IBM, Infosys, Patni, TCS



Data: ABN Amro



Getting all those service providers to work together can prove challenging. But IBM's Patterson notes that the emergence of standards that create common ways of implementing basic IT operations is making it easier for vendors to team on behalf of a client. "We're getting better at partnering," Patterson says.
Among the more significant standards gaining wider adoption is the Information Technology Infrastructure Library, published by the United Kingdom's Office of Government Commerce, which specifies best practices for a number of IT functions, including change management, incident management, and security. ITIL compliance was a basic requirement for vendors bidding on the ABN Amro contracts.
GM uses ITIL as the basis for standards governing operations monitoring, service-desk management, capacity management, managing systems requirements, and other IT processes. Despite that, Szygenda says he believes his 2,000 GM IT employees have to spend too much time managing and pushing suppliers together to get "one GM." So any IT-services vendor that hopes to win outsourcing contracts from GM will have to live and breathe such standards. "The model I have now won't work in two or three years," he says. "We're getting too big, too global, too digital."
There's no single strategy that companies are embracing when it comes to global IT sourcing. Some companies remain wary of outsourcing, convinced they gain more advantage keeping IT staff in-house. Others hold to the "one throat to choke" approach of a single outsourcing vendor assuming all the responsibility. For example, the University of Pittsburgh Medical Center inked a $400 million infrastructure deal entirely with IBM that also includes an agreement to do joint development of medical-systems software, aiming to develop systems the two companies could sell to other health-care providers.
Yet TCS's Ramadorai predicts more customers will pursue multiple service providers. "It's a good governance model, in terms of spreading the risk, in terms of the competitive nature of the market," he says. "And you want to be able to access various resources in a global environment."
A lot is riding on the ABN Amro deal. Financial-services companies haven't been shy about moving IT and processing work offshore. Ramadorai predicts this will speed the trend. "This is a bold step from a major European financial institution," he says. "This is going to set the stage for a lot of other global corporations looking at this model very seriously."
Never Miss a Beat: Get a snapshot of the issues affecting the IT industry straight to your inbox.
You May Also Like
---