NSBW Panel: Social Media As A Business Transformer
NSBW Panel: Social Media As A Business Transformer
How much have small and midsize businesses embraced social media? Judging from the show of hands during a morning panel at the National Small Business Week conference, a huge gap exists between the haves and the have nots. How much have small and midsize businesses embraced social media? Judging from the show of hands during a morning panel at the National Small Business Week conference, a huge gap exists between the haves and the have nots.If you're among the have nots, now's the time to face the fear, find the time, and master the learning curve, which isn't as steep as some SMBs believe. "The world of marketing has changed forever," said John Jantsch, who wrote "Duct Tape Marketing: The World's Most Practical Small Business Marketing Guide," during an engaging forum about how social media can transform the way small businesses do business. "There's no more hunting for customers. It's about putting informational content out there to be found, and to engage in meaningful ways."
No surprise, by social networking the panel meant the Big Three: Facebook, Twitter, and LinkedIn. But it also includes other Web 2.0 tools, including blogging and YouTube. In fact, the very first question moderator Brian Moran, founder and president of Moran Media Group, posed to the group was about how a small business can experience the viral video phenomenon a la Susan Boyle, Britain's overnight singing sensation. The answer: Be careful what you wish for.
"If your video goes viral, it can hurt you if you're not prepared to meet demand," said Rieva Lesonsky, CEO of GrowBiz Media, a content and consulting company, and former editorial director of Entrepreneur Magazine. "If you can't, you've blown it." Instead, a manageable 100 customers with whom you're actively engaged will take your business farther than the millions of followers Boyle amassed in that "extreme" example of social media's potential, said Alex Craddock, head of commercial marketing at Visa, which has a community of 75,000-plus SMBs on Facebook. But it's the savvy small business that will capitalize on such a spike in traffic and turn it to its advantage; a music store, for example, would have been wise to buy some Google Adwords related to Boyle searches, added Peter Greenberger, team manager of elections and issue advocacy at Google.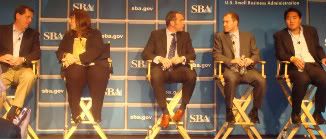 (l. to r.) Duct Tape Marketing's John Jansch, GrowBiz Media's Rieva Lesonksy, Visa's Alex Craddock, Google's Peter Greenberger, and Facebook's Adam Conner. Some other useful tips from the panel about reigning in and playing nicely with that big, hairy beast known as social media: Be clear about why you're using social media: "It can be a huge time suck," Craddock said. "You need to manage your time around an objective -- why you have a presence." Those objectives should include bringing others into your fold. "It's a two-way conversation, not a broadcast. If it's all about you, your followers will go away," said Lesonsky, who not only tweets about the articles she writes, but also points to other content of interest to her Twitter followers and retweets interesting updates from those she follows. "Listen as much as your talk. Karma rules." Be disciplined: Just as you've put in place processes to run your business, you should do the same for your social media efforts. "You have to create routines and processes for the particular tools you use," said Jantsch, who's a big fan of tools that can help automate doing so, including Google Alerts and TweetBox. Have something interesting to say: "Give a peek behind your storefront," Greenberger advised. "Let people know what you're all about." Another way to do that is to set up your Google Profile -- and do so quickly if you have a common name. This free tool lets you control how you appear in Google and places your profile on the first page of a search on your name (be it your company, product, brand, first/last name, etc.). "It's your free ticket to Google's front page," Jansch said. Yes, you can separate personal from professional: Adam Conner, Facebook's Washington D.C. associate for privacy and global public policy, explained how easy it is to segment your Facebook friends via the provided privacy settings. He also distinguished between setting up a Facebook profile, which is meant for personal purposes, and a Facebook page, which is meant more for businesses. That said, for a small business to be successful, personal relationships are critical. "You can be professional while being personal," Lesonsky said. "If I have a choice of doing business with someone, I will go with the one I feel more comfortable with." Add social media to what you're already doing: All of the panelists agreed that while social media is a must-have tool in any SMB's marketing arsenal, it shouldn't be the only tool. "Social media enhances communications," Lesonsky said. "But it should be in addition to what you do, not instead of." Added Visa's Craddock: "Don't treat social media as a silo. Include it in all of your marketing activities." Be authentic: All of the panelists agreed that the same interpersonal skills in effect in the offline world also apply to social media. That means customers can still tell whether you're someone they want to do business with, only that impression comes through the way you write "Express your personality in how you talk," Craddock said. "Step into discussions as yourself." While you're at it, "don't be rude, don't be boring, and give to get," Jansch added.
See more bMighty coverage of National Small Business Week

Never Miss a Beat: Get a snapshot of the issues affecting the IT industry straight to your inbox.
You May Also Like
---