function, so you can't set an alarm for, say, every morning at 6:00 a.m. Alexa puts requests for appointments or reminders that are more than 24 hours in advance on your "to-do" list, which has no sense of time. You won't get reminders and you can't sync these reminders with your Exchange/Outlook, Apple, or Google calendars.
The timer function is handy in the kitchen, where your hands are often busy with pots, pans, and messy preparation. Echo's built-in mics are sensitive from quite a distance, but one night while grilling chicken, using the range hood fan, and playing music all at the same time, my request for a "two-minute" timer was interpreted as "10 minutes." Alexa repeats all timer and alarm requests so you know if it got it right, but between the fan noise and the music, I didn't hear the error. I finally caught on, but not before drying out the chicken.
More than music
If Echo succeeds, it will be on the strength of its blend of playing music and radio, setting alarms and timers, and answering common questions all with the ease of voice command. I had never used the Amazon Music app before buying Echo, but it's the default music service for Echo, along with the iHeartRadio and TuneIn radio apps.
[Want more on the latest devices? Read CES 2015 Preview: 8 Hot Trends.]
Amazon says it plans to add other music streaming services "in the future," but I'm guessing it will take its sweet time in order to favor its own services. The Amazon Music app can suck in your entire iTunes library, and if you're a Prime member, you also get free access to lots of playlists. Echo adds the convenience of voice commands: Alexa: next track; Alexa: louder; Alexa: softer; Alexa: stop; Alexa: Play Coffee Shop Indie playlist.
I was already experimenting with Pandora and Spotify before buying Echo, but access to Amazon Music with free Prime Music playlists made it easy to forego paid access to Pandora. Spotify can't run on the Echo App as yet, but you can connect to Echo via Bluetooth and use the Spotify app (or any other service) as you would with any Bluetooth speaker.
Comparing sound quality, Echo sounds good, but my Jawbone Big Jambox sounds better, with better clarity, surround effects, and less hiss at high volume. My Sonos 1 speakers sound better still, mainly because they can be paired to play in stereo. You can also set up Sonos speakers in every room in your house, syncing all speakers or playing different playlists in different rooms. Echo is just one, isolated speaker that's adequate for a midsized room.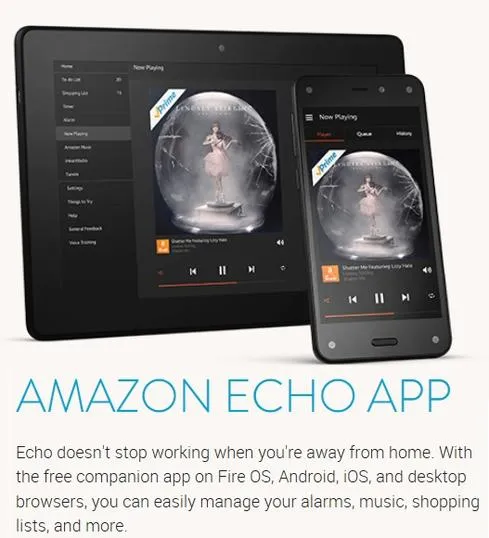 A big play for Echo -- but one I didn't explore -- is buying music or merchandise through Amazon using voice commands. It's obvious what these options are all about. If you like one-click buying, you might appreciate "buy it" requests via Echo. You can also set up separate Echo users with separate Amazon accounts, but I didn't go there.
Echo potential
Amazon can take Echo and the Alexa service in a lot of directions, but for now it's a blending with limits as well as potential. The speaker isn't the best available, but it's more than adequate for listening to music, weather, news, and streaming radio. Alexa is limited as a personal assistant compared to Siri and Cortana, but the voice recognition is reliable and Amazon is using Echo as a training platform, improving accuracy (and, hopefully, query capabilities) as it gains experience.
Many expect Alexa to show up in the next generation of Amazon Fire Phones. CEO Jeff Bezos has said all along that phones are a long-term play for Amazon. If Echo helps Amazon develop natural-voice services, grab a slice of the connected-speaker market, and gain more Amazon Music users, it just might be a three-way success. That's the kind of long-term investment Amazon is known for.
For now, Echo V1 will live in my kitchen, serving up news and weather updates, setting timers, answering stray questions, and playing music and the radio at my family's command.
Get the latest information to migrate your systems, services, and applications to the next level at Enterprise Connect. Cisco, Microsoft, Avaya, and Oracle will lead the keynote lineup. Thought leaders from enterprises and vendors will cover the full range of platforms, services, and applications that will simplify your migration to next-gen communications and collaboration systems. Register for Enterprise Connect with code DIWKAXE to save $100 off the early-bird rate. It happens in Orlando, Fla., March 16 to 19.