Formula One
Qualcomm's technology partnership with the Mercedes Formula 1 team aims at testing the chipmaker's new technologies for autonomous cars, while at the same time making F1 race cars even faster. "One of the first technologies that we are testing is a high-speed wireless access to get important data off the vehicle quickly so the team can evaluate data in real-time," said Aberle.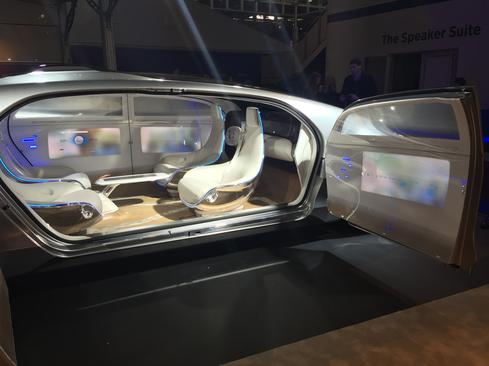 Since driverless technologies are invading the F1 space, some may wonder if Hamilton might be out of a job soon enough. Hamilton said no.
[Read more about the 2016 Mobile World Congress.]
"I don't think they are going to replace us in the racing cars, which is a good thing, but in the road car? Yes, I think it's exciting," said Hamilton, adding he's not a huge fan of driving on the road. "I can't stand traffic."
Already Here
AT&T has partnered with several automakers to add next-generation technology to their connected services. This includes the Audi R8 V10 Plus 2017 with 4G LTE connectivity, WiFi capability, and Google Earth for the navigation system. This vehicle is already available in the US and Canada.
In addition, AT&T and Porsche have entered a multi-year connected car agreement.
In Europe, the Opel 2016 4G LTE system is already available, and includes eCall, auto-crash detectors, vehicle diagnosis, and voice activation to get directions which will appear on the screen panel with a number of different language options.
Munich-based BMW is preparing its 5 Series self-driving prototype. However, the German automaker's next generation of smart vehicles will not appear until 2020. The Jaguar F Pace is also joining the connected cars race by sporting Intel under the hood.
With so much on the horizon, this year's MWC could only really offer a glimpse of what's to come with connected cars. Fasten your seat belts and get ready for a one-of-a-kind ride toward the near future of driverless cars.
Rising stars wanted. Are you an IT professional under age 30 who's making a major contribution to the field? Do you know someone who fits that description? Submit your entry now for InformationWeek's Pearl Award. Full details and a submission form can be found here.