If you work for an IT leader who expects you to be always-on, even during your drive times, you'll want to pass along this news. Even using hands-free systems behind the wheel causes considerable distraction when driving.
In a pair of studies conducted for The AAA Foundation for Traffic Safety, University of Utah researchers found that it takes a considerable amount of time for a driver to return to full attention after using a hands-free system.
In some cases, a driver doing 25 mph could travel more than 1,000 feet before regaining full attention after using a hands-free system.
"Drivers should use caution while using voice-activated systems, even at seemingly safe moments when there is a lull in traffic or the car is stopped at an intersection," said Marshall Doney, AAA's president and CEO, in a statement. "The reality is that mental distractions persist and can affect driver attention even after the light turns green."
[ Of course, it might not matter much longer. Read Tesla Updates Autopilot Software, Moves Closer to Self-Driving Cars. ]
One of the studies showed that it is highly distracting to use hands-free voice commands to dial phone numbers, call contacts, change music, and send texts with Microsoft Cortana, Apple Siri, and Google Now smartphone personal assistants. The other study examined voice-dialing, voice-contact calling, and music selection using the in-vehicle "infotainment" systems in 10 vehicles of the 2015 model year.
Researchers rated the smartphone assistants and in-vehicle systems on a scale of 1 to 5, with 1 being mild distraction and 5 being maximum distraction. All three of the smartphone assistants were rated between 3 (high distraction) and 4 (very high distraction). Among the in-vehicle systems, three were rated moderate distraction, six were considered high distraction, and one (the 2015 Mazda 6 system) was rated as very high distraction.
The studies were conducted with participants driving the one of the ten car models at 25 mph or less around a 2.7-mile route in Salt Lake City's Avenues neighborhood as the testers used voice commands to dial numbers, call contacts, and tune the radio using in-car systems. Participants were also studied under the same conditions while using one of the three smartphone voice assistants to dial numbers, call contacts, choose music, and text.
The researchers looked at how the systems rated "high distraction" and "moderate distraction" affected drivers. They found that a driver traveling only 25 mph continues to be distracted for up to 27 seconds after disconnecting from the most highly distracting phone and car voice-command systems, and up to 15 seconds after disconnecting from the moderately distracting systems.
A 27-second distraction while on the road means a driver traveling 25 mph would cover the length of three football fields -- more than 1,000 feet -- before regaining full attention. Distracted-driving statistics are sobering. In 2013, 3,154 people died and 424,000 others were injured in motor vehicle crashes on US roads involving driver distraction, according to the US Department of Transportation.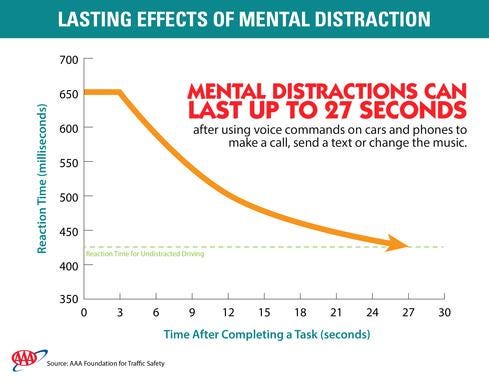 Why the long distraction time? Partially because you have to re-engage your mind to the task of driving. But also because these systems are new and have a long way to go in terms of user experience. David Strayer, one of the principal researchers, said in a prepared statement: "These systems are often very difficult to use, especially if you're just trying to entertain yourself. … The vast majority of people we tested ended up being frustrated by the complexity and error-prone nature of the systems."
The study of in-vehicle information systems included 257 participants, and the smartphone personal assistant study had 65 participants -- all with no at-fault accidents during the past five years. Participants ranged in age from 21 to 70.
Their reaction times were then compared to known distractions that are rated on a scale of 1 to 5. According to a statement about the research:
A category 1 mental distraction is about the same as listening to the radio or an audio book. A category 2 distraction is about the same as talking on the phone, while category 3 is equivalent to sending voice-activated texts on a perfect, error-free system. Category 4 is similar to updating social media while driving, while category 5 corresponds to a highly challenging, scientific test designed to overload a driver's attention.
The graphic below shows how researchers rated the various smartphone and in-car systems: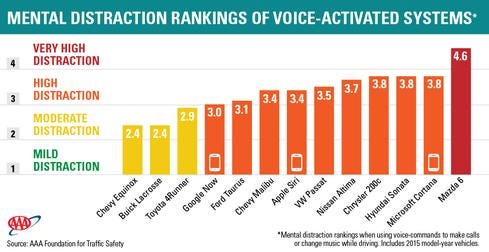 Stayer said in a statement: "If you are going to use these systems, use them to support the primary task of driving -- like for navigation or to change the radio or temperature -- and keep the interaction short."
Do you feel pressured to work even while driving? How do your experiences with hands-free systems compare with what the researchers found? Do you regularly use Siri, Cortana, or Google Now to interact with your smartphone while driving? Tell us about it in the comments section below.